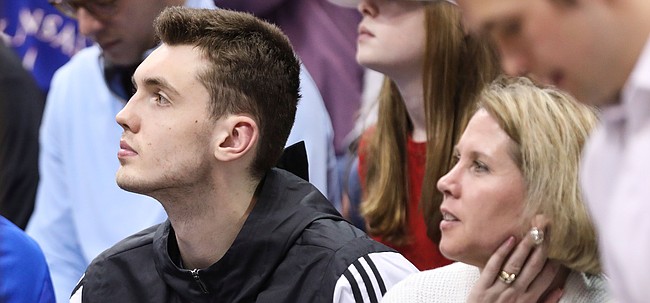 One of the top remaining uncommitted prospects in the 2019 basketball recruiting class has set a date for decision day.
Matt Hurt, a 5-star McDonald's All-American who is ranked No. 7 overall in the 2019 class by Rivals.com, will announce his decision on April 19 during a ceremony at his high school in Minnesota.
Hurt, who is preparing for Wednesday's McDonald's game, announced the date this week in Atlanta while talking to the dozens of media members on hand to cover the event.
"My birthday is on April 20, so I'm going to do it the day before," Hurt told USA Today Sports. "I do not know where I'm going yet."
The 6-foot-9, 200-pound forward who projects as a 3 or stretch 4 in college is as versatile as any player in his class. He's known as a great shooter who can play inside and out and also can guard just about any position, which will allow him to fit in perfectly on any roster.
The four programs who will enter April with the best chance of landing Hurt are bluebloods Kansas, Kentucky, Duke and North Carolina, but several analysts believe the decision will ultimately come down to Duke and Kansas.
Hurt talked about his finalists during media day at the McDonald's All-American game and broke down what he liked about each school.
Naturally, with coaches like Bill Self, John Calipari, Roy Williams and Mike Krzyzewski heading up his four finalists, the ability to play for a legendary coach was a box that all four programs checked.
But here's what else Hurt had to say about Kansas and his official visit on Feb. 2.
"I like their atmosphere," he told USA Today. "I'm really close with their coaching staff, just what they do every day and their academics person is really close with the guys, even if they go to the NBA. So it's more of a family there."
To that end, Hurt told Eric Bossi, of Rivals.com, that the family environment at KU extends beyond the players and their bond together.
"Their coaching staff's really close," Hurt told Bossi, noting that KU assistant Jerrance Howard was the lead recruiter for his services. "Me and him are pretty close."
As for how Self, Howard and the rest of the KU program were trying to pitch him on picking Kansas, Hurt said KU's willingness to let him play on the perimeter, and play to his strengths, was something that stood out.
"A combination of, like, Andrew Wiggins, Kelly Oubre, Josh Jackson, taller guys that can put the ball on the floor," he said when asked how KU might use him. "That's their message. They think they can train me to be a big guard and those are the three guys in the NBA that they want me to look at right now and how they did at Kansas."
So now it's time to enter the homestretch of Hurt's recruiting. Hurt likely will play in a couple other All-Star games after Wednesday's McDonald's game and the 24 days between then and April 19 will go fast. The frantic finish that lies ahead has merely made Hurt appreciate how respectful everyone has been during the process leading up to this point.
"The coaches have done a really good job of recruiting me," he told USA Today. "They haven't been over the top with it and I appreciate that. I can only pick one school, and I know that I'll be happy with my decision in the end."
The versatile forward who averaged 37 points and 12 rebounds per game during his senior season at John Marshall High in Rochester, Minn., said he's still open to learning more about each school and program and added that the three weeks ahead could be just as important as anything that has happened in the past.
As for what might help him make a final decision, Hurt rattled off a long list of things he will watch closely in the final few weeks of his recruitment.
"Just building more relationships, getting close, seeing how they do in the tournament, who's coming back, who I'm going to play with. That's a big part of my decision," he said.