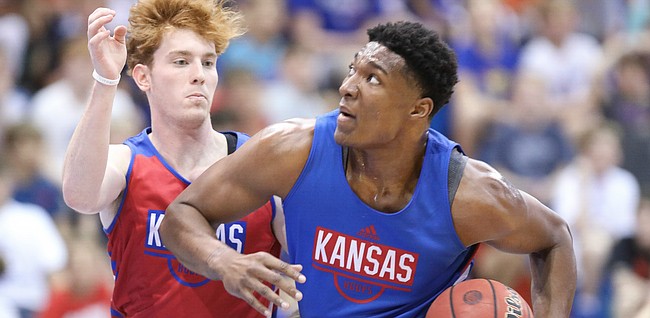 After an entire season of hearing how sped up he was on the floor, Kansas big man David McCormack has figured out how to slow down.
Good thing, too, because McCormack now admits that all of the focus on his biggest freshman flaw got a little old.
True to his personality and humble nature, though, the KU big man never viewed the criticism as a negative.
"It was repetitive," McCormack said with a laugh during a break at Bill Self Basketball Camp on Monday. "But at the same time it was good because it was a constant reminder not to get anxious in the plays I made."
Called by Self, "the most improved guy on our team, hands down," McCormack is in the middle of a mission that began when his freshman season ended and does not appear to be stopping any time soon.
After playing at powerhouse Oak Hill Academy, which both attracts and faces some of the top prep talent in the nation, McCormack figured he was as ready as anyone to make the jump to Division I basketball.
And while he did end up starting the final 13 games of the 2018-19 season, getting from Point A to Point B had its hiccups, a reality that McCormack on Monday called "somewhat of a humbling experience."
No matter how often McCormack focused on slowing down and making the simple play, saying it in the locker room was much easier than doing it on the court.
"You can tell yourself as much as you want to or try to believe it," McCormack said Monday. "But (it isn't) until you can feel good in the flow of the game (that) you can notice things slow down, when plays start to develop and things like that instead of trying to rush when things aren't there."
With a full season of managing the mental part of the game now in his rearview mirror, McCormack has spent the bulk of the offseason adding to his arsenal of on-court skills.
"His athletic ability has improved," Self said Monday. "And I know that's not easy to do in a short amount of time, but he's much more explosive."
While he has maintained his routine of keeping his body in tip-top shape, most of McCormack's development time has gone to working on making plays off the dribble and extending his touch to mid-range jumpers and beyond.
"His shooting ability has really improved," Self added. "I don't know if that'll translate day to day, but he can make a 17-footer. He's our best big (man) shooter without question right now, unless you include (6-8 freshman) Jalen (Wilson)."
At least part of the desire to expand his range came with very specific purpose.
Last season, McCormack played 363 minutes in 34 games, and all but 50 of those came with injured center Udoka Azubuike on the bench.
With the two big bodies now facing the likelihood of playing together for both more games and longer periods of time, McCormack knew he needed to tweak his game.
"Playing with Dok, I know he's going to take up a lot of the paint," McCormack said. "So playing inside-out is going to help, giving him easier moves to make or just easier baskets."
Although there remains plenty of work to do in that area — figuring out ways to pair both McCormack and Silvio De Sousa with Azubuike on the floor — McCormack said the mere fact that all of KU's big men now have been around each other for more than a year should pay dividends when the 2019-20 season arrives.
"Size, strength, athleticism and even more experience," said McCormack Monday, when asked for an assessment of KU's front court. "We don't have (many) freshmen bigs. Everybody has knowledge of the game, the game has slowed down for everyone, we all know how each other plays and everything is going to run smoothly and be compatible with each other's style of play."
While that comfort level can only help McCormack in his pursuit of becoming a more polished player, the 6-10 power forward/center hybrid is also excited about how his improvement can help his teammates.
"Things are flowing a lot more smoothly for me," he said. "Plays just kind of develop on their own. Nothing's forced. And then, since I've been here a year, we have the chemistry and I know where players want to be and the style they want to play."