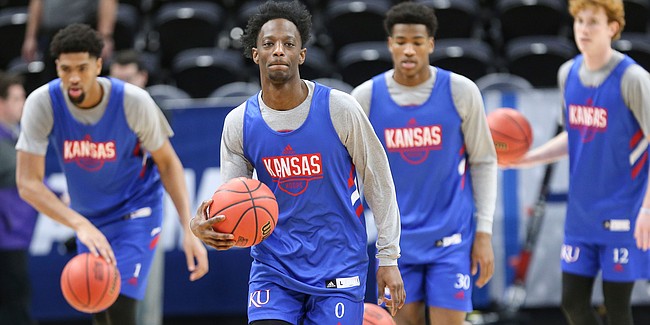 Topeka — Still on the mend from the high ankle sprain he suffered during a KU practice on February 1, Kansas junior Marcus Garrett said Thursday that he can see the finish line to the land of full recovery.
"It's great," said Garrett during a break at Washburn basketball camp Thursday morning. "It feels way better. It's still not 100%. It's about 90, 95, I would say."
The road to reaching this point has been one of the longest ordeals of Garrett's life. Never injured quite to this extent, the KU guard who was rounding into a bona fide offensive force just before the injury hit, said he never fully felt right again the rest of the 2018-19 season.
"When I first got the injury, they told me it was a high ankle sprain and it probably wouldn't feel 100 percent for about six months," said Garrett, having just eclipsed the four-month mark since the injury. "I was in a lot of pain, but once the game got going and my adrenaline got to running I could barely feel it. It was more of an after-game thing."
Garrett, who missed five full games because of the injury, said he was only playing at about 60% or 70% by the end of the season, but never hesitated to get out there because he knew the team needed him.
"I just wanted to play, really," he said Thursday.
Once the season ended, Garrett turned his full attention to his recovery and he's been progressing steadily ever since.
He did very little but rest his ankle — and the rest of his body — throughout April and May and even pulled back on his daily shooting routine in order to stay off of his feet as much as possible.
"That was definitely tough," Garrett admitted. "But that break was great for me. I felt like, once I started back (my ankle) felt way better than when the season ended."
And Thursday, Garrett looked like his old, laughing with the campers at Brett Ballard's summer camp and running around doing shooting drills and having a good time.
Whether it's during an intense workout in the gym or lighter, more laid back moments like his camp work on Thursday, Garrett is thankful for all of the times when he can move around and feel good doing it.
"Oh yeah, it feels great," he said. "At first, I never thought I'd get to this point where it'd just feel normal again."
So now it's back to the grind for the KU junior who figures to have an increased role both as a leader and a ball handler when the Jayhawks hit the floor again this fall.
For the second summer in a row, Garrett has worked to re-tool his jumper — last year he tweaked the placement of his left hand when he released his shot and this year he has worked on taking the "twitch" out of his jumper — and continued to push himself however possible in order to be ready for his third season as a Jayhawk.
That reality — the fact that he's in Year 3! — was something that Garrett said he was still getting used to.
"It doesn't feel real," he said with a smile. "I'm just trying to take more of a leadership role, knowing that we have a lot of younger guys who will have stuff to learn and I know most of the stuff and can help teach them."