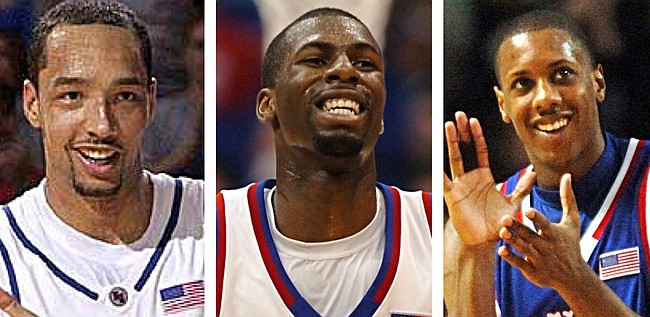 Three of the biggest names in recent Kansas basketball history are coming back to the area this weekend, and they're bringing a new brand of basketball with them.
Former Jayhawks Mario Chalmers, Drew Gooden and Julian Wright are all slated to play with separate teams in the BIG3 event at Sprint Center in Kansas City, Mo., on Saturday, and league officials could not be happier about bringing their league to the backyard of one of college basketball's best-known programs.
"I think it's big, you know," league co-founder Ice Cube told the Journal-World in a phone interview earlier this week. "I wish we had more Jayhawk players, but we're happy to be around Kansas City and happy to have a few Jayhawks to get the fans excited. We were in Kentucky in Year 1 because of the big basketball tradition (there) and we're excited to be near Kansas for this one. We just want to make sure everybody who wants to experience the games live gets to."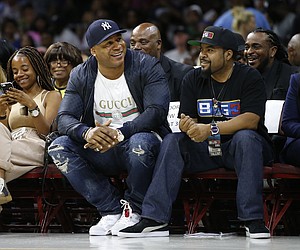 Former Jayhawk Brandon Rush is also in the league, but his Aliens squad will not be playing in Kansas City on Saturday.
The BIG3, which bills itself as "a 3-on-3 pro basketball league founded by Ice Cube featuring All-Stars, Hall of Famers and World Champions" prides itself on taking its brand of basketball to markets that do not have immediate access to NBA action.
Now in Year 3, with 12 teams and games played twice a week in more than 18 cities across the country, league officials said the BIG3 has seen its television ratings on CBS and attendance numbers increase each year.
Forever known as a big fan of basketball, Ice Cube, of rap and hip hop fame, joined forces with entertainment executive Kwatinetz to found the league in 2017 and, together, along with league commissioner and Pro Basketball Hall of Famer Clyde Drexler, the group has created a league built around star power.
Whether it's former NBA and college stars wowing the crowd with their skills and trash talk or the presence of Ice Cube, Drexler and a host of well-known head coaches — former NBA and WNBA stars Julius Irving, Gary Payton, Charles Oakley, Reggie Theus, Michael Cooper and Lisa Leslie among them — the BIG3 provides an opportunity for fans to get an up-close look at some of their all-time favorites in a setting that includes four-point zones at 30 feet, games played to 50 and fast-paced, half-court action from start to finish.
"We feel like if we can get to every nook and cranny in this country and this world that loves basketball and doesn't have a pro team and has never had basketball presented at this level, that's where we want to be," Ice Cube added. "One thing about it, if we're near your town and you can get there, you have to see this live because live is incredible."
To that end, Drexler, a 15-year NBA star with the Portland Trailblazers and Houston Rockets from 1983-98, said the added bonus of getting KU fans out to the event to support a few of their former favorites made coming to Kansas City even more attractive.
"Any time you can prominent alumni in the BIG3, you want people to know who they are and that they're there because they want to go see them," Drexler said. "That's like family and they get to see their family. The fact that those guys had such great careers and are still playing and doing what they love to do is a wonderful thing and they love coming home. So it's kind of a homecoming for them and the fans."
During the league's weekly recap of the action that was on Monday, Drexler could not help but begin looking forward to his return to Kansas City, which once had the NBA's Kansas City Kings (now in Sacramento) and was always a favorite stop of professional ballplayers.
"Gates Barbecue was always a great place to go," recalled Drexler, who four times in his career faced the Kings at old Kemper Arena. "And it's good to be going back to Kansas City."
Saturday's games, which will feature more than 30 easily recognizable names from recent NBA rosters, will start at 2 p.m. and run through the evening.
The first contest features Gooden's 3's Company squad (1-3) against Bivouac (2-2).
Game 2 pits the unbeaten Triplets (4-0) against Julian Wright's team, Power (3-1).
"If ever there was a marquee matchup, this is it," Drexler said. "You don't want to miss that game."
And the Kansas City finale will feature Chalmers' 3 Headed Monsters (2-2) vs. Tri-State (1-3).
All three games will be shown on CBS or CBSsports.com and tickets can be purchased through the Sprint Center website, with prices ranging from $44 apiece for lower level general admission seats all the way up to $192 apiece for floor seats.
Here's a quick look at the six rosters of the teams coming to Kansas City.
• 3's Company – Drew Gooden, Dermarr Johnson (captain), Dijon Thompson, Andre Emmett, Jason Maxiell, Dahntay Jones and head coach Michael Cooper.
• Bivouac – Josh Smith (captain), Will Bynum (co-captain), Anthony Morrow (co-captain), Shawne Williams, C.J. Leslie, Dion Glover and head coach Reggie Theus.
• Power – Julian Wright, Corey Maggette (captain), Cuttino Mobley (co-captain), Glen "Big Baby" Davis (co-captain), Mychel Thompson, Ryan Gomes, Quentin Richardson, Chris Andersen and head coach Nancy Lieberman.
• Triplets – Joe Johnson (captain), Al Jefferson (co-captain), Jannero Pargo, Chris Johnson, Sergio Gipson, Alan Anderson and head coach Lisa Leslie.
• 3 Headed Monsters – Mario Chalmers, Rashard Lewis (captain), Reggie Evans (co-captain), Mahmoud Abdul-Rauf (co-captain), Larry Sanders, Tre Simmons and head coach Gary Payton.
• Tri-State –Amar'e Stoudemire (co-captain), Nate Robinson (co-captain), Yakhouba Diwara, Jason Richardson, Robert Hite, Corsley Edwards and head coach Julius "Dr. J." Irving.
More like this story on KUsports.com