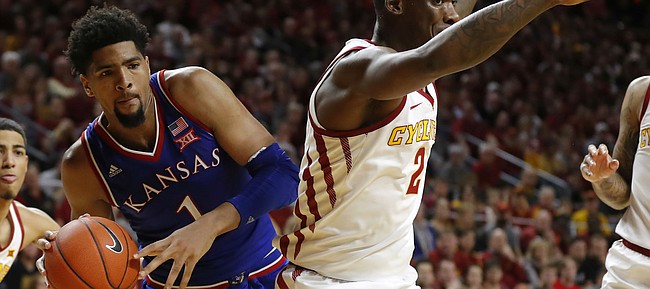 Kansas Jayhawks (15-3 overall, 4-2 Big 12) vs. Iowa State Cyclones (14-4 overall, 4-2 Big 12)
Time: 8 p.m. | Location: Allen Fieldhouse
TV: ESPN | Radio: IMG Jayhawk Radio Network
Not going to be home for the game? Sign up for ESPN+ and watch your Hawks on the go.
Log on to KUsports.com for our live game blog coverage and follow the KUsports.com staff on Twitter: @KUSports @mctait @bentonasmith & @SJacksonLJW
Keys for Kansas
1. Turnovers, turnovers, turnovers
The Jayhawks are trending in the right direction in the turnover department, having coughed up just five in their most recent half of basketball.
The problem is, before that, KU turned it over 13 times in a disastrous first half at West Virginia and everyone remembers the season-high 24 turnovers KU had against this very same Iowa State team in Ames, Iowa, earlier this month.
For the season, Kansas is averaging 13 turnovers per game, but that number is slightly higher in Big 12 games, with KU averaging 14.3 giveaways per game against conference foes.
As was the case during Saturday's first half in Morgantown, W.Va., so many of KU's turnovers in the first meeting with Iowa State were the result of careless plays and mental lapses.
The Jayhawks figure to be much more locked in for the rematch with the Cyclones — both because of the 17-point beating they took in the first meeting and because they're coming off of a tough loss at WVU — but they'll have to stay there for 40 minutes in order to make it count.
A little more about turnovers: In KU's 15 victories this season, the Jayhawks have averaged right about 12 turnovers per game. In the three losses, that number has ballooned to 19 per game.
Add to the obvious pitfalls that come from giving the ball away the fact that KU's offensive efficiency, which currently ranks sixth in the Big 12, has left a little to be desired, and it has become clear that Kansas can't afford to have too many empty trips where it doesn't even at least get a shot.
After Saturday's loss at WVU, dejected KU point guard Devon Dotson said turnovers were a major key to KU's next game.
"That's the thing that we know we've got to improve on," Dotson said. "Taking care of the ball."
2. Better consistency
Pick an area, a position, a statistic or a half. With very few exceptions, whatever you chose likely featured the Jayhawks being inconsistent in some way, shape or form.
Self has talked about his team's inconsistency, in a variety of areas, as one of its ongoing, overall weaknesses, and six games into the conference schedule, it's time for KU to get serious about cleaning up that issue if it hopes to claim a 15th straight Big 12 title later this season.
An example of one of KU's inconsistent tendencies includes its issue with defensive rebounding. Against Baylor and Texas, the Jayhawks were terrible on the defensive glass, giving both teams multiple second chances and, worse, hope. Then, on Saturday against West Virginia, KU was great on the glass, outrebounding the Mountaineers 34-28 overall and 9-5 on the offensive glass.
The Jayhawks' offensive identity also has been plagued by inconsistency, with Kansas going away from leading scorer Dedric Lawson way too often and way too easily, especially late in games the team has lost. Arizona State and Saturday's setback at WVU are both prime examples of that decision costing Kansas.
And then, there's senior guard Lagerald Vick, who, all by himself, has been the picture of inconsistency this season. From 30-point, game-saving offensive explosions, to off nights and poor decisions, Vick, though good overall, has not been the kind of steady presence this young team needs to help the Jayhawks through the inevitable rough stretches of the season.
Perhaps it's not in Vick's makeup to be that presence or morph into a bona fide team leader. But someone needs to, on a full-time basis, if the Jayhawks hope to fix their consistency woes.
3. Match ISU's physicality
In the first meeting, ISU forward Michael Jacobson was far more physical than Lawson, and it showed throughout the game.
Jacobson's strength and willingness to scrap was way too much for Lawson — or any other Jayhawk — to handle in the first matchup, as Jacobson pounded the offensive glass to keep possessions alive and also scored inside with relative ease when the opportunities presented themselves.
Defensively, Jacobson was just as disruptive, constantly forcing Lawson to fade from the basket or readjust his shot in midair, which led to a 5-of-11 shooting night with 6 turnovers in 32 minutes for the KU junior.
That ISU game was the first Big 12 battle for Kansas without injured big man Udoka Azubuike, and the fact that the KU players learned of Azubuike's absence just before shoot-around no doubt played a role in their effort and forced the Jayhawks to adjust on the fly.
They won't have had much more time to prepare when this one tips, but at least they'll have a better understanding of what is required to compete with the Cyclones.
Whether it's as simple as Lawson stepping up or someone else — Mitch Lightfoot, David McCormack, Ochai Agbaji, whoever — bringing an added dose of physicality and toughness, Kansas will need it to avoid being swept by the Cyclones for the first time since 2001.
Mega Matchup
3-point shooting vs. 3-point defense, both ways
These days, it's Iowa State that leads the Big 12 in 3-point shooting and that was on full display in the first meeting between these two teams, when the Cyclones hit 13 of 25 3-pointers, well above their season average of 35.8 percent and their Big 12 average of 37.5 percent.
Most of that came during a big second half, with senior grad transfer Marial Shayok hitting 5-of-5 from downtown and three other ISU players making at least two from behind the arc, including freshman Tyrese Haliburton, who hit 4-of-5 from 3-point range.
After one Haliburton 3-pointer, Self looked back at his bench and took a few steps telling anyone who could hear him, "He can really shoot."
That much, of course, the Jayhawks knew going into the game, but Iowa State was even better than Kansas expected and they enter this one getting a conference-high 39.2 percent of their total points from 3-point range.
The Jayhawks will be in trouble if they try to match the Cyclones shot for shot in this one. But the Jayhawks can tighten up on the defensive side of things, where they have allowed Big 12 opponents to shoot nearly 4 percentage points higher from 3-point range than their nonconference foes.
On the flip side, KU itself is shooting almost a full percentage point worse from 3-point range since the start of Big 12 play.
The Jayhawks have combatted that by getting a conference-best 53.3 percent of their points from 2-point range, but it's hard to imagine 3-point shooting not playing a huge role in this game, one way or the other.
Jayhawk Pulse
Two of the three losses Kansas has suffered this season have been games that the Jayhawks felt they gave away at the end of the game, with mental mistakes, failure to finish and missed opportunities late costing them dearly.
"It's just been a problem for us on the road," Lawson said Saturday. "All these games are games that we should've won. … I think it's all about focus, focusing in, just locking in, just understanding situations at the end of the game."
As was the case after their first two losses — at Arizona State and at Iowa State — the Jayhawks left West Virginia with an angry look and an awful feeling. But after each of those, the Jayhawks had nearly a week to digest and dwell before their next game.
That's not the case here, with KU's next tipoff after the loss to WVU coming just over 48 hours later. That, according to Dotson, is a good thing for the home team.
"It's hard," Dotson said outside of the Kansas locker room on Saturday. "But we've got a game Monday, Big Monday against Iowa State. This is tough to swallow, but we've got to bounce back (and) jump right back at it and focus in on Monday."
Kansas leads the all-time series with Iowa State, 181-65, including a 93-16 mark in games played in Lawrence, 52-10 inside Allen Fieldhouse.
Las Vegas lists the Jayhawks as a 4.5-point favorite in this one.
Probable Starters
Kansas
G – Devon Dotson, 6-2, 185, Fr.
G – Quentin Grimes, 6-5, 210, Fr.
G – Lagerald Vick, 6-5, 190, Sr.
G – Marcus Garrett, 6-5, 195, Soph.
F – Dedric Lawson, 6-9, 235, Jr.
Iowa State
G – Lindell Wigginton, 6-2, 189, Soph.
G – Marial Shayok, 6-6, 198, Sr.
G – Tyrese Haliburton, 6-5, 172, Fr.
G – Nick Weiler-Babb, 6-5, 205, Sr.
F – Michael Jacobson, 6-9, 230, Jr.
More like this story on KUsports.com