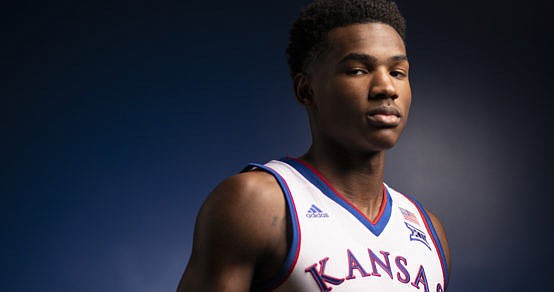 Even though there are seven inches and 60 pounds difference between them, one unexpected benefactor of the season-ending wrist injury to Udoka Azubuike could be Kansas freshman Ochai Agbaji.
"Yeah, yeah, yeah, yeah," KU coach Bill Self said Monday when asked if Agbaji's redshirt was now up in the air. "We haven't made that decision, but just to be real candid with you, Ochai and mom and dad and myself, we've all talked about it."
Entering the season, KU's depth and long list of talent opened the door for the 6-foot-5, 210-pound guard from Kansas City, Mo., to redshirt.
But with Azubuike out and KU likely to play a large percentage of four-guard lineups the rest of the way, there may be an increased need for another body on the perimeter to offset the high volume of minutes expected to go to starters Devon Dotson, Quentin Grimes, Lagerald Vick and Marcus Garrett.
"If the number is real high with the four guards, which it should be, you don't have a lot of bench," Self explained.
Utilizing Agbaji would give KU another option off the bench at three of those four guard positions. The only one he would not play would be point guard.
That doesn't mean the move is automatic, though. With forwards David McCormack and Mitch Lightfoot available to pick up some of Azubuike's minutes in the front court, the seventh-ranked Jayhawks (12-2 overall, 1-1 Big 12) have the option to shuffle the deck and see how they can tweak things without pulling Agbaji's redshirt. But given the fact that Self and others continually have called Agbaji the best pure athlete on the team, the chances of seeing him in a KU game at some point this season seem to be very real.
"I haven't made a decision to do that whatsoever, because if you bring him out, you bring him out to play him," Self said. "Is he good enough? Absolutely. There's no question. But the reality of it is, it's a different pressure that he hasn't had a chance to experience."
By that, Self's not just talking about facing Big 12 competition or playing against Division I talent.
"The games that he played in high school, even though he was a really good high school player, (weren't) state championship games," Self said. "So (his) first taste is not even a Michigan State. (His) first taste is going on the road in a hostile place and having to deliver. He's been great in practice and he's gotten a lot better. But it's a different type of environment that he's never experienced before.
"Are we thinking about it? Absolutely. But have we made a decision yet? We have not."
As for what his teammates think of what Agbaji could bring to the lineup, KU freshmen Devon Dotson and McCormack both had high praise for Agbaji's all-around game.
"We haven't seen him shoot too much," said McCormack when asked if Agbaji could help KU's 3-point shooting woes. "He's more of a slasher, just to play to his athletic ability. He's a great energy guy, great mindset, very athletic and he plays with pace."
Added Dotson: "He's been great. He can run the floor with the best of them. He's really athletic, really fast, a high-flyer. He could really help us out."