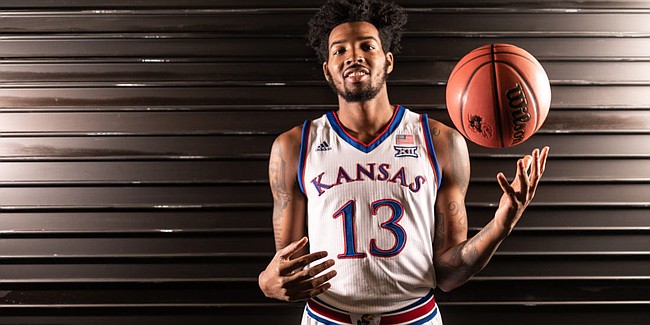 The circumstances had to present themselves just right for Kansas sophomore K.J. Lawson to be in the position to hit two of the game's biggest shots during KU's recent road win over TCU.
But once they did, there was not a player on the Kansas roster who questioned whether the sophomore wing would come through.
On the floor in the final minutes of Monday's 82-77, overtime victory at TCU because of injuries, foul trouble and his maturity and ability to handle the chaos that comes with being backed up against the wall, the older, other Lawson brother on this Kansas roster hit a floater to tie the game with 25 seconds to play in regulation. And later, midway through the 5-minute overtime period, he also scored a tough bucket that gave Kansas the lead for good.
"He likes that moment," said Kansas coach Bill Self, noting that, because of his experience at Memphis and the youth on the rest of the Kansas roster, Lawson may have been as ready for that moment as any Jayhawk in the building.
But beyond just being ready in the moment — a key trait possessed by any quality reserve — one can only wonder how Lawson was able to stay ready in a big-picture sense in light of his inconsistent role on this team.
After all, he entered Monday averaging just 8.7 minutes per game so far this season. And there was no guarantee that Lawson would play crunch-time minutes against the Horned Frogs, or, really, any meaningful minutes of any kind.
He played 11 minutes in last weekend's home win over Oklahoma State and 12 during a tough loss at Kansas State the game before. Prior to that, he endured a four-game, single-digit-minute stretch that produced just two baskets in 22 minutes, none of which were remembered past the next possession.
In fact, in 24 games this season — Lawson did not even play in KU's home win over Texas — the versatile sophomore has delivered as many single-digit minute outings (12) as double-digit minute nights and never played more than 19 minutes in a game for the Jayhawks.
But none of that matters to the Memphis transfer who hails from the same city. Remember, this is a player, who, last summer, as he prepared for his first season of eligibility at Kansas, said, "I don't feel like anybody else is better than me."
Photo Gallery
Kansas basketball at TCU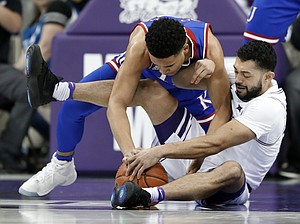 The Jayhawks picked up just their second road victory of the season by surviving, 82-77, in overtime at TCU, on Feb. 11, 2019
We now know that words such as those were born from complete confidence in his own ability, not the desire to hog the spotlight or pout about his coach's decision to give him limited minutes.
"Once you see the ball go through, you just have confidence," Lawson said of his two monster shots against TCU. "I've just been trying to find my niche on this team and it's a great win to build on (for) this new team."
Asked if he agreed with Self's assessment that he was as ready as anyone on the roster to take those types of shots, Lawson shrugged and again delivered an answer that was more team-first than me-first.
"Definitely," he said. "I feel like I'm mature, but, I mean, a basketball player's a basketball player, and I just feel like I just got the shot. I enjoy being in those moments and playing at the end of the game against top talent. But I don't look to have no more minutes than I'm supposed to have. I just go out there and play when I get the chance."
That mindset is a point of view at which his teammates marvel.
"It's unbelievable what he does," said freshman point guard Devon Dotson, who played all 45 minutes on Monday and made the pass to Lawson that led to the game-tying bucket late in regulation. "He stays resilient and never complains. He wants to work. He's one of the hardest workers on the team, so he's just coming in and doing his job."
As for what he saw on the play that wound up tying the game after Kansas had given away a 9-point lead in the final 5 minutes?
"We wanted to get a post-up to 'Smoove' (Dedric Lawson), and it didn't work out. And I saw K.J.'s man help all the way in the lane and I was like, 'Wow, he's wide open for the skip (pass)," Dotson recalled. "And K.J. made a great move and hit a floater. K.J. was big for us down the stretch. He was composed and he really made tough shots and played really well."
Added Lawson: "Devon made a good basketball play, and that's what he's supposed to do because he's our point guard and he's learning on the fly. Devon's a great player, as you see, and he's been phenomenal for us all year."
With sophomore starter Marcus Garrett expected to return to the lineup sometime in the next couple of games, there's no telling what will happen to Lawson's minutes from here.
His two late buckets against TCU, which earned him a personal celebratory mobbing from KU Athletic Director Jeff Long in the locker room afterwards, were massive in the moment, but they're no guarantee of any increased playing time moving forward.
Again, it's all about the right circumstances. And few players on this Kansas roster have a better understanding or willingness to accept that than the 22-year-old sophomore who has been around the block a few times.
"Everybody was happy," said Lawson after scoring a season-high 10 points on 4-of-6 shooting against TCU. "Coach Self was happy for me. I know my brother was happy for me and Marcus (Garrett) and Charlie Moore, those guys were definitely happy that I played well.
"It was all what coach did and we just stuck to the plan and did what we needed to do. We're definitely getting there. (We're) 2-0 (in our last two games) and we'll try to build on that and go 3-0 on Saturday. That's how we're doing this. Day for day. That's how I take my life anyway. … Everybody plays, and you've got to be ready when your number's called."