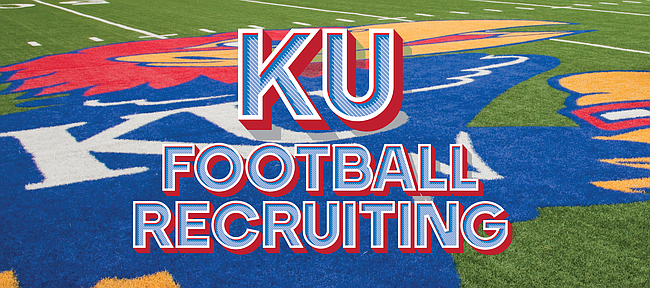 National Signing Day isn't until Wednesday, but Monday very well could go down as the most important day for the Kansas football program's 2019 recruiting class.
That's when Steven Parker, a four-star defensive end from Dallas, announced his decision to join the Jayhawks.
In picking KU over Texas Tech and Nebraska, Parker became the top-rated prospect in new head coach Les Miles' recruiting class.
"Today might have been the toughest day of my life," Parker wrote in a note that accompanied his Twitter post unveiling his choice.
The tweet also included a photo, taken during his visit to Lawrence this past weekend, of Parker decked out in a blue KU football uniform inside the team's locker room.
Parker thanked former Red Raiders coach Kliff Kingsbury, new Tech coach Matt Wells, Nebraska coach Scott Frost and KU's Miles for recruiting him.
"Each of you saw something in me that has brought all of us to this point," Parker wrote. "I especially want to thank all the coaches and staff of South Oak Cliff (high school) that believed in me the whole time. I will forever be grateful for everything that you poured into me."
Emmett Jones, now the receivers coach at KU, played a major part in Parker's recruitment, as he had a longstanding relationship with the defensive lineman dating back to Jones' time on Kingsbury's staff. Parker decommitted from the Red Raiders in early December, after Tech fired Kingsbury.
Jones is known for his recruiting ties throughout the Dallas metroplex, and he was the head coach at South Oak Cliff High, from 2012-14.
Rivals ranks Parker, a senior at South Oak Cliff, as the No. 20 weakside defensive end in the country. He's rated as the 40th-best prospect overall in the state of Texas.
Current South Oak Cliff head coach Jason Todd told Jon Kirby of Jayhawk Slant that the "bond" Parker has with Jones helped KU land the D-end.
"He felt like that he would have somebody to be there to guide him the same way that we guided him in high school," Todd said of Parker's connection with Jones.
KU signed six three-star prospects — two from the high school ranks — during December's early signing period. Parker, who can sign his letter of intent on Wednesday, became the most heralded player in KU's class upon committing to Miles' Jayhawks.
Because 11 players signed with Kansas in December, only a few spots remain in the rebuilding program's 2019 recruiting class. Miles stated back in November, when he was hired to replace David Beaty, that he expected the Jayhawks would have about 15 players in his first signing class — 10 shy of the NCAA maximum of 25.
Over the past few years, Beaty and his staff utilized blueshirts — athletes who don't sign letters of intent but join the program on scholarship and count toward the following year's recruiting class — which played a significant role in KU's current recruiting situation.
KU football's 2019 early signees from December
(ratings from Rivals; √ = signed)
√ 3-star St. Thomas Aquinas S Jayden Russell (6-3, 190)
√ 3-star McEachern H.S. (Ga.) CB Valerian Agbaw (5-10, 170)
√ 3-star Mesa C.C. (Ariz.) QB Thomas MacVittie (6-5, 225)
√ 3-star Iowa Central C.C. WR Ezra Naylor (6-4, 210)
√ 3-star Golden West Coll. (Calif) CB Justin Ford (6-1, 180)
√ 3-star Iowa Western C.C. DE Malcolm Lee (6-5, 270)
√ 2-star Coahoma C.C. (Miss.) DL Caleb Sampson (6-4, 285)
√ 2-star Iowa Central C.C. WR Andrew Parchment (6-2, 185)
√ 2-star Meridian H.S. (Miss.) DL Da'Jon Terry (6-4, 350)
√ 2-star Andale High TE Mason Fairchild (6-5, 250)
√ 2-star Rochdale H.S. (Texas) QB Torry Locklin (6-2, 195)