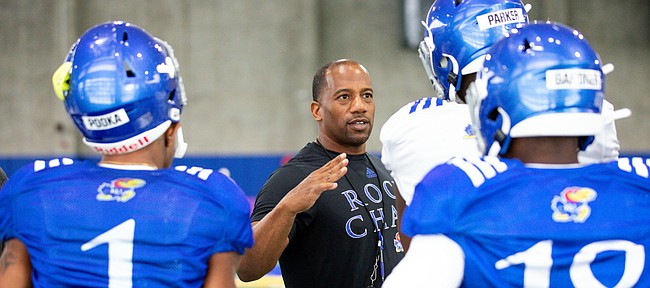 It's nearly impossible to find a college football coach who doesn't come across as excited when discussing a team's newly signed recruits.
When Kansas football receivers coach Emmett Jones expressed such sentiments about KU's class of 2020 receivers, he began by explaining how his familiarity with these new Jayhawks fueled his opinion.
"I know them well, man, and I know what they bring to the table," Jones said.
An established recruiter in his hometown of Dallas in particular, as well as other areas of Texas, Jones divulged he has known about a few of KU's signees for four years now.
Three of the 19 high school seniors who signed with KU this past week are receivers from Texas: Malik Johnson, Lawrence Arnold Jr. and Tristan Golightly. Collectively, Jones spoke highly of those three, as well as receiver Steven McBride, from Louisiana, when describing his enthusiasm for this year's recruiting class.
"I wish those guys were here this past season because they could have gave us more depth," Jones said. "They're going to come in and compete. Those guys love the game. They're not going to cheat the game, and they're going to do whatever they need to do to help this team be successful."
Jones didn't even work at KU when he first made some of those connections. But the relationships he established with various prep coaches and their players years back didn't falter once he moved on from Texas Tech, where he worked form 2015-18.
Whenever Jones is out of the office and on the recruiting trail, he said even while actively seeking older players, he always makes a point of identifying intriguing younger players, too, which gives him a head start on future classes.
Back during his days as a high school assistant at Dallas Skyline High and head coach at South Oak Cliff High, Jones had to know about middle schoolers who could one day help those programs, and he has brought that same approach to recruiting as a college assistant.
"Stuff like that doesn't stop," Jones said, emphasizing how important it has been for him to stay connected with young players however possible and then begin talking with them as soon as it's permissible — at which point he feels like he's hitting the ground running.
"When you can be visible at the program, then you try to show off the KU colors as much as possible," Jones said. "Get those guys thinking about Kansas and Coach (Les) Miles."
Jones doesn't want to come across as a salesman when he's talking with potential future players. But he said there are a few subjects that he makes sure to bring up in his recruiting conversations, including the Jayhawks' head coach, playing in the Big 12 and a "new direction" for the KU program.
What's more, Jones said while discussing the future of the Jayhawks, he'll also reference the past of some other Big 12 programs. Baylor went 1-11 in 2017 and is 11-2 this season headed into the Sugar Bowl. Iowa State won three or fewer games four years in a row (2013-16), but now in head coach Matt Campbell's fourth season the Cyclones could make it three consecutive eight-win years with a victory in the Camping World Bowl.
"It's a trend. You won't be at the bottom too long," Jones said of his message to recruits. "And also, eventually it's going to be Kansas' time. So you take the positives you saw from the past year, and that's pretty much what Kansas is going to be 24/7 here soon."
The hope for Jones is that he can turn incoming freshmen Johnson, Arnold, Golightly, McBride and Missouri prep receiver Luke Grimm, who signed with KU two days after Jones spoke with reporters, into players who facilitate that type of turnaround.