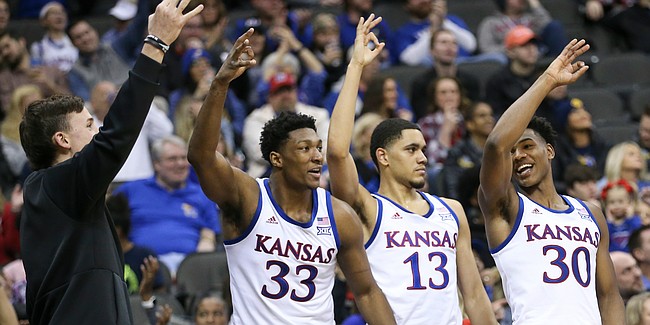 No. 1 Kansas Jayhawks (9-1) vs. No. 18 Villanova Wildcats (8-2)
Time: 11 a.m. | Location: Wells Fargo Center, Philadelphia, Pa.
TV: FOX | Radio: IMG Jayhawk Radio Network
Log on to KUsports.com for our live game blog coverage and follow the KUsports.com staff on Twitter: @KUSports @mctait @bentonasmith @SJacksonLJW & @ByBradenShaw
Keys for Kansas
1. Run them off the line
Defending the 3-point line will be the biggest defensive key for Kansas in this one, but not just because the Wildcats' lineup features five players shooting better than 35% from behind the arc, including three players above 43%.
It's the fact that all five players on the floor at any given time are threats to pull the trigger from 3-point range that makes this Villanova team so tough to defend.
Bill Self emphasized it during his weekly press conference, KU assistant coach Norm Roberts emphasized it while filling in for Self on "Hawk Talk" earlier in the week, and the two Kansas players who spoke about the matchup with Villanova talked about it, as well.
Running the Wildcats off the 3-point line and not letting them catch and shoot in rhythm is the best way for KU to not only limit the Wildcats' 3-point attempts but also to make them labor to score.
But there's much more to it than just running at an open shooter. Self noted that a big part of what Villanova coach Jay Wright does best from an X's and O's standpoint is force teams into bad close-outs with ball movement and then run offense behind that, when the defense is out of position and scrambling.
"They do a terrific job with that," Self said. "All their guards post, all their guards can drive and all their big shoot 3s. They do a good job of flipping the floor in a way that makes you guard everywhere."
The Wildcats, as a team, are averaging 25.2 3-point attempts per game so far this season. Kansas, meanwhile, is giving up 28 3-point attempts per game. Because of those two numbers, along with the size possessed by the Jayhawks, Self said he would not be surprised to see Villanova attempt as many as 35 3-point shots in this one.
If they do, and if the KU defense allows its season average of 30% shooting to opponents from the outside, the Wildcats would get somewhere between 30-35 points from 3-point range. In a game that KenPom.com has being played in the low 70s, that would be nearly 50% of their points from 3-point range.
"I don't believe that we've done a good job of running teams off the line like we should, even though I think that we've done a decent job guarding (the 3)," Self said this week. "I feel like we need to do a better job of running guys off the line and make them play inside the arc a little bit more than what we have."
So far this season, Villanova is getting 35.8% of its offense from the 3-point line (good for 76th in the country) and the Jayhawks are allowing teams to get 40.3% of their points from the 3-point line, the 10th worst mark in Division I.
The national average for points scored via the 3-point shot is 30.9%.
"(Self's) big thing is if they can't get a shot off it has no chance of going in," sophomore point guard Devon Dotson said. "So, you know, (we just want to) make them uncomfortable at all times."
That has worked well for Villanova's opponents in recent weeks. After reaching double digits in 3-point makes five times during the first six games games of the season, the Wildcats have hit that mark just once in their past four games.
"Teams were really working to take away the 3s," Villanova coach Jay Wright recently noted. "We're an inexperienced team and we don't mix it up enough. We get 3 happy or get too focused on drives. We need to mix it up more, and that comes with experience."
2. Push the pace
With Villanova's 3-point prowess in mind, one of the best ways the Jayhawks can combat that is by turning this one into an up-and-down affair.
The Jayhawks have not been great in transition so far this season, but they do appear to be improving in that area and would do well to run as often as possible and force Villanova to do the same.
Turning up the tempo not only would make it more difficult for the Wildcats to operate in the half-court, but it also could potentially limit the amount time the Jayhawks have to dig in and defend the 3-point line.
Beyond that, the Jayhawks appear to have the more efficient transition team.
Through 10 games, KU is averaging 1.16 points per possession while allowing 0.87 points per possession. Villanova is around the same number offensively (1.15 ppp) but is allowing a much higher number defensively (1.01 ppp).
Because of the Wildcats' propensity to give up more points per possession, the Jayhawks should want this game to have as many possessions as possible.
3. Composure on the road
Last year, during their first loss of the season at Arizona State, the Jayhawks folded down the stretch and appeared to let the energy and excitement of the home crowd impact their play.
Although this showdown will not be in the Wildcats' home arena, it still should be a pro-Villanova crowd in a sports-crazed town.
Beyond that, the mere fact that this game is this Kansas' team's first true road test of the season — Maui was a neutral site and last weekend's game at Sprint Center technically was a home game — brings a new dynamic to game day.
"Road games are a little different," said Dotson. "You have to be tighter and more together. And we've got to be prepared for whatever comes our way."
Kansas' recent history as the No. 1-ranked team on the road has not been great, but the Jayhawks are pretty good overall when holding the top spot.
They lost to Arizona State as the No. 1 team in the nation a year ago, but are 23-11 all-time as No. 1, including a 13-4 mark under Self.
Marquee Matchup
KU's bigs vs. Villanova's bigs on the perimeter
It's a sight that many KU fans probably have etched in their brains forever — Udoka Azubuike, Silvio De Sousa and Svi Mykhailiuk sprinting all over the floor against Villanova's open shooters during the 2018 Final Four game in San Antonio.
The Wildcats set a Final Four record for 3-pointers that day nearly two years ago. And even though this crop of Villanova players is different, their style is very much the same.
And that will put a lot of pressure on Azubuike, David McCormack, De Sousa and others to be sound in their defensive assignments against smaller players who can both rise up and shoot the 3-pointer and put the ball on the floor and create shots and plays for their teammates.
Self said the biggest factor that plays into how well his big men defend the 3-point shot against Villanova comes from increased effort, energy and intensity.
"They both have to play (turned up) in order to be able to defend the 3 because that's not what they do," Self said of McCormack and De Sousa in particular.
Azubuike, who is bigger than both of his teammates but also has more experience and better footwork on the perimeter, said the biggest key in his mind was not to think too much about defending just one shot.
"I still have to do my job," said Azubuike said when asked how to defend the 3. "Our bigs, we play a lot of help defense and help the guys (by) hedging and getting back to our man. But our bigs, in this one, are going to have to get back like real fast. We still have to help, but then we have to run and get to our man fast."
This concept of KU's big bodies defending more athletic players on the perimeter has been a challenge for the Jayhawks all season. But the more the KU bigs play — and practice — against it, the more comfortable they look.
"I do see improvement," Self noted. "I do. You know, it's amazing to me; when you get better offensively, usually it pumps some energy into you defensively, too. (McCormack's) effort's always been great. He's terrific. But I do see maybe a more focused effort, maybe an effort to push himself to know that this is what he really needs to do. And it's a lot easier to have that mindset whenever things are going well on the other end and things have gone well for him shooting the basketball, even in practice. He's been pretty good."
Jayhawk Pulse
It's a matchup of two of the most consistent and most successful college basketball programs of the past decade, and it has reached the point where just the sound of it — "Kansas versus Villanova" — jumps at you with that big game vibe.
The Jayhawks and Wildcats have played some pretty high-profile games during recent years, with Villanova knocking off KU in the 2016 Elite Eight in Louisville en route to its first national title under head coach Jay Wright. Two years later, they repeated the feat at the Final Four in San Antonio on their way to winning a second title in three seasons.
And most recently Villanova came to Lawrence a year ago and lost a high-energy game that went down to the wire and had Allen Fieldhouse roaring.
Now it's the Wildcats' turn to host the Jayhawks, and this one, which is officially a part of the newly formed Big 12/BIG EAST Battle, has a familiar ring to it.
The Jayhawks were No. 1 in the country a year ago, when they hosted Villanova. And they also were ranked No. 1 in 2016, when they fell to the Wildcats in the Elite Eight.
The all-time series is even at 4 wins apiece. All but one of those games has taken place since 2004 and the series began with a KU victory in New York in 1968.
Five of the eight matchups have come in tournament settings, with three meetings in the NCAA Tournament (KU knocked off Villanova in the Sweet 16 in 2008 en route to its most recent national title), one in the NIT and the other in the Battle 4 Atlantis in 2013.
KenPom has KU as a 1-point favorite with a 54% chance of winning the game.
Former KU center Joel Embiid, who now stars with the Philadelphia 76ers, is expected to be in attendance. The Sixers host Dallas tonight in the same building.

Probable Starters
No. 1 Kansas
G – Devon Dotson, 6-2, 185, Soph.
G – Ochai Agbaji, 6-5, 210, Soph.
G – Marcus Garrett, 6-5, 195, Jr.
F – David McCormack, 6-10, 265, Soph.
C – Udoka Azubuike, 7-0, 265, Sr.
No. 18 Villanova
G – Collin Gillespie, 6-3, 191, Jr.
F – Saddiq Bey, 6-8, 216, Soph.
F – Jermaine Samuels, 6-7, 222, Jr.
F – Cole Swider, 6-9, 219, Soph.
F – Jeremiah Robinson-Earl, 6-9, 232, Fr.