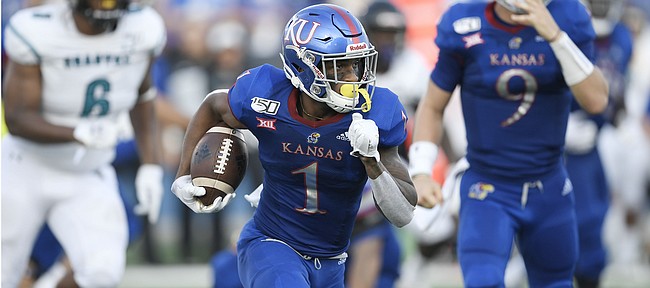 The last-place Kansas football team only won one conference game this season, but the league's head coaches voted two Jayhawks onto the 2019 All-Big 12 first team.
Both sophomore running back Pooka Williams and senior left tackle Hakeem Adeniji, the conference announced Wednesday, were deemed among the best offensive players in the Big 12 this season.
A sophomore from Louisiana, Williams landed on the All-Big 12 first team for the second year in a row, making him the first offensive player in program history to pull off that feat. Adeniji was named to the first team for the first time in his career.
Adeniji started all 48 games of his just completed KU career. The Garland, Texas, native and team captain was a fixture up front for the Jayhawks (3-9 overall, 1-8 Big 12), as the offense averaged 377.3 yards per game.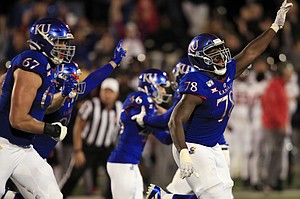 Williams rushed for 100 or more yards five times as a sophomore, and also had a 99-yard outing among his 11 games played. The dynamic back finished with 1,061 rushing yards, 214 receiving yards and five total TDs, and averaged 5.2 yards per carry. He was one of two running backs on the Big 12's first team, joining Oklahoma State's Chuba Hubbard, who was named the Offensive Player of the Year.
None of the Jayhawks picked up second-team honors this year, but several ended up with honorable mention: senior defensive lineman Jelani Brown, senior cornerback Hasan Defense, senior linebacker Azur Kamara, senior safety Mike Lee, sophomore fullback Ben Miles, junior receiver Andrew Parchment and junior punter Kyle Thompson.
Additionally, the following Jayhawks received at least one vote for a postseason award: Adeniji for Offensive Lineman of the Year, Parchment for Offensive Newcomer of the Year and freshman linebacker Gavin Potter for Defensive Freshman of the Year.
2019 All-Big 12 Individual Awards
• Offensive Player of the Year: Chuba Hubbard, Oklahoma State, RB
• Defensive Player of the Year: James Lynch, Baylor, DL
• Offensive Newcomer of the Year: Jalen Hurts, Oklahoma, QB
• Defensive Newcomer of the Year: LaRon Stokes, Oklahoma, DL
• Offensive Freshman of the Year: Spencer Sanders, Oklahoma State, QB
• Defensive Freshman of the Year: Ar'Darius Washington, TCU, DB
• Special Teams Player of the Year: Joshua Youngblood, K-State, KR/PR
• Co-Offensive Linemen of the Year: Creed Humphrey, Oklahoma, and Colton McKivitz, West Virginia
• Defensive Lineman of the Year: James Lynch, Baylor
• Chuck Neinas Coach of the Year: Matt Rhule, Baylor