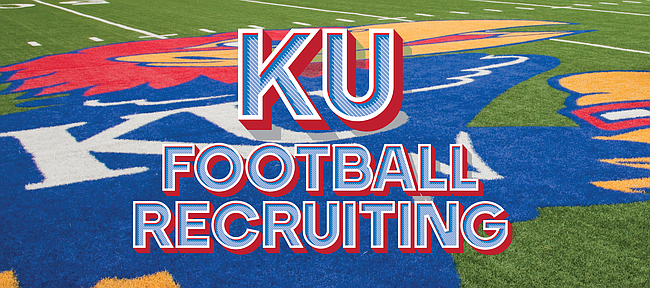 The Kansas football program's lengthy list of 2020 commitments shrank by one this weekend.
Among the earlier players during a busy June to pledge to head coach Les Miles and his staff, linebacker Kershawn Fisher announced Saturday night on Twitter that he's now a "free agent," having decommitted from the Jayhawks.
A three-star prospect from Northshore High, in Slidell, La., Fisher declared himself "1000%" committed to KU earlier this summer, when he made his nonbinding decree on June 8.
According to Rivals, Fisher has also in the past received scholarship offers from 11 other programs, including Houston, Air Force, Kansas State and Louisiana Tech.
Fisher joins Keith Miller III, a three-star receiver from Texas, as the only players in the class so far who have backed out of a commitment to Kansas.
Even with the loss of Fisher, KU currently has 21 high school seniors in its upcoming recruiting class who are on board.
The earliest any of them can sign and make their future with KU official is December.
2020 KU football recruiting class
- Verbal commitments
• Duece Mayberry - 3-star CB from Oklahoma
• Jackson Stoefen - 3-star OL from Iowa
• Keenan Hambrick - 3-star WR from Alabama
• Trevor Kardell - 3-star TE from Missouri
• Will Huggins - 3-star TE from Kansas
• Krishawn Brown - 3-star LB from Oklahoma
• Khari Coleman - 3-star DE from Louisiana
• Garrett Jones - 3-star OL from Michigan
• Ja'Cobee Bryant - 3-star CB from Alabama
• Malik Johnson - 3-star WR from Texas
• Caleb Taylor - 3-star DE from Missouri
• Kenean Caldwell - 3-star DT from Louisiana
• Jaylin Richardson - 3-star athlete from Kansas
• Taiwan Berryhill - 3-star linebacker from Louisiana
• DaVonshai Harden Jr. - 2-star QB from Kansas
• Luke Grimm - 2-star WR from Missouri
• Tommy Brandt - 2-star OL from Minnesota
• Juan Jarrett - 2-star LB from Ohio
• Nicholas Martinez - 2-star OL from California
• Kyler Pearson - 2-star WR from Oklahoma
• Daniel Hishaw Jr. - 2-star athlete from Oklahoma
- Former commitments
• Keith Miller III - 3-star WR from Texas (flipped to Colorado)
• Kershawn Fisher - 3-star LB from Louisiana
More like this story on KUsports.com