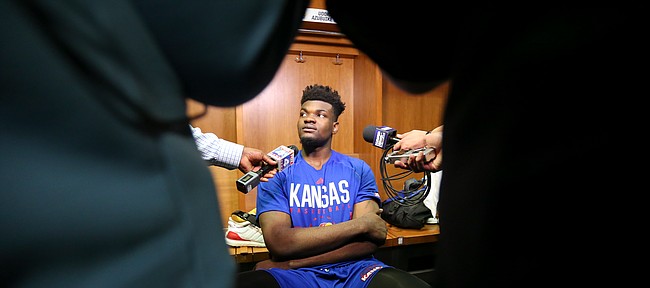 With basketball's version of a vetting process behind him, Udoka Azubuike enters his third season at the University of Kansas in possession of an extensive range of facts and judgments surrounding his on-court strengths and weaknesses.
The 7-footer spent a chunk of this past spring all but leaping to the NBA, and thanks to the rule that allows college prospects who don't hire an agent to go test their draft stock and return to school, Azubuike finds himself armed with a to-do list capable of transforming him into an even more devastating presence for the Jayhawks.
"I gained a lot of experience working out with the NBA teams, going to the combine," the Nigerian big man avowed. "That really helped me a lot."
The scouts, coaches and front office personnel with whom Azubuike met gave him enough feedback on both his perceived value and his shortcomings to inspire the center who led NCAA Division I by converting 77 percent of his shots as a sophomore to head back to Lawrence for another year of fine-tuning.
His KU coaches considered the intel their powerful big received beneficial, as well, because it reenforced much of what they already had told him. Evaluators who work in the league Azubuike eyes as his future employer advised him to become a better ball-screen defender and improve his conditioning, among other tips.
They were the same types of messages he caught previously from KU coach Bill Self and his staff.
"But now he heard it," assistant coach Norm Roberts said, "from GMs and people like that. I think he realizes what he needs to do to get to the level he wants to get to."
Azubuike averaged 13 points, 7 rebounds and 1.7 blocks for KU's 2018 Final Four team. In his upcoming junior year, he wants to play in "way better shape," and prove he can regularly make a larger impact on the glass while doing other little things, such as setting more effective screens on the ball and busting to the paint with a purpose.
"Pretty much it's all stuff I can capitalize on and really work on," he said. "Like I've been doing. I just need to do it way more."
When Azubuike returned to KU from his flirtation with the NBA, his coaches could tell he was more serious about addressing his flaws.
After all, if he wasn't it could end up costing him professional longevity — and paychecks.
"In order to play at the next level you've got to be able to switch ball screens with seven seconds left on the shot clock — you have to," Roberts said of one of the various fundamentals Azubuike is tackling. "Because that's what the NBA does now. You have to be able to keep a guy in front of you, contest his shot, rebound it. You've got to be a multiple ball screen guy. You've got to run to the rim — not jog. Those things. I think all those things have been said to him."
Now, thanks to the NBA voices who stressed such advancements in his repertoire, Azubuike better understands the directives his KU coaches will continue to throw at him as necessary.
Those not-so-subtle reminders figure to create a more complete version of Azubuike, one that could not only dominate the paint for KU, but also look a lot more appealing to NBA decision-makers in search of a 7-footer who can survive a modernized game.
Early appraisals from his college coaches line up with KU's returning starting center taking on a more substantial load as a junior.
"I think Dok's come along really, really well," Roberts said. "I think he's taken a step up with leadership, communication, talking more. He knows that it's more of his team this year. He knows that a lot of the media attention, all that type of stuff is going to be coming his way. I believe he's ready for it and wants it."