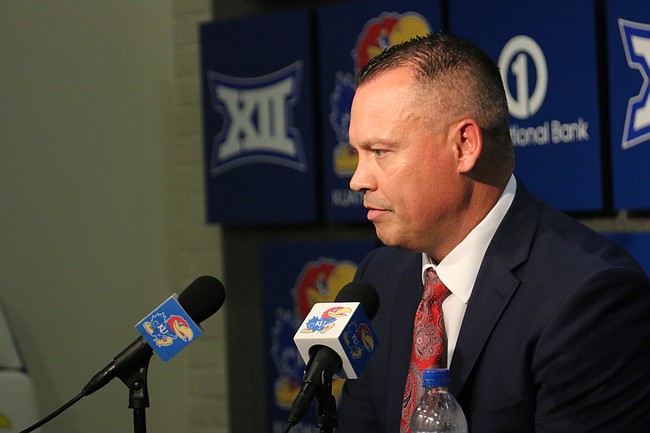 Jessica Washington's return is much anticipated after the success from Christalah Lyons and Kylee Kopatich, who each averaged double digits for the University of Kansas women's basketball team last season.
Washington will slide back into the mix after missing last year with an ACL injury, which could allow the Jayhawks to have a dynamic backcourt with all three guards. Yet, head coach Brandon Schneider wasn't ready to commit to that plan during the team's annual media day press conference Wednesday afternoon.
"I don't know that I can say that," Schneider said. "I think one of the best things about our team right now is I have no idea who's going to start … and that's returning five starters."
Still, the Jayhawks have postseason aspirations following the return of Washington.
"If you look back on it, last year, we were three points away from the postseason," Schneider said. "We have six new players, really, with Jessica coming back and Brittany (Franklin) added to our frontline."
The other four include a pair of junior college transfers from Highland Community College, Niccolly Ramalho and Mariane De Carvalho. The two only lost one game in 2018 with a 35-1 record.
The Jayhawks also have two freshman recruits in Aniya Thomas and Brooklyn Mitchell. Hailing from New Orleans, Mitchell was touted as a five-star recruit, ranked No. 45 overall and No. 14 in her position by ESPN.
"You don't recruit junior college players without thinking they can make an immediate impact," Schneider said. "(Aniya and Brooklyn]) have won many state championships in their respective states. They're coming with very high expectations. They're not used to losing."
Schneider knows his team, which went 9-3 in the nonconference slate last year, has the talent. It's just a matter of time before they all start to make plays with each other.
"They're great players ... To put us all on the court at the same time, it's something I have really been waiting for," Washington said.
Kansas plays host to Fort Hays State at 2 p.m on Oct. 28.
Washington's path to recovery
Six years after starting her freshman year at North Carolina, Washington has her bachelor's degree in Liberal Arts and sciences, but just loves basketball and Kansas too much.
"Who wouldn't take another free year of school? Especially with the girls we're going to play with this year," Washington said.
It's no surprise that Washington sees herself as a leader this season, but not much has really changed from her role last year, even on the bench.
"I think my IQ and knowledge of the game is something I can share with the other girls. As a leader, you can't be quiet and sit back. I need them just as much as they need me," Washington said.
Washington took on a different role last season, which included gradually working with guards and going over film with them.
"It was a little bit tougher having to sit out another year, but hey, it's God's plan," Washington said. "If I wouldn't have been here this year, than I wouldn't be able to play with the girls that we have. So I think it's all just a blessing in disguise."
Being competitive in the Big 12
To make it to the postseason, Schneider first needs to get through a Big 12 slate that is as competitive as it's ever been. Last year, he went 3-15 in conference play and five teams are represented in this year's preseason rankings.
"I think, if we can stay healthy, our depth becomes a big factor for us," Schneider said.
One of the Kansas centers in rotation at starter through the nonconference slate, Tyler Johnson hopes her work in the offseason can help the Jayhawks' frontcourt match up with the size in the Big 12.
"In my position, I am an undersized five, so I know going in that I am going to be smaller than my opponent, especially in the Big 12," Johnson said. "There are other ways to get around someone that size. I've expanded my midrange jumper. I've also been practicing a lot of post moves, because when you can't go over, you can go around."