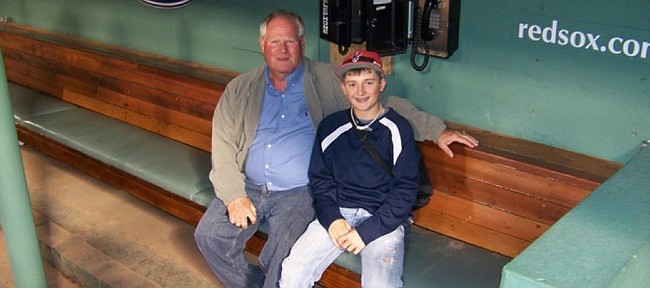 Former Kansas City Royals pitcher and University of Kansas baseball coach Marty Pattin, of Lawrence, died in his sleep Wednesday during a trip to visit friends in his hometown of Charleston, Ill., according to family friends.
Pattin, 75, pitched in the major leagues from 1968 to 1980 for the California Angels, Seattle Pilots, Milwaukee Brewers and Boston Red Sox, and spent the final seven seasons of his career with the Royals.
Pattin was KU's head baseball coach from 1982 through 1987.
He was chosen in the seventh round of the 1965 draft by the Angels after a standout college career at Eastern Illinois, his hometown university.
In 2016, the Charleston High baseball field was named after him.
"I absolutely loved Marty Pattin," Kansas baseball coach Ritch Price said upon hearing the news. "I had a chance to watch him pitch at old Sick's Stadium for the Seattle Pilots when I was a kid. From Day 1, when I arrived on campus, he's treated me first class. I can't tell you how much I valued our relationship. This is a huge loss for Kansas baseball."
In recent years, Pattin has been a mainstay at his grandsons' baseball games at Perry-Lecompton High, where Blaine is a senior, and at Baker University, where Bailey is a junior.
"Such a great guy. Marty and his son helped us redo our (batting) cages just two weeks ago," Baker baseball coach Ryan Goodwin said. "Marty bought the pizza and the pop and told us great stories from his days with the Royals. He was telling us how he was the grill master in the bullpen and had to hide it from Whitey Herzog, who was the Royals manager at the time."
Pattin had undergone heart surgery this past March, but had recovered well and rejoined his weekday mornings coffee group at McDonald's on Sixth Street.
"Family was everything to Marty," said friend Jim Schwartzburg, who enjoyed Pattin's coffee group stories. "He was such a great grandfather, never missed his grandsons' games. And they just adored him. His whole family loved him beyond belief. It'll be a tremendous loss for that family."
Pattin was a member of the 1971 American League All-Star team the night Reggie Jackson's home run hit the light towers on the roof of Tiger Stadium. Pattin also pitched for four division winners and his final appearance in a big-league uniform came with the Royals when the Phillies clinched the 1980 World Series with a 4-1 victory in Game 6. Pattin pitched a 1-2-3 seventh inning with two strikeouts.