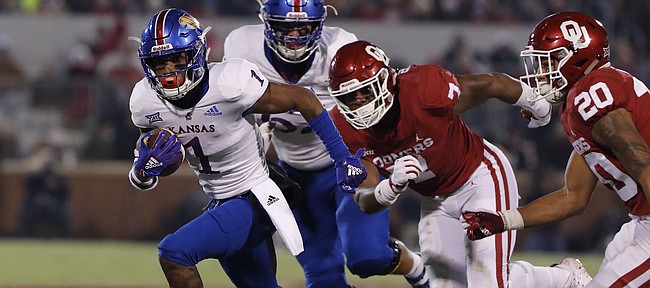 Norman, Okla. — One freshman's transcendent night on a national stage only went so far for the Kansas football team Saturday night, what with No. 6 Oklahoma and one of the nation's top players, quarterback Kyler Murray, lining up across from the Jayhawks.
KU's star running back, Pooka Williams, accounted for 321 yards overall, scored two rushing touchdowns and even threw for another score. All of that, plus a pair of takeaways from the Jayhawks' defense, though, only added up to a 55-40 defeat at Gaylord Family-Oklahoma Memorial Stadium, in front of an announced crowd of 86,371.
Was it the primetime game under the lights that fueled Williams' latest wizardry? Not according to his coach, David Beaty.
"I think he plays as hard as he can every day. Here's the deal: that kid just gets better every week because he works at it," Beaty said. "He loves the game and he continues to work at it. … He's a special player."
After OU went up 18 points in the final minute of the third quarter, the Jayhawks relied on their dependable freshman running back to do even more than they typically ask of him.
Following Williams' 45-yard burst to end the third, KU opened the final quarter 11 yards from the end zone. On the second snap of the fourth, following a bit of KU confusion and a timeout, the offense returned to the field with Carter Stanley at quarterback instead of starter Peyton Bender (19-for-27 passing, 167 yards).
But it was Williams who would be doing the passing on the play. After taking the handoff, Williams kept moving right as he eyed senior receiver Jeremiah Booker, headed for the back right corner of the end zone. Williams may have led Booker a bit too far with his throw, but the veteran still got one foot down in bounds to complete the touchdown and give KU one last sense of hope.
"He's so much fun to be around," Beaty said of the freshman from Louisiana. "He brings so much energy to that team. He surprised me with that pass. That was the best throw he's made, even in practice. It never looked like that and he made a terrific throw and I thought Book made a terrific catch. Proud of them for continuing to fight."
And even though Williams wasn't done there, OU put the game out of reach within the next two minutes of play.
Heisman Trophy candidate Murray (272 passing yards, 99 rushing yards, five total TDs) beat KU junior safety Bryce Torneden in the open field, then sprinted away from everyone wearing a white jersey for a 75-yard rushing score.
With OU up 41-24, KU's chances of rallying took a fatal blow at the conclusion of the Jayhawks' next offensive possession. After an unsuccessful series meant the visitors would punt, the Sooners' Brayden Willis blocked Kyle Thompson's kick and Curtis Bolton picked it up off the grass to run 9 yards for a TD and, following an extra point, OU had itself a 48-24 cushion.
The near impossibility of a comeback didn't seem to faze Williams, though. His masterpiece continued on the very next series, as his patience, cutting, and speed allowed him to deliver a 42-yard touchdown run.
"Man, he's a freak," Beaty said. "He's as good a player as I've ever been around for sure."
Kansas scored more points than it ever had before in Big 12 play under Beaty, the outgoing fourth-year coach. And the visitors even scored 14 points off OU turnovers.
They didn't have the final piece of a winning formula, though, because the Jayhawks didn't make nearly enough defensive stops.
Oklahoma (566 yards) went 9-for-10 on third downs and scored eight TDs on 11 possessions.
"A lot of that is Kyler Murray," Beaty said. "He is a talented guy. How many plays did he make in broke down and 3rd and long situations?"
Redshirt senior linebacker Joe Dineen Jr. (14 total tackles) explained what went wrong for KU's defense.
"Honestly, the offense did everything they needed to do. They held onto the ball. They maintained possession and obviously they scored a lot of points. The defense just needs to come up and make more plays." Dineen began, adding that OU's playmakers exploited KU defenders in wrong positions. "Credit to them. Obviously they've got some guys and Kyler, he was fast, man. He was a different animal."
A rare bad decision from Murray on OU's opening series of the second half fueled the Jayhawks' dreams of delivering a truly special night. Senior KU cornerback Shak Taylor skied to pick off a Murray pass toward the left sideline.
And for the second time on the night, KU's offense made sure the Sooners paid for their giveaway.
Williams should have been tackled who knows how many times on a wild, meandering run that highlighted the ensuing series. And Khalil Herbert's 3-yard TD run a few plays later allowed KU to cut it to 21-17.
Of course, a 77-yard Sooners scoring drive in response, which concluded with one of Murray's five total touchdowns got the top-10 team back on track.
KU led 10-7 thanks to a 45-yard field goal by Oklahoma native Gabriel Rui but the lead didn't stand a full three minutes.
Murray made his easiest throw of the night to put OU back on top for good with a 20-yard pass to a wide-open Carson Meier.
KU junior safety Mike Lee (nine total tackles) assured the massive underdogs of a hot start when he robbed OU's Kennedy Brooks on 1st and goal on the Sooners' opening drive.
Oklahoma was on the verge of taking an immediate lead before Lee ripped the ball free as Brooks went down, near KU's 10-yard line. Then the defensive back from New Orleans dove onto the grass to win the loose ball in a scrum.
"It set up big momentum for both sides of the ball," Lee said.
Even better for the Jayhawks, they actually turned the takeaway into points, even though doing so wasn't exactly easy — KU's running backs just made it look that way.
In what proved to be some offensive foreshadowing, the Jayhawks relied on their running game on the ensuing series. Sophomore Dom Williams accounted for 19 rushing yards, junior Khalil Herbert chipped in 5 on the ground and 7 more on a catch, and Pooka Williams introduced himself to the OU faithful with rushes of 39 and 23 yards, the second of which capped a 93-yard TD drive on the series' seventh play, putting the Big 12's perennial losing program up 7-0.
KU's early lead didn't last long, as the Sooners responded with a four-play TD drive powered by a blown coverage in KU's secondary, leading to a 40-yard Murray pass to Lee Morris. Two snaps later, Murray spooked would-be tacklers with his stutter step and ran for a 7-yard TD.
KU's 13 rushes for 117 yards in the first quarter — compared to just four passes for 28 yards — proved a critical aspect of its would-be upset bid.
The Kansas offense finished with 348 rushing yards and 524 yards of total offense in defeat.
The Jayhawks' season — and the Beaty era — conclude Friday, when Texas visits David Booth Kansas Memorial Stadium.