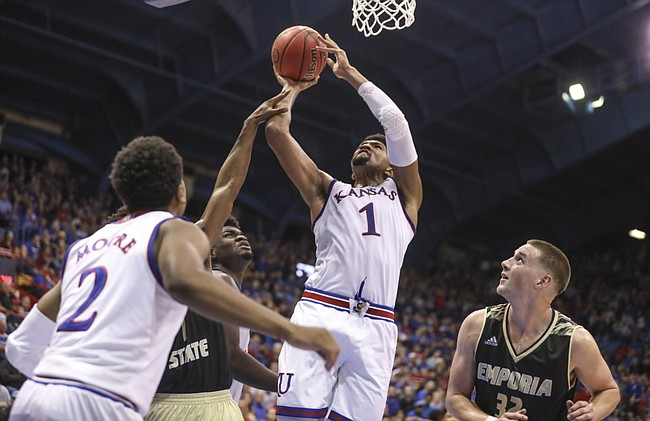 No. 1 Kansas Jayhawks (1-0) vs. Vermont Cattamounts (1-0)
Time: 8 p.m. | Location: Allen Fieldhouse
TV: ESPN2 | Radio: IMG Jayhawk Radio Network
Log on to KUsports.com for our live game blog coverage and follow the KUsports.com staff on Twitter: @KUSports @mctait @bentonasmith & @SJacksonLJW
Keys for Kansas
1. Patience, young grasshopper
Kansas freshmen Devon Dotson and Quentin Grimes were sensational on the big stage of the Champions Classic last week, combining for 37 points and hitting 9 of 15 3-pointers in the Kansas victory.
Their positive contributions to the win went so far beyond their hot shooting, but if there's one area where they will need to exercise a little patience in this one, it's behind the arc.
That's not to say either should hesitate to pull the trigger on open shots from 3-point range, but falling in love with the 3-point shot and expecting to knock in 60 percent of the ones they take would be a mistake and could lead to frustration.
"He's shown that at times," KU coach Bill Self said of Grimes' red-hot hand. "He's been really streaky though. He had one scrimmage where he was 9-of-13 from 3 and he's had some where he was 1-of-5 or 1-of-6."
This team needs both players to continue to shoot the ball well from the outside to maximize its offensive potential. But the shots they take — whether they go in or not — should come in rhythm and within the flow of the offense. Both players offer so much more than outside shooting and their goal should be to show off their complete game night in and night out.
2. Attack the basket off the bounce
Kansas shot 33 free throws against Michigan State and only 10 of those attempts came from KU's guards.
"That's a positive that we got the ball inside," Self said of the free-throw numbers. "But it's not positive that we didn't draw contact like we're so used to seeing with our guards like Frank (Mason III) and Devonte' (Graham). I don't think that they can do it like those two yet. I don't think they will know how yet. But I certainly know we have to do a better job of drawing fouls with those guys."
Dotson is the most likely candidate to see an uptick in his free-throw shooting. So skilled at pushing the ball into the paint and driving at the teeth of the defense, Dotson was a hair out of control at times in the opener.
Excitement and adrenaline probably led to some of that, but now that he has a game under his belt and will be back in KU's home environment, look to Dotson to attack more and be under control while doing it.
The only two free throws he shot in Indianapolis came when Michigan State had to foul late. Same for Grimes, who made one of two, and senior Lagerald Vick did not get to the line once.
All three players figure to make that part of their focus in this one.
3. Run, run, run
Rare is the time when Kansas elects not to push the pace whenever possible, particularly in transition, after turnovers or missed shots by the opponent.
But doing so could be extremely important in this one, as Vermont enters the game with one of the slowest tempo ratings in college basketball.
Sure, the Catamounts have played just one game this season, so it's not entirely fair to say definitively that this team is what its No. 328 tempo rating says it is after the win at Boston.
But going back to last season, when Vermont finished No. 339 in that same category, sure seems to suggest that's true.
A huge part of that is by design, as the Catamounts strive to run good offense, get good shots and slow the pace on their opponents most nights out. That figures to be of particular importance if they hope to hang with Kansas, and the Jayhawks, who rank 32nd in adjusted tempo, likely will look to combat that by pushing the pace and earning as many possessions as possible.
Mega Matchup
KU FG defense vs. Vermont's shooters
Fundamentally sound and disciplined in its half-court sets, Vermont's offense, though not explosive, figures to put the Kansas defense to the test.
"They'll run a lot of set plays, similar to what Michigan State did," Self said of the Catamounts.
With Duncan brothers Ernie, Everett and Robin having incredible comfort and familiarity in the Vermont backcourt, it's junior Anthony Lamb who has Self's attention.
"Lamb is a terrific player," Self said of the junior wing who averaged 14.3 points per game before getting injured last year, and opened the season with a 19-point, 14-rebound effort in the win over Boston. Lamb also added four blocks, three assists and two steals in 32 minutes.
The Catamounts shot 61.3 percent on 2-point attempts in the opener and also turned it over on just 10 percent of their possessions while hitting 72.7 percent from the free-throw line.
Marcus Garrett and Vick could be busy in trying to slow down Lamb and Dotson's ball pressure, if it's as good as it was against Michigan State, could help frustrate the Vermont offense.
Jayhawk Pulse
After jumping out of the gate with a five-point Champions Classic victory over the No. 10 team in the country on a national stage, the Jayhawks return to Allen Fieldhouse with added confidence and are ready to party.
Kansas enters the on-campus round of the Preseason NIT having won a whopping 45 consecutive regular-season home openers at Allen Fieldhouse, a streak that dates back to the 1973-74 season.
Vermont was actually one of those victims. Fourteen years ago, the Jayhawks and Catamounts played for the first time, with then-No. 1 KU knocking off Vermont, 68-61, at Allen Fieldhouse to open the 2004-05 season.
Don't be surprised if tonight's game is close, as well. Vermont is the preseason favorite to win the America East Conference and the Catamounts already have a road win under their belts this season, knocking off Boston U on Friday, 78-72, in the season opener.
Beyond that, Vermont, since head coach John Becker took over, has won more games than any other program in the Northeast not named UConn. And the Catamounts played Kentucky, in Rupp Arena, to a four-point game last season.
While Self and his players said this week that those facts have their attention, the KU coach believes playing well in the home opener should be motivation enough.
"I would think that would be more of a struggle if we played Vermont (last week), because it would be soon after playing Michigan State," Self said. "But playing them six days later, surely you're going to be excited with your first regular-season home game. We'll cover all those things and show them clips of how they've been really good against really good teams. I still think we should be motivated, regardless."
Probable Starters
No. 1 Kansas
G – Devon Dotson, 6-2, 185, Fr.
G – Quentin Grimes, 6-5, 210, Fr.
G – Lagerald Vick, 6-5, 190, Sr.
F – Dedric Lawson, 6-9, 235, Jr.
C – Udoka Azubuike, 7-0, 270, Jr.
Vermont
G – Stef Smith, 6-1, 170, Soph.
G – Ernie Duncan, 6-3, 190, Sr.
G – Everett Duncan, 6-6, 190, Jr.
F – Anthony Lamb, 6-6, 227, Jr.
F – Ra Kpedi, 6-9, 220, Soph.