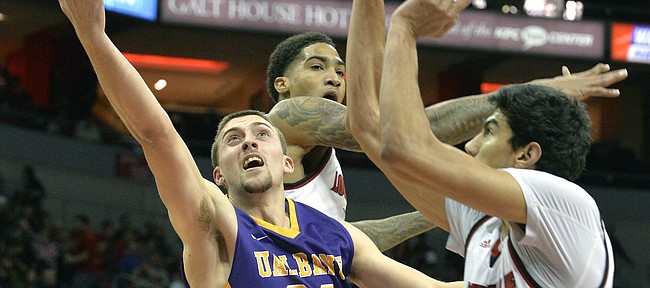 In the period of about four weeks, Joe Cremo transformed himself from little-known college basketball player who hails from a town of 3,000 people just north of Albany, N.Y., to one of the hottest commodities on the recruiting trail.
And he did it by betting on himself.
Cremo, you might already know, is the latest graduate transfer to make headlines by attracting the attention of some of the biggest Division I programs in the country, including Kansas.
After deciding to leave the University of Albany after three seasons, Cremo visited defending national champion Villanova earlier this week and is headed to Lawrence for the weekend for an official visit with Bill Self and company.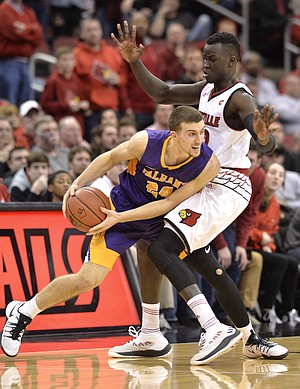 While the past few weeks have been enjoyable, they also have been like nothing Cremo has ever experienced. During his high school days in small-town Scotia, N.Y., the 6-foot-4 shooting guard committed to Albany as a high school junior and never once took an actual recruiting visit.
Now he gets five of them and they're taking him places he never dreamed he would go.
"It's just like, 'Wow.' It's a reality check," Cremo recently said during an interview with 104.5 ESPN Radio in Albany. "I told some of my friends from home, 'Man, I'm kind of messed up in the head right now. But in a good way.' I'm like on cloud nine. I'm talking to these big time coaches and it's been humbling for me. And I'm just trying to take it all in."
Cremo's decision to move on from Albany, a program he grew up around, where older family members played, had nothing to do with Albany at all. Sure, Cremo was disappointed that the Great Danes could never crack the NCAA Tournament field by winning the America East Conference. But a return for his senior season would give him one more chance. One problem. Cremo has been hearing about that one more chance business for the past couple of years and he's ready to challenge himself in a much different way.
"That's always been my goal and that was my goal at Albany," Cremo said of getting to the NCAA Tournament. "People are going to say, 'Hey, you can do that next year.' But I really feel like I can compete with anybody. And after talking with my family, we just thought it would be OK to do this. You don't want to look back and say, 'What if?'
"It was just about me trying to play at the highest level. And anybody that knows me, from my high school teammates to close friends to family, knows that I always wanted to play at the highest level, to just have a chance to play there and prove that I could play against the best."
Now that he seems to be sitting on the brink of that very opportunity — no matter where he ends up — Cremo is doing his best to take things slow and really study which school would be the best for him to complete his college career.
"I haven't consistently been enjoying playing basketball the last couple years and a lot of it has to do with winning," said Cremo, who helped guide Albany to a 67-33 record during his three seasons with the program. "But, at the end of the day, just me being happy and being able to compete and enjoy it, that's a big part of it.
"Fit is huge for me, a chance where I'll be able to have a big role and play. Playing time is big for me. Nothing's guaranteed. A lot of schools can say this and that, but nothing's guaranteed."
Having heard from a couple dozen different programs, big and small, since he made the decision to leave Albany in late March, Cremo said the whole experience had "been a little crazy."
But taking his time with it and really trying to get a feel for what each coach and program was looking for has helped him digest it all. He said hearing from coaches who were willing to fly out to visit him made a big impact and served as a strong statement on just how serious they were about adding Cremo to their rosters.
"I know time is valuable for a lot of these coaches and it is for me, too," he said. "I don't want to waste their time and they don't want to waste my time. So you got to be straight up and honest with some people. That's kind of how it goes. Like I said, I'm new to all this recruiting and I just figured that out. You have to be honest with some people and they'll respect it."
At the end of the day, it's Cremo who has all of the control here. Each of the programs pursuing him is doing so because they have a hole to fill. For Kansas, which is loaded with talent on next year's roster but light on outside shooting, the idea of adding a career 42 percent 3-point shooter who has logged big minutes and shot 46 percent from 3-point range a year ago, certainly would address that issue.
And for Cremo, who said he would always consider himself a part of the Albany program and be a Dane for life, the once-in-a-lifetime opportunity to go prove himself at the highest level was too good to pass up.
"It's nothing personal," he said. "It's just me trying to take a chance on myself."