Wichita — Outside of their dynamic personalities and electric smiles, Kansas point guard Devonte' Graham bears just about zero resemblance to Carolina Panthers quarterback Cam Newton.
But what the two leaders do on their respective fields of battle is more similar than many might think.
For Newton, and other quarterbacks like him, one of the most dangerous weapons in the arsenal is the zone read option play, which involves the QB putting the ball in the running back's gut, reading the defensive end and deciding whether to give the ball up or keep it himself.
For Graham, the exchange is not the same — instead of a hand-off, Graham often uses skip passes, bounce passes or lobs to get the ball where it needs to go — but as the KU senior prepares to lead top-seeded Kansas (28-7) into a second-round NCAA Tournament showdown with No. 8 seed Seton Hall (22-11) at 6:10 p.m. Saturday night, what Graham does with his eyes and mind is nearly identical.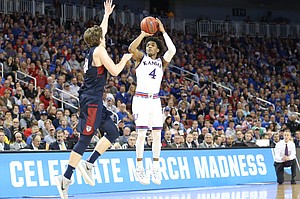 His ability to do it at a high level all season long has put the Jayhawks in the position they're in, and it has landed him on all kinds of All-American and player-of-the-year lists.
More importantly for Kansas, it has made Graham one of the tougher players to guard in college basketball.
"I don't think anyone's really guarded Devonte' very well all year," Seton Hall coach Kevin Willard said on Friday. "Devonte' gives you issues two ways. He can score any time he wants to score, but at the same time, if you just start really concentrating on Devonte', you're going to be in trouble because they've got other guys that can get you."
The Seton Hall players know that, and it's clear that they have been well schooled on not only how to play Graham but what to say about him heading into this matchup.
"I think, with Kansas, you've just got to limit Graham," Seton Hall guard Khadeen Carrington said Friday. "And that's on me because I'm starting on him tomorrow. So just limit his shots, make everything hard for him, because everything goes through him. So I think if you cut off the head of the snake, you know, it's going to be hard for them to do a lot of things."
Added Pirates teammate Desi Rodriguez of Graham: "He can shoot the ball very well, he can take you off the dribble, he's a good playmaker, he passes the ball, he's very unselfish. He always steps up in crunch time. If the game's on the line, he knows the ball is going to be in his hands."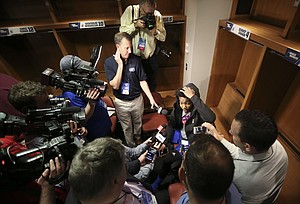 In reality, the ball is in Graham's hands a lot more than that, and his ability to handle such a heavy load has played a huge role in all of KU's success throughout the season.
In fact, there are plenty of people within the Kansas program who shudder to think about what this team would've looked like without Graham stepping so flawlessly into KU's quarterback role.
"We're probably not in this situation, maybe not even making the NCAA Tournament, without Devonte' Graham," said KU assistant Fred Quartlebaum. "And we appreciate him every day."
The feeling is mutual from Graham's eyes to Quartlebaum, and their connection is particularly important on game days.
With so many things happening so fast on the floor, Graham has to process a lot in a little amount of time. Both Quartlebaum and senior Svi Mykhailiuk said they thought just about every team they played this year tried to guard Graham a little bit differently and, with the exception of a couple of games and a few halves, Graham was able to crack the code each time.
Willard, who watched how Penn defended Graham — to the tune of allowing 29 points in Thursday's first-round KU victory — said most of the limited time he's had to study Graham was spent watching what Big 12 teams that know him best did all season.
"They're going to know better than anybody," Willard said. "You try to go from what the Big 12 have done and tried to do, (and add that to) how do we play and how can we incorporate that?"
He had plenty of options. Oklahoma State trapped the ball screen. West Virginia pressed and tried to go under screens. Texas Tech tried to force the ball out of his hands. And Oklahoma allowed freshman Trae Young to try to handle him mano a mano.
There were times when each of those philosophies worked, but judging by the fact that Kansas won the Big 12 by two games and buttered its bread by winning the Big 12 tournament, none of it worked well enough to give Willard and the Pirates the perfect blueprint for how to handle him.
Graham credits his teammates and Quartlebaum for a lot of his versatility, and he was happy to talk about it on Friday at Intrust Bank Arena.
"You just have to kind of go with it on the fly," Graham said of his ability to adapt to ever-changing defensive strategies against him. "A lot of times Coach Q will be on the bench, and after the second media timeout he'll come up to me and tell me, 'They're not hedging hard so you should get into the paint,' or 'They're dropping back, so the skip pass might be open.' So I just listen to him and then I get my read off the defense."
Perhaps the most remarkable part about all of this is that Graham almost never shows that anything is bothering him. It is. He's not Superman. But his ability to stay poised while taking in so much information and wearing so much responsibility for the team's success has made his teammates marvel.
Asked if he had ever seen Graham get rattled during a game, senior running mate Svi Mykhailiuk said simply, "Not really. He just finds a way."
Sophomore Malik Newman, who knows Graham's evolution from sidekick to superstar about as intimately as anybody, given the fact that he spent almost all of his transfer year in 2016-17 guarding him on a daily basis, said his favorite part about Graham's game is the way he has added to it at an almost endless rate.
Newman, who said he got to the point last year where he felt he knew what Graham would do next based on what moves he used to set things up, said he probably would not have much luck guarding his teammate this year because of how much he has added to his repertoire.
"He used to be scared of the paint and now, almost every time, he's touching the paint," Newman said. "Also just opening up more. He's always been vocal and things like that, but I think he's been even better at that this year knowing he had to fill that role. It's just fun watching him. Even when I had to guard him, he was always fun to watch and it's even more fun now playing alongside him."