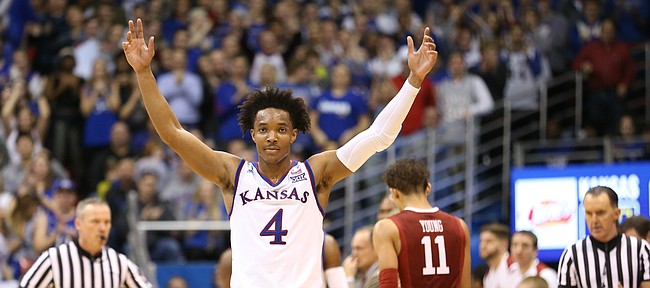 As predicted by most mock drafts throughout the past several weeks, former Kansas point guard Devonte' Graham became the first KU player selected in the 2018 NBA Draft on Thursday night, when the Atlanta Hawks picked him with the fourth pick of the second round, No. 34 overall.
Graham, who spent most of the 2017-18 season following in the footsteps of former KU point guard Frank Mason III, was picked No. 34 just like Mason was one year ago by the Sacramento Kings.
Former KU guards Mario Chalmers (Miami in 2008) and Kevin Pritchard (Golden State in 1990) also were drafted No. 34 overall.
Within minutes of the pick being announced, deputy commissioner Mark Tatum announced that Graham had been traded to the Charlotte Hornets for two future second-round picks. The trade will give the former Jayhawk the opportunity to begin his pro career in his home state.
Graham became the second guard added by Charlotte in this year's draft. The Hornets, in Round 1, selected Kentucky shooting guard Shai Gilgeous-Alexander.

A 6-foot-2, 186-pound guard from Raleigh, N.C., earned Big 12 player of the year and national first-team All-American honors during his stellar senior season that ended at the Final Four.
"He may lack elite quickness, but he can shoot it and he is a winner," ESPN analyst Jay Bilas said of the KU guard. "There's no way that Kansas plays in the Final Four without Devonte' Graham taking them there."
Throughout the past several weeks, after making a trip to the pre-draft combine in Chicago in mid-May, Graham participated in individual workouts with nearly half of the teams in the league, traveling every couple of days and getting an early taste of the intense demands of NBA life.
Projected by most as a candidate to compete for a back-up point guard role on an NBA roster, Graham fully transitioned to the facilitator role during his senior season at KU, when he averaged 17.3 points, 7.2 assists and 4.0 rebounds per game in 37.8 minutes.
A career 41 percent 3-point shooter with the Jayhawks, Graham always was considered a strong shooter and, both throughout his career and during his workouts in preparation for the draft, he expanded his range and quickened his release, both traits that should help his chances of sticking in the NBA.
One of Graham's best attributes, and the thing that probably got him drafted where he did, is his competitive mindset and toughness. Playing point guard for KU coach Bill Self is no easy gig and Graham did it with style and class throughout his time at KU, shining brightest while asked to shoulder arguably the biggest load of any KU player in decades.