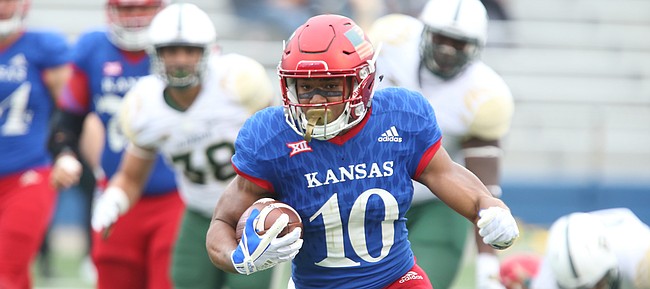 Through three seasons of the David Beaty era, the University of Kansas version of college football's trendy Air Raid offense has failed to yield the type of results that would make the program competitive, let alone turn it around.
Even after adding in 2017 new offensive coordinator Doug Meacham and quarterback Peyton Bender, who has experience with the Air Raid system, the Jayhawks' offense crashed far too many times to sustain any momentum.
Kansas finished its most recent loss-filled campaign ranked ninth in the Big 12 in passing offense (226.4 yards per game), and last in not only passing efficiency (106.4) and points scored (18.7 per game), but also in total offense (329 yards per game).
What Beaty's teams have tried to pull off offensively at Kansas has failed. It seems this fall, the embattled fourth-year head coach might be through trying to prove KU can produce an effective passing attack.
Where exactly the strategy will fall on the spectrum of balanced to rush-prominent remains to be seen. But Beaty admits that now may be the time for Kansas to embrace its running game.
"Without giving anything strategically away, because that's always the juggle here, I've always said that you've got to run the football well," Beaty replied, when asked whether KU's ongoing passing woes would inspire the offense to feature its running backs in 2018.
"The teams that win in this league, they run the ball well. They talk about throwing it, but they actually get you to look over here," he said, pointing up, "and they're running the ball straight down your throat."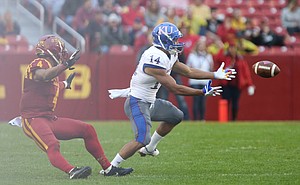 Of course, the Jayhawks (1-11) didn't come close to resembling that type of team in Beaty's third and most recent season. Among their 851 offensive snaps, 57.5 percent were passes — resulting in either a completion, incompletion, interception or sack — and 42.5 percent went down as rushing plays. They finished last in the Big 12 in rushing offense (102.6 yards per game and 3.1 yards per carry — averages that include the 188 yards lost on 29 surrendered sacks).
If KU indeed emphasizes its ground game in the months ahead, bringing those percentages closer to 50-50, or even favoring rushes over passes, then running backs Khalil Herbert, Dom Williams and Pooka Williams figure to benefit most.
"It's definitely exciting," Herbert, a junior back, said of a potential schematic shift. "I think the coaches know we can run the ball if we really trust in it. We've got the right guys on the O-line, we've got the right guys in the running back room. Being able to balance it out is going to help us a lot."
The only game in which KU truly committed to running the ball this past season, racking up 50 carries compared to 34 pass attempts against West Virginia, the Jayhawks totaled 367 yards on the ground, with Herbert's 291 yards on 36 rushes accounting for the bulk of the damage. West Virginia still prevailed, 56-34, but the Jayhawks totaled 564 yards of offense — easily its season high.
Most other weeks, KU coaches either didn't like the matchups enough to run so frequently, were doomed by injuries to key rushing personnel or fell behind by so many points so early that trying to catch up via mostly passing calls seemed the feasible route.
Discovering an effective five-man combination upfront, on the line, will have as much to do with the offense's fate this upcoming fall as any factor, and no one yet knows how feasible it is for that scenario to become a reality.
But Beaty at least seems open to the idea of letting Herbert, sophomore Dom Williams and true freshman Pooka Williams star behind some combination of linemen, such as juniors Hakeem Adeniji, Andru Tovi, Clyde McCauley III and Antione Frazier; senior Larry Hughes; transfers Alex Fontana and Kevin Feder; sophomores Earl Bostick Jr., Chris Hughes and Malik Clark; redshirt freshman Joey Gilbertson; and perhaps even true freshmen Nick Williams and Jacobi Lott.
"We've got to do a good job of creating a run game, and something I can say without giving away any strategy: We've always wanted to do that. We just need to make sure that we're putting them in good positions and that they feel good about what they're doing, and we're limiting what we're doing so we can get good at something," Beaty said.
"We think there's nothing more demoralizing than a team that can run the ball and you can't do anything about it. That's hard. It's very difficult. And there's not many teams that can do it," he added. "But when you can do it, it's pretty powerful."
Rushing routinely instead of as an afterthought could create obvious benefits, such as keeping the game clock ticking, thus limiting the amount of snaps an opposing offense gets against KU's defense. But the passing game could profit, as well.
Senior receiver Steven Sims Jr. actually thinks a run-heavy style would make him an even better target.
"When you've got guys like Khalil, Pooka, Deron Thompson, guys like that back there, they can help me out a lot. If they get going, it's only going to open up the pass," Sims said. "So we've got to do that first. We've got to be a run-first team. We've got to open up, start with the run, get the run going and everything else is going to open up."
A drastic ideological revision might prove simpler to theorize than execute. And, at this point at least, Beaty wants to remain vague on the notion of doing a complete 180 when it comes to KU's offense.
"Doesn't mean that we're not going to throw the ball," Beaty advised, while discussing the Jayhawks' potential to modify and spotlight its rushers. "You can't be one-dimensional. But there's some things we felt like we had to look at to make sure that we are giving ourselves the best chance to be successful moving forward, based on the information that we've got. Not just over the last four years, but we looked deep to see kind of what the trends are. Why are these things continuing to maybe show up? And then, how do we fix them?"