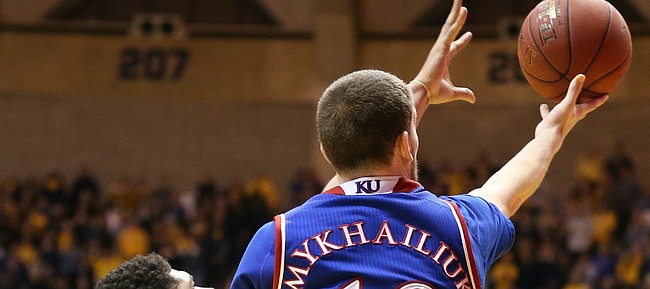 In years past, Svi Mykhailiuk wasn't ready or asked to play a big role in carrying Kansas back from big, late deficits. He's doing it so well now, though, that his coach paid him a monster compliment Thursday.
"I personally thought it was the best game he's played since he's been at Kansas," Bill Self said of Monday's game at West Virginia.
Svi scored 12 points in the game's final 6:59 on a night the Jayhawks went from 12 down with eight-and-half minutes left to a 71-66 victory.
"When you look at shots, if they make shots, great, but he competed for balls," Self said. "He was much more physical. That rebound he got, late game, where he spun out of it and walked was maybe the best defensive play of the game."
Svi picked up a rebound and a steal in four second's time and turned it over both times, but Self looked at the plays as a net positive.
"I can't hardly get upset at a kid for that," Self said of the travel. "Then, of course, he was totally exhausted, but he made timely shots late. I thought he played very, very well."
Svi hit 3-pointers with 6:59 and 5:52 remaining, and made all four free throws he attempted in the final 3:59.
His bucket at the hoop with 1:45 left gave Kansas a 65-64 lead and stood up as the game-winner. A step or two to the right of the top of the key, Svi received a pass from Graham, gained a step advantage on Esa Ahmad with his first dribble, slithered by Wesley Harris closing from the right and put up a scoop shot off the glass, evading Ahmad's attempt to block it from behind.
The decisive, confident play demonstrated how the senior from Ukraine has expanded his game.
"He's much tougher, mentally," Self said. "I've always thought that Svi was a terrific shooter who hasn't shot it great consistently, yet."
Before this year, Svi sometimes faded as the competition toughened. Not now. In Big 12 play, he's averaging 17 points, shooting .532 from 3 and ranks second to Graham with three assists per game.
"Everybody kind of knew that his first three years, yeah, he can make shots, he's a good shooter, but he hasn't got on one of those rolls, and I think this year he's being much more consistent," Self said.
So consistent that he has scored in double figures in 17 of 18 games, compared to 19 of 36 a year ago.