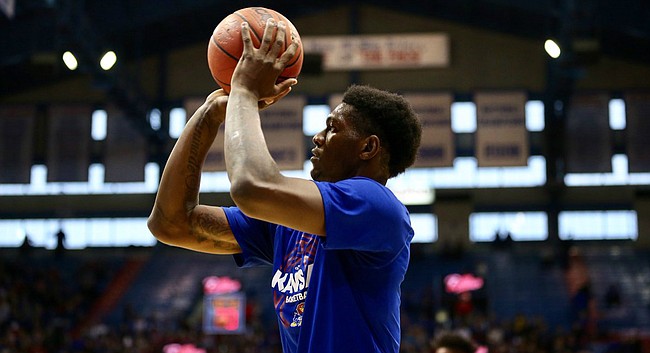 Speaking publicly for the first time since arriving at Kansas after graduating early from IMG Academy in Florida, freshman forward Silvio De Sousa on Thursday was asked about the pressure he felt from having to hit the ground running and help the thin Kansas frontcourt immediately.
The 6-foot-9, 245-pound personable, gentle giant laughed.
"Pressure," he questioned. "Ha ha. To be honest, I know how to handle pressure. I have felt a lot of pressure before, but right now I've grown a lot and I know how to deal with it, so it's not a big deal and I just handle it like I should."
That answer fell perfectly in line with one De Sousa — pronounced Deh-Soe-Sah — gave just a few minutes earlier about the differences between high school basketball and the college game, which he has experienced for exactly 11 minutes in the past two KU victories.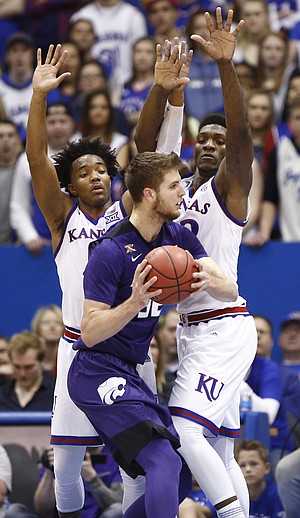 "The difference is, in college, you play with men and in high school it's more like you play with boys," De Sousa said matter-of-factly. "When I was in high school people used to say I'm a grown man because of the way I'm built. In college, everybody's the same. So I think it's a lot different."
Unable, thus far, to deliver the same kind of double-double nights and highlight-reel plays that he did for IMG, De Sousa, a native of Angola, explained that he was feeling more and more comfortable with each passing day.
The reason? For one, he's more familiar with his surroundings and starting to open up to his coaches and teammates. And, for two, with each tick of the game clock, De Sousa feels more and more like he belongs.
"When I got in the game against Kansas State I was just telling myself, 'Right now, I just need to see how it is and I just wanted to feel,'" De Sousa recalled. "And the next game, against West Virginia, I told myself, 'I'm going to try and get used to it.' And that's how it's going to be for the next couple games, try to adjust and hopefully do better."
Teammate and roommate Marcus Garrett, a freshman who, from Day 1, has carried himself like more of a veteran, said he has seen De Sousa become more comfortable with each passing day.
"I feel like ever since he came in he's been trying to compete, playing hard, trying to learn things on the fly," said Garrett, noting that De Sousa could help this team most with rebounding and his footwork in the post.
But it's not just points and rebounds or fouls and free throws that Garrett believes make De Sousa an asset for this Kansas team.
For a young man who stepped into an almost impossible situation and received a standing ovation from the home crowd for just going to the scorer's table to check into a game, De Sousa's positive demeanor has been refreshing for a group of Jayhawks who have been stretched thin and playing on the edge since the season tipped off.
"He's very funny," said Garrett, who guessed that the two might have been assigned to room together because they share the same favorite rapper, NBA Young Boy. "He likes telling jokes. He likes just being around people, basically. He's uplifting, all of the good things you want to be around."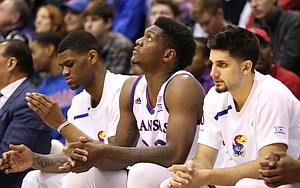 If there's any correlation between that and producing on the court, there's a better than fair chance that KU coach Bill Self will discover it. And while Self has been the one guy in town trying his best to keep the expectations for De Sousa rooted in reality, even he admitted Thursday that he was "excited" about his new big man's prospects in the not-too-distant future.
"I said this earlier, probably February 1 before he's probably really comfortable," Self said of De Sousa's timetable of progress. "But I'm excited because I do think he brings us physical presence. You know, he's a strong dude. He's not going to be great this year. We knew that. But he is going to be a guy that I think can give us substantial minutes and us not take a step backwards from a competitive standpoint or rebounding standpoint."
As for the limited number of on-the-court moments he has had thus far, De Sousa said he already has experienced one that figures to last a lifetime. And it came when he cooly tried to work his way down the bench after being asked to check into last Saturday's win over Kansas State with just under 10 minutes to play in the first half.
"That moment, I think I will never forget," he said. "I think it was a dream coming true. I just feel like Kansas was the right place to be. It was No. 1 and it will always be my No. 1 school no matter what. I could see the crowd, the fans, the way they wanted me to play, and I loved it. I'm really thankful for them.
"So far everything's been great. And I'm just trying to adjust myself. My team and the people around me are supporting me and helping me a lot, so I'm going with them."