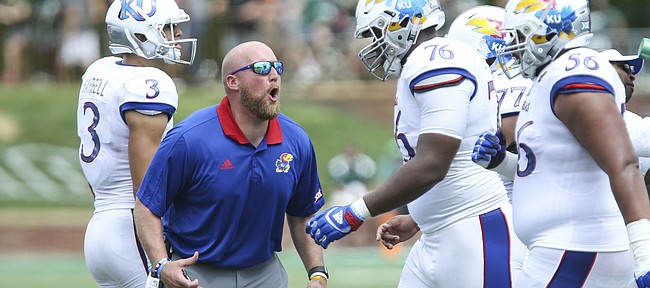 The Kansas football program announced the dismissal of two assistant coaches and the promotion of another Friday.
Fourth-year head coach David Beaty will not retain either special teams coordinator Joe DeForest or offensive line coach Zach Yenser for the 2018 season, Beaty revealed in a release.
Beaty promoted Justin Johnson, who has worked for KU football as an offensive analyst the past two years. Johnson will become an on-field, full-time assistant for the offense in a yet-to-be specified capacity.
The news of DeForest's departure came a day after Bruce Feldman reported Jeremy Springer will join the KU staff as special teams coordinator. KU has yet to announce that hiring.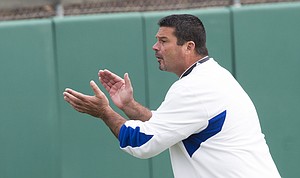 KU's special teams and offensive line came under significant scrutiny during the Jayhawks' 1-11 2017 season.
Yenser coached the offensive line at Kansas in each of Beaty's first three seasons on the job. DeForest oversaw KU's special teams in 2016 and 2017.
"We have mutually agreed to part ways, as Joe and Zach will step away from our program and pursue other opportunities," Beaty stated in the release. "I appreciate the hard work they both put in during their time with us and wish the best for them and their families moving forward."
Because of the NCAA's new rule allowing football staffs to carry 10 full-time, on-field assistants, the Jayhawks still have one vacancy to fill, even with the promotion of Johnson and the reported upcoming addition of Springer.
Johnson worked with Beaty previously, at Texas A & M, serving as an offensive graduate assistant for the Aggies in 2013, while Beaty was the wide receivers coach and recruiting coordinator.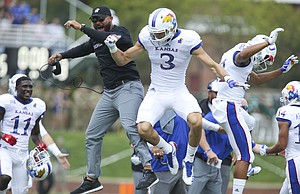 "Justin is known around our building as 'Juice,' because energy is something he definitely brings to the table," Beaty said in the release. "He is well-versed in not only how we want to run our program, but also the nuances to how we want to run our offense. He has worked hard during his time at KU to establish himself as a mentor with our players and that will help him greatly as he moves into his new role."
Beaty indicated Johnson will help KU on the recruiting front, as well.
In a tweet Friday afternoon, Johnson referred to his promotion as an "honor" and "blessing," adding he is excited to get started.
A Houston alum, Johnson worked at his alma mater in 2012, in an offensive quality control position.
Johnson was a four-year letterwinner at UH from 2008 to 2011. As a senior, he helped lead the Cougars to a record-setting 13-1 overall mark and a win over No. 23 Penn State during the TicketCity Bowl. The Richardson, Texas, native finished second on the team with 1,229 receiving yards and 12 touchdowns on 87 receptions that season, en route to earning All-Conference USA First-Team accolades.