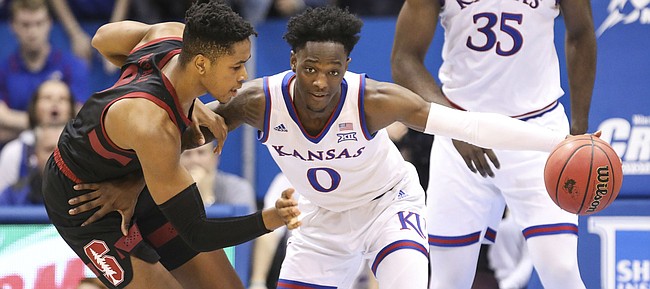 No. 2 Kansas Jayhawks (7-0) vs. New Mexico State Aggies (7-1)
Time: 7:30 p.m. | Location: Sprint Center, Kansas City, Missouri
TV: ESPN2 | Radio: IMG Jayhawk Radio Network
Not going to be home for the game? Sign up for ESPN+ and watch your Hawks on the go.
Log on to KUsports.com for our live game blog coverage and follow the KUsports.com staff on Twitter: @KUSports @mctait @bentonasmith & @SJacksonLJW
Keys for Kansas
1. Ride your star
Seven games into his KU career, junior forward Dedric Lawson has recorded four double-doubles, leads the team in scoring (19 points per game), rebounding (10.7) and assists (22) and has provided plenty of support for those who picked him as the Big 12's preseason player of the year a couple of months ago.
And now's when things get interesting.
With junior center Udoka Azubuike sidelined for at least the next couple of weeks because of an ankle sprain, Lawson is bracing for a change of pace.
"It's definitely going to change a lot of roles," KU's leading scorer said this week.
But whether that change causes chaos or leads to even better things is largely up to Lawson's approach.
Now plugged in as the lone KU big man who poses a consistent offensive threat, Lawson figures to be an even bigger part of KU's half-court offense. That could be a good thing.
According to KenPom.com, Lawson is now ranked as the No. 1 individual player in the country. The ranking takes into account offensive rating, total possessions, defensive stops the player is directly responsible for and other factors to calculate a player's value to his team.
Without Azubuike, Lawson's value — and importance — could actually go up.
"I told him the other day, he needs to shoot more," Self said of Lawson. "Now that Dok's not in the game, maybe not a lot more. He needs to be close to the basket. But I do think, in order for us to run good offense over time, we need to have more guys be able to stretch it and he's certainly one of those guys."
Since 2011, only three KU players have finished in KenPom's Top 10 at the end of the season — Thomas Robinson in 2012 (2nd), Perry Ellis in 2016 (6th) and Frank Mason III in 2017 (6th).
2. Clean up the glass
NMSU ranks 23rd nationally in rebounding margin, out-rebounding opponents by 8.5 boards per game.
And while Kansas, which ranks 106th nationally in the same category (+3.9), has only been out-rebounded by an opponent once this season, the Jayhawks haven't exactly been dominant on the glass.
Part of that comes from the fact that KU has played small so often. The other part of it comes from effort and that was on full display on Tuesday, when Wofford out-rebounded the Jayhawks 45-36, including 19-6 on the offensive glass. For what it's worth, Wofford ranks 50th nationally in rebounding margin.
Beyond KU's one game in the red, the Jayhawks have had four other games where they out-rebounded their opponent by single digits and three games with a margin of plus-3 or smaller.
Azubuike's absence could play a role here, but even at 7 feet tall the KU junior is averaging just 6.1 rebounds per game in 20.1 minutes a night.
"Dok hasn't been a great rebounder," Self said. "But we just have to scrap more. Where (Wofford) hurt us on the glass was the first four or five minutes of the second half. They got like five or six offensive rebounds during that stretch."
3. Bounce-back time for Vick
After a scorching-hot couple of weeks in which he topped 30 points twice and hit 27 a third time — while carrying KU to a few victories — Kansas senior Lagerald Vick cooled off big time against Wofford.
A temporary demotion to the bench for being late to shootaround may have played a role, but in 22 minutes against Wofford, Vick was scoreless on 0-of-3 shooting with two turnovers.
Self said after the victory that Vick would be back in the starting lineup against New Mexico State and the hope, among the Jayhawks, is that the off game was merely that.
Still, given Vick's inconsistent past and tendency to disappear at times during his first three seasons with the program, all eyes will be on the senior from Memphis to see if he plugs himself back into the offense and does so without forcing the action.
Despite the goose egg last time out, Vick is currently averaging 17.9 points per game in a team-high 35.6 minutes per night.
Mega Matchup
KU junior Mitch Lightfoot vs. KU freshman David McCormack
With Azubuike out indefinitely, one of these Jayhawks stands to pick up at least a little extra playing time during the next few weeks, and first impressions can go a long way toward determining which one it will be.
KU coach Bill Self is going to start Marcus Garrett at the 4 but no doubt also will need Lightfoot or McCormack — or both? — to provide at least some of what Azubuike brought to the table.
Mostly, that's defense and rebounding, but both Lightfoot and McCormack are capable of providing an offensive lift from time to time, as well.
Self this week called Lightfoot, "our best rim protector right now without question." And McCormack figures to add a little more in the way of scoring in the paint and delivering those rim-rattling dunks that usually go to Azubuike.
"I would just make easy plays, defend and rebound, and try to get angles and score in close," said Self when asked what areas he would emphasize with McCormack. "I just think he needs to keep doing what he's doing. Run defense, rebound, and pay attention to scout report, things like that can help us. He doesn't have to be a prolific scorer for him to help us."
Don't expect either player to log huge minutes. It sounds like the Jayhawks will continue to play small and may spend even more time with four guards on the floor in the next few weeks than they have thus far.
Jayhawk Pulse
With yet another tough game against a Top 100 opponent on the docket, the Jayhawks are starting to get used to this grind.
Counting New Mexico State, six of KU's first eight opponents, according to KenPom.com, have been ranked in the Top 100, with Michigan State (9), Tennessee (10) and Marquette (34) all cracking the Top 35.
That has led to some serious battles, close calls and tougher contests than the names of KU's opponents might suggest. And that, according to Self and KU freshman Quentin Grimes, has been good for this group.
"We've played a great schedule," Self said. "(And) I think it is better for your team to play good teams in your nonconference. The key to having a good nonconference resume is you have to beat some high-level teams away from your home. We have been fortunate to have done that a couple of times."
"I think it's good," added Grimes of the schedule that Self said had had "no let-ups whatsoever." "It just kind of builds you mentally to show that every possession really matters."
Kansas leads the all-time series with New Mexico State, 3-0, with the most recent victory coming in the opening round of the 2015 NCAA Tournament, when KU beat the Aggies, 75-56, in Omaha, Neb.
Probable Starters
No. 2 Kansas
G – Devon Dotson, 6-2, 185, Fr.
G – Quentin Grimes, 6-5, 210, Fr.
G – Lagerald Vick, 6-5, 190, Sr.
G – Marcus Garrett, 6-5, 195, Soph.
F – Dedric Lawson, 6-9, 235, RS-Jr.
New Mexico State
G – JoJo Zamora, 6-2, 180, RS-Sr.
G – AJ Harris, 5-9, 170, RS-Jr.
G – Jabari Rice, 6-4, 165, RS-Fr.
F – C.J. Bobbitt, 6-7, 225, RS-Jr.
F – Ivan Aurrecoechea, 6-8, 240, Jr.