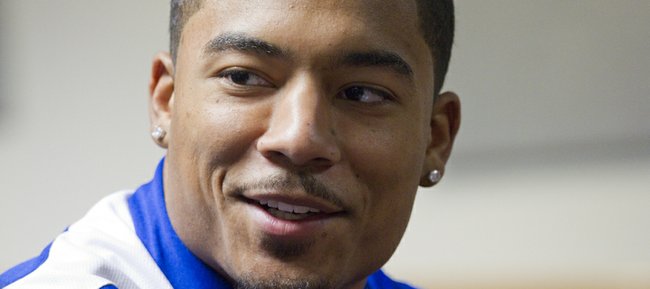 Too many recent college graduates seem convinced that, because they compiled a nearly perfect GPA, piled up the volunteer hours and used just the right blend of colors on the resume, Fortune 500 companies will engage in a bidding war to hire them as their new CEO.
The majority don't take that approach, but far too many do. They just don't get it.
Cassius Sendish gets it. No surprise there.
"Even as a player, he was a lot more mature than his age would have indicated," Kansas defensive coordinator Clint Bowen said of his new safeties coach. "He's always been really aware of what's going on. He's always been a smart guy."
Smart enough to be humble.
Sendish, 26, is unusually young to land a job as one of the 10 full-time assistant coaches for an FBS program. It's a position he would not have landed if not for his eagerness to start at the bottom — always a wise path for a recent college graduate.
Sendish graduated from KU in 2015 with bachelor's degrees in sociology and communications. A team captain and Academic All-Big 12 second-team honoree, Sendish started at safety in all 24 of his games at KU, tried to make it as an undrafted free agent with the Cleveland Browns and was cut. He also spent time in camp with the Calgary Stampeders of the CFL.
This is where a delusional athlete would have started a lifelong practice of bending every ear he could find to explain just how he was shafted and just whom he was better than who made it. Sendish knew better. Time to give that dream its proper burial, knowing he gave it everything he had in him, and pursue another.
He headed to a 2016 Kansas practice during training camp, "to see how the guys were doing."
But that wasn't his primary purpose for the visit.
"I told coach Bowen if there is any spot around here for me to do anything, I want to do it," Sendish said. "Anything. Anything. He told me we had an opening in the video room, and I jumped on it and was ready to go."
Just two years ago, he was at the bottom of the organizational chain.
"There's no job too small for me," Sendish said. "I promise you that. There's no job too small for me."
And no job too scary.
"We would go to a stadium, I might be up in the lights filming," Sendish said. "I'd be out in practice and I'd be out on the lift, however many feet up, for a practice."
Good thing he's not afraid of heights.
"To be honest, I am," Sendish corrected. "I don't like getting on any roller coasters or anything like that, but I mean, if that's what my job is, if I've got to go up there and do it, I'm going to go up there and do it."
Repetitions didn't ease the queasiness.
"I never got comfortable with it," Sendish said.
Spoken like a true acrophobia sufferer. Enduring the discomfort was worth it.
"There aren't a lot of guys who played Big 12 football and had a shot at the NFL who come back and are willing to haul a video camera up to the top of a lift to film football practice every day for a whole season," Bowen said. "When guys are willing to do that and work their way up like that, that stuck with me. He's a smart guy who relates to the players really well. We've been together so long, me coaching him and then him being a GA, that he knows what I want."
Sendish grew up in southern Maryland, closer to Washington, D.C., than to Baltimore. It's no mystery where his serious approach to work at a young age originated.
"It all starts with my parents," Sendish said. "Both my parents have been working at the same place, not necessarily in the same capacity, but at the same place since they were 18 years old. My father's at the Washington Post. He's a press operator now. My mom started working at 18 years old at the Navy Yard. She's still working for the government. I want to say she started out as a receptionist, and she works for the Department of Defense now."
The mother helps to defend our nation, the son helps KU to defend Big 12 offenses. No question who has the more important job, but an argument can be made as to which Sendish has the more difficult one.
Bowen said he thinks that Sendish is well-suited to the recruiting aspect of the job.
Bowen remembered when he first recruited as an assistant at Kansas in 2001. He wanted to make sure Sendish was more prepared than he was at the time.
"When I was a young coach, they said, 'All right, we're going out recruiting,' and no one said a word to me. And the next thing I know, I'm at a high school in L.A. Unified (school district), trying to figure out what's going on. So I try not to do that to these guys. I try to say, 'This is what you have to do. This is how you have to do it. This is what you need to look for.' But Cassius has a great personality," Bowen said. "He can walk into a building and relate to people really well. He doesn't have an ego about him. He's a good guy."
Sendish explained his approach to recruiting.
"Prior to me going into a school, I'm trying to research. I want to figure out exactly who they have so when I go in there, we're not wasting any time," Sendish said. "There might be a coach who's teaching a history class. I don't want to steal any time from him teaching the kids. So if I'm in there for five minutes or 10 minutes vs. me being in there an hour trying to figure out the guys that he has, that hurts both of us. I'm missing out on schools I could be at and I'm taking him from his class. I don't want to do either, or. Come in there prepared. That's the main thing. Come in there prepared."
He approached his job as a player the same way and said he is impressed at the approach of KU's current veteran-dominated roster.
Coaching staffs are restricted in how much time they can spend instructing players during the offseason, but there is no limit on how much time players can spend organizing their own workouts.
"Summertime they were up here all the time," Sendish said. "If I came up here to check my mail or anything, they were out there. Whether they were doing footwork, whether they were running, they were always out there. You look outside and they were out there. I'll tell you one thing, they want it. They want it."
Sendish wants a coaching career and already has impressed members of the defense from various positions, not just safety.
"He really knows the defense," backup linebacker Dru Prox said. "(Last Thursday), he gave us a little speech at the end of practice. I think he's a great coach."
Sendish has drive, smarts and charisma, qualities that will come in handy should he become a head coach some day, 10 or 20 years into the future.
In the event that happens, KU might want to line him up as a commencement speaker. The message of what he did to get started in coaching is one graduating students need to hear.