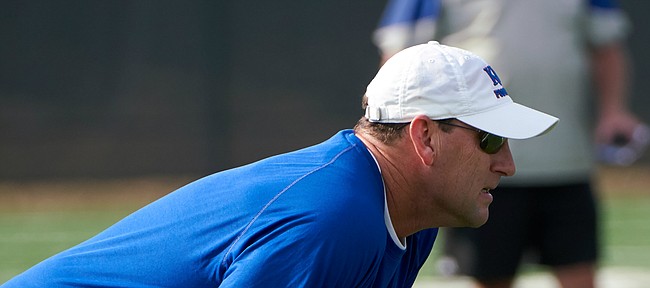 A day removed from seeing offensive lineman Jacobi Lott leave practice in an ambulance, his Kansas football head coach and teammates shared Thursday what they could about the scene.
David Beaty reiterated the program's previous statement on the undisclosed injury the freshman suffered around the midway point of Wednesday's practice, noting that, due to "privacy concerns," all the coach could share was that Lott was "stable" and "responding normally" while being evaluated.
According to Beaty, Lott's parents arrived Wednesday night in Lawrence from Texas to stay with him during the initial stage of his recovery.
The incident subdued what generally is an anticipated day of camp, the first practice in full pads.
"It certainly has an impact. There's no doubt about it," Beaty said of the mood following Lott's trauma, "because if you care about people, then it better have an impact. If it doesn't and you're just going to the next play, then I think there's something wrong with the platform that you have. And I certainly — the way I look at it, it's not ever going to be moving on to the next play. It's going to be making sure that, before we do, that the kid is in good condition and he's stable and that his well-being is taken care of, because our kids are affected by that type of stuff, too."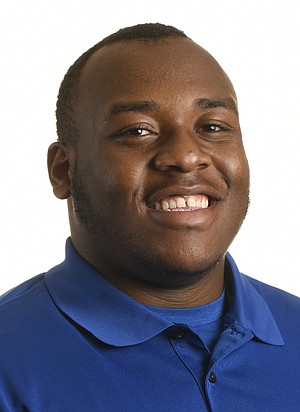 KU's other offensive linemen had to find ways to get back to practicing after watching Lott, a 6-foot-4, 309-pound true freshman, suffer a form of harm that was deemed a code red by paramedics who arrived on the scene.
"I was proud of them," Beaty said of KU's linemen. "You know, I think those guys were able to refocus and get back on the job at hand. I can't really say much else about the injury, guys. I don't want to really get into it too, too much more than that, but I was really proud of our players. They were able to bounce back, but we constantly updated them on the situation. I think the whole thing for us is making sure we communicate and then over-communicate and then we always make sure we over-communicate more so they know what's going on. There's no guessing about what's going on with their brother."
Redshirt senior linebacker Joe Dineen said a "freak thing" such as having a teammate exit the practice fields via stretcher and loaded into an ambulance curbed the spirits of all the Jayhawks.
Dineen said the aforementioned updates that circulated helped them "keep pushing" through the session.
"He's a hard worker," Dineen said of Lott. "He's a really good kid. I think he's going to be really good for us. He's a big body. You can tell when he gets out there that he is physical. I think when he gets back, he is going to be really good for us."
In what looked like a potentially scary situation, with trainers and paramedics stabilizing Lott on the turf where the team practices, players had to process the episode before concluding the morning session.
Sophomore quarterback Miles Kendrick admitted he has seen "some pretty bad things" during his time as a football player. In those situations, he finds it best to keep his mind from focusing on the worst-case scenarios that come with this game.
"When you suit up every day, you decide that's the risk that you take with the sport that we play. It's kind of the gladiator mentality," Kendrick said. "You know what you're getting into. I don't think you worry about it. It comes with the territory."
Because football involves such physical play and, as Beaty described them, inherent dangers, KU was prepared to assist Lott quickly. The coach said the hope always is that any injury scare turns out to be a false alarm.
"Fortunately, a lot of them do; but some of them don't. So we take all of them with the highest level of precautions when it comes to what takes place with these young men," the fourth-year KU coach said.
The protocol in place, Beaty added, meant KU would call for an ambulance, even as a precautionary measure.
"We have a plan for anything and everything that goes on with anything, particularly and including their health, and any kind of situation that goes on," Beaty said. "I'll say this: I was amazed at our sports medicine team and our doctors and how they handled it, and I don't know that I can go much further than that. But just watching the organization and how they operated that situation, watching Owen Stanley (head football athletic trainer) and watching the person that was responsible for loading the 911 call, the person that was responsible for the AED, it was impressive. I mean, I'm sitting there going, 'Wow, this is really, really impressive.' And then, watching those guys work together was really good."