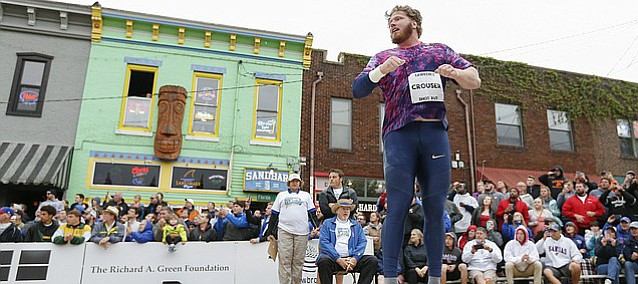 The posters were printed. The field of nine professional athletes — including two 2016 Olympic medal winners and two other competitors in the Rio Games — was set.
And what would have been the eighth annual Downtown Lawrence Men's Olympic Shot Put looked for a month or so as if it was going to happen.
Instead, Eighth Street, from Mass to New Hampshire, won't look any different this Friday from normal, which is pretty darn good compared to most of the nation's downtown blocks.
The event was canceled April 7.
"At the end of the day, I just fell ($7,000) short," said event organizer Bob Sanner, of Lawrence Sports Corporation (LSC).
The first sign of trouble for the unmistakably Lawrence event, which happened to have been my favorite in the city, came when Explore Lawrence ended its relationship with LSC after the conclusion of the Junior Olympics at Rock Chalk Park.
Sanner didn't think there would be a 2018 Downtown Shot Put and let the October application deadline with the Transient Guest Tax Grant Program pass. Why didn't he apply?
"I felt like certain decision-makers just wanted me to go away," Sanner said.
He stuck around. Then, he said, after the first of the year, he heard from so many world-class throwers encouraging him to try to continue the event that he set about seeking sponsorship from businesses and individuals to try to cover the $85,000 budget, including a $20,000 fee from the city for the two-day project of construction of the sector and breakdown and cleanup the day after. Half the city's street division is tied up for two days.
To the chagrin of competitors, spectators and downtown businesses, Friday night won't be quite the same.
Several of the throwers through the years have told me they consider this their favorite event of the year. Their adrenaline flows faster with the crowd right on top of them than when they compete in the middle of the infield at a track meet.
I talked to Tom Walsh, of New Zealand, bronze medalist in 2016, and he couldn't wait to take a shot at beating defending Olympic and Downtown Shot Put champion Ryan Crouser, an American.
"I hate losing to anybody, but I especially hate losing to him," Walsh said.
It would have been a most entertaining duel. Their next grudge match will take place elsewhere.
"In the past, the $20,000 was never a budget item," Sanner said. "The event budget went from $65,000 to $85,000."
And he stalled at roughly $78,000.
Sanner tried to get creative in how to close the $7,000 budget gap.
As in years past, Hamm Quarry donated the "millings, the material used," for the surface of the sector. The city then keeps the material and reuses it at the levee, according to Sanner.
He said he checked with Hamm Quarry to see if it would be OK if he approached the city about receiving a $7,000 credit for the material. He said he was told to go for it.
That's where things stalled.
According to Sanner: He checked with public works and was told to make a formal request with the city. He approached Mayor Stuart Boley, who checked with city manager Tom Markus, who told Boley to tell Sanner that it was a public works issue and to discuss it with them, which he did, but didn't get approval for his long-shot, last-ditch effort.
Markus characterized Sanner's attempt to get credit for the donated material as "just another way to have the city help subsidize the event after he failed to meet the deadline for the TGT funds to begin with."
Sanner, who first told the city in March that he intended to put on the event, couldn't come up with slightly more than a third of the $20,000 by the April 6 deadline and informed the city on April 7 that the event was a no-go.
So is it history? Was it just a seven-year tease to remind us for the rest of our lives what we used to have and don't anymore, remind us that we aren't quite what we were for seven years?
"Call me stubborn, but I think this is part of what Lawrence is," Sanner said. "It fits our image."
So Sanner said if he's "still around," he plans to apply for a grant to help defray the costs and hit up sponsors and donors again in hopes of resuming the Downtown Shot Put in 2019.
Here's hoping Sanner applies for a TGT grant, gets at least a portion of what he asks for and enough sponsors step forward to cover the remaining costs.
Lawrence is a better city if we can all count on knowing that once a year, the friendly, freakishly athletic behemoths with enough understanding of the value of showmanship to happily trash each other to hype the event, will visit us for a couple of days, leave and continue to tell the world about what a cool place it is.
"We'd be glad to see it return," Markus said. "I think we're interested in seeing a lot of these things occur in the downtown. We see them as attractors to the downtown. We see that as a good thing. … We approved three events tonight. We don't pay for any of those."
Sanner didn't paint the event he loves to promote as a targeted victim.
"The city's philosophy for all downtown events has changed," Sanner said. "They weren't singling out the Downtown Shot Put. It's all about pay to play."
The Kansas Relays get underway today, but the coolest track and field event of the year will have to wait for 2019 at the earliest, and it's a maybe at best.