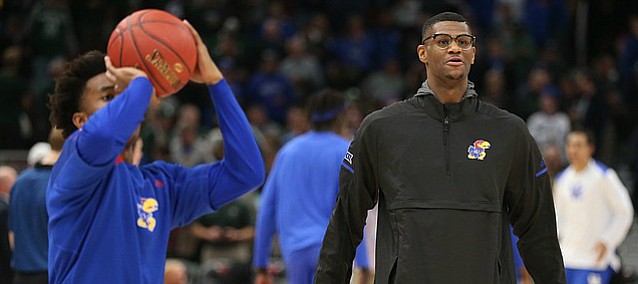 Although he offered no actual update on the status of withheld forward Billy Preston, who has missed all three of KU's regular season games so far, Kansas coach Bill Self admitted to being "worried" about the situation.
"Sure, I'm worried," Self said. "I'm concerned. I do think it can work itself out, based on what I've been told. But that obviously hasn't happened yet."
After missing the season opener two weeks ago to serve a one-game suspension for missing curfew and class, Preston has sat out the past two games while KU officials sort out a compliance issue involving a vehicle that he was driving in a one-car, noninjury accident on Nov. 11.
Preston was told at the Kentucky pregame meal last Tuesday in Chicago that he would not play in the game that night. He also missed last Friday's win over South Dakota State, the first game in which the Jayhawks were able to prepare to play without him.
"As of this morning, there was no movement," Self said Monday afternoon. "So, no, there's nothing new on that situation."
Self has shortened practices to compensate for the extra minutes players are forced to log in games.
"Like today, I've got it down to go for an hour and 15 minutes," Self said of Monday's practice. "And I would never have done that in November with any other team."
Self said the normal routine this time of year would be to practice for 30-45 minutes longer without worrying about the toll the early-season practices were taking on the Jayhawks.
Limited to seven scholarship players — senior walk-on Clay Young played 18 minutes in last Friday's victory — whatever extra rest the Jayhawks can get is beneficial.
"I could if I put my mind to it," senior guard Devonte' Graham said of playing all 40 minutes. "But last game I was definitely tired. I was looking at the bench for a sub and Coach Rob (Norm Roberts) told me that we couldn't sub me out because we could only sub one in at a time."
Kansas and its thin bench will take on Texas Southern at 7 p.m. Tuesday at Allen Fieldhouse.
Jayhawks jump to 3rd in AP poll
On the heels of a victory in Chicago over then-No. 7 Kentucky, the Kansas men's basketball team moved up one spot to No. 3 in this week's Associated Press poll.
The top two spots remained the same, with Duke (4-0) and Arizona (3-0) staying put, and Kansas leapfrogged Michigan State (2-1), which fell from No. 3 to No. 4 following its loss to Duke in Game 1 of the Champions Classic last week in the Windy City.
Kentucky (3-1), meanwhile, fell for the second consecutive week, dropping to No. 8 after its loss to KU and an uninspired home victory over East Tennessee State last Friday night.
In all, the latest AP poll features three teams from the Big 12 Conference ranked in the Top 25 (Baylor and West Virginia are 22nd and 23rd) and four others that are receiving votes (Texas Tech, TCU, Texas and Oklahoma).