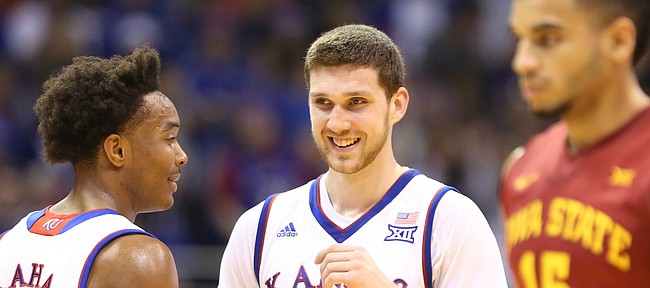 Svi Mykhailiuk's days of draining 3-pointers at the University of Kansas aren't over just yet. The junior from Ukraine announced Wednesday night his intentions to return to KU for his senior season, instead of keeping his name in the 2017 NBA Draft.
Mykhailiuk first made his choice official in a post on Instagram, ending weeks of speculation and bringing more clarity to head coach Bill Self's roster for next season.
"Senior year gonna be fun," Mykhailiuk wrote.
Within the hour, Mykhailiuk also posted on Twitter: "Senior year. Here we gooo!"
A 6-foot-8 wing from Cherkasy, Ukraine, Mykhailiuk hadn't signed with an agent prior to reaching a verdict on the matter, equipping him with the option to return to Kansas after testing the draft waters. The 20-year-old took nearly all the time allotted by the NBA before announcing his decision on the league's stay-or-go deadline day, May 24 — mere hours before the 11:59 p.m. (EST) cutoff point.
Earlier this month, the Jayhawks' young perimeter prospect only was able to play one day at the draft combine in Chicago, due to an ankle injury. Mykhailiuk spent the weeks that followed learning all he could about his stock in order to make a completely informed choice on his path for the 2017-18 season.
He took all of that time, in part, because Mykhailiuk had a workout with the New York Knicks Wednesday.
"I had a lot feedback and I decided to come back," Mykhailiuk stated in a KU press release. "I saw what I need to improve on next year and be a better player. I look forward to being with my teammates and (helping) my team win."
As of Wednesday — before Mykhailiuk's announcement — DraftExpress.com didn't project Mykhailiuk as a 2017 draft pick. The site ranked him the 69th-best prospect available in a 60-pick draft.
His Kansas coach said the senior-to-be utilized the pre-draft process perfectly.
"Unfortunately for him, he sprained his ankle at the combine and was not able to work out for teams as much as he wanted," Self said. "We know he knows what he needs to do this upcoming season to get to the next level. We're excited and anxious for Svi to come back and help us play at a high level."
As a junior at Kansas, Mykhailiuk hit a career-best 70 3-pointers for the Jayhawks, connecting on .398 of his attempts. He averaged 9.8 points and 3.0 rebounds while shooting .443 from the floor overall, in 27.3 minutes a game (25 starts).
For his career, Mykhailiuk has played in 97 games at Kansas, with 31 starts and a 6.3 scoring average. His 122 made 3-pointers rank 20th on the KU career chart, and include a career-high six from downtown against Chaminade (Nov. 23, 2015) at the Maui Invitational, as a sophomore. Later that season, Mykhailiuk scored career-high 23 points against Austin Peay, in the 2016 NCAA Tournament's opening round.
With Mykhailiuk back, Self has two key seniors to lead the Jayhawks in the 2017-18 campaign, as the Ukrainian wing will join fourth-year guard Devonte' Graham. KU's rotation also will include 6-foot-9 William & Mary graduate transfer Jack Whitman, junior Lagerald Vick, sophomores Udoka Azubuike, Malik Newman, Sam Cunliffe (eligible mid-season) and Mitch Lightfoot, as well as freshmen Billy Preston and Marcus Garrett.
Between those core players and incoming transfers Dedric and K.J. Lawson (Memphis) and Charlie Moore (Cal) — all of whom will sit out the 2017-18 season at KU, per NCAA rules — the Jayhawks have no more scholarships available.