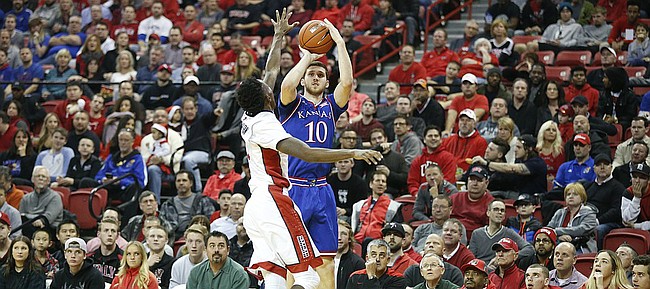 An ankle injury that plagued him during portions of Thursday's on-court competition at the NBA combine in Chicago forced Kansas junior Svi Mykhailiuk to withdraw from the remainder of the week's combine workouts.
But KU coach Bill Self said Mykhailiuk's absence during Friday's drills and scrimmages should not hurt the guard's stock too much.
"Even though he obviously would have wanted to continue, the last impression they have of him is how well he shot the ball on Thursday," Self told the Journal-World on Friday evening. "He had a chance to work out for a couple of teams beforehand and shot the ball extremely well and he shot the ball so well the first day (of the combine)."
Mykhailiuk, the 19-year-old Ukrainian who remains committed to finding out as much information as possible before making a decision whether to stay in the draft or return to Kansas for his senior season, did not participate in any drills or scrimmages on Friday and was planning to return to Lawrence this weekend to re-evaluate his ankle and his future.
With his physical health at less than 100 percent and the combine quickly appearing in his rearview mirror, the focus now shifts entirely to Mykhailiuk's stay-or-go decision.
Multiple sources told the Journal-World earlier this week that they believed Mykhailiuk was leaning toward staying in the draft, but he now must evaluate whether his brief showing at the combine, body of work during his three seasons at Kansas and recent interaction with NBA people during the past few weeks was enough for him to feel confident that he would get drafted.
One source said the main question surrounding Mykhailiuk entering the week was exactly that — whether some team would take him in the second round, not whether he could sneak into the first round.
His combine showing was a mixed bag of results. His measurements were neither wildly impressive nor disappointing, and his play on the floor, which featured a couple of bad misses early on during the 5-on-5 scrimmage along with a hot streak later in the game and even a defensive highlight when he blocked KU teammate Frank Mason III, left most scouts and NBA executives curious to see more.
Unfortunately for Mykhailiuk, the opportunity to show never presented itself because of Thursday's injury.
Self, who Friday night was in Sarasota, Fla., for the annual Dick Vitale gala and fundraiser to aid The V Foundation's fight against cancer, said he did not talk to Mykhailiuk on Friday but was looking forward to finding out more in the next couple of days.
"I don't know where that is," Self said of Mykhailiuk's decision-making process. "I know he's waiting on feedback. He's going to come back to Lawrence to rehab and we'll see how bad it is and see if he's able to move forward with workouts or not. But a decision has not been made on Svi yet."
Reigning national player of the year Mason was able to compete during the second day of on-court competition at the combine in Chicago, and the sub-6-foot guard who enjoyed one of the best careers by a guard in KU history again showed some of the traits that have sent him moving up draft boards during recent weeks — toughness, maturity, competitive fire — in short, all of the things Kansas fans came to appreciate and enjoy during the past four seasons.
Self was not in Chicago for any of the combine, but assistant coach Kurtis Townsend did attend and he gave Self a quick recap of Mason's two-day showing.
"Kurtis said he was OK," Self said. "He said the court's been crowded and it's been hard to turn him loose to let him do what he needed to do. He hasn't played bad, he's just been OK. But he did great with his lifting and interviews and measurements and those kinds of things."