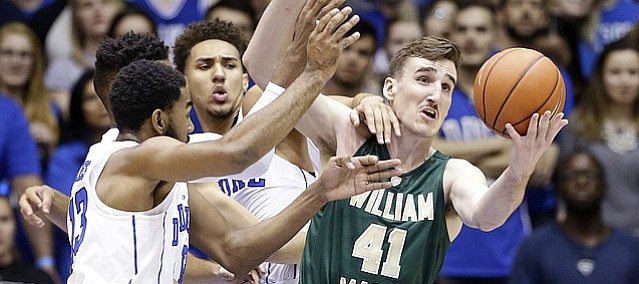 Although the former William & Mary forward himself both confirmed and explained why he was leaving to join the Kansas basketball program last week, the Jayhawks made it official on Monday with a news release announcing the addition of graduate transfer Jack Whitman.
"We were thin up front and looking to add somebody that would be eligible immediately and was experienced," KU coach Bill Self explained. "Somebody that is a little bit older, that understands the game and can come in and play a role with us in our big positions. We think Jack can certainly play the five but is a guy that can move away from the basket and play with a five. He's a great fit for what we need because we're going to be so young up front and he'll add some experience, hopefully like Tarik Black (during the 2013-14 season) did for us."
Whitman, who will graduate with a degree in kinesiology and health sciences on Saturday, will be eligible to play for the Jayhawks immediately during the 2017-18 season.
That, Self said, was definitely one advantage of adding him, but the reasons for bringing him on board do not end there.
"The best part of his game is his explosiveness," Self said. "He can play above the rim, has good feet and can score over both shoulders inside. He needs to continue and develop his game in order for him to have an opportunity to live out his individual dreams. I think playing here, we'll move him around, he can become a guy that is more comfortable playing away from the basket."
As a red-shirt junior during the 2016-17 season, the 6-foot-9, 235-pound Whitman started 25 of 29 games for the Tribe and averaged 10.3 points and 5.3 rebounds.
The Lexington, Ky., native shot 66.2 percent from the field and was second on the team with 33 blocked shots. He scored a career-high 21 points against UNC Wilmington on Jan. 12, 2017, and pulled down a career-best 15 rebounds against Savannah State on Dec. 19, 2016. Last season, William & Mary finished 17-13 overall and tied for fourth in the Colonial Athletic Association with a 10-8 league record under head coach Tony Shaver.
He was red-shirted the 2013-14 season and played in a reserve role during his freshman and sophomore seasons.
As a freshman in 2014-15, he averaged 11.5 minutes, 2.3 points and 2.3 rebounds per game with 14 blocked shots. During his sophomore year, Whitman averaged 13 minutes, 3.3 points and 2.7 rebounds in 23 games played.