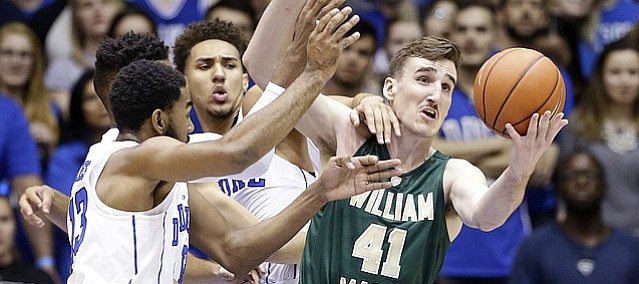 When a basketball player transfers from William & Mary to Kansas, it's not difficult to predict the questions that immediately surface, such as: William and Mary? Jack Whitman? Why Jack Whitman?
Better question: Why not?
For one thing, the addition of Whitman empowers Kansas coach Bill Self with the ultimate motivational carrot to dangle in front of McDonald's All-American Billy Preston, a fantabulous, five-star freshman: Playing time.
Remember, rare is the freshman who hits the hardwood overflowing with intensity and displaying equal passion for all aspects of the game, not just scoring, the way Josh Jackson did.
He played every possession as if it would determine whether he would make the final cut and quickly and steadily improved, which tends to be the case with players who don't force coaches to waste time coaching up their effort levels. From a distance, it seems as if Preston will arrive with a more typical approach, which is to say clueless as to how much more intensity is required to play in college than in high school, where talent alone was enough to stand out.
Preston stands 6-foot-10, weighs 230 pounds, has a pretty jump shot, handles the ball better than most his size and played at perennial national powerhouse Oak Hill Academy. To this point in his career, he didn't need to dive for loose balls and chase rebounds in battle zones where elbows fly, lower backs get shoved and arms get chopped by men with older, bigger bodies. He probably has not spent a great deal of time figuring out the best ways to emerge from such battles on top because in his mind he's a guard. Some players adjust quickly to new demands placed on them. Others retreat and get worse before they get better.
Don't forget, Carlton Bragg (ranked by Rivals 21st in Class of 2015) once was a can't-miss prospect with a lot of the same traits that resulted in Preston earning a No. 10 ranking in the Class of 2017. Bragg missed. He didn't respond well to a coach who doesn't check his tongue. He partied too much. His confidence vanished. He exhausted his welcome and transferred to the nation's No. 1 party school to play for a coach who doesn't check his tongue. I hope it works out for him, but if it doesn't I'll always wonder if he would have been better off competing in a so-called "mid-major" conference for a coach with a gentler approach, a coach who wouldn't mind having a 6-10 player who prefers shooting from the outside to battling with brutish bigs.
If Whitman produces more than Preston does in practice, playing alongside big, physical, explosive Udoka Azubuike, Self won't hesitate to start Whitman, who has a good vertical jump, nice footwork and a soft touch down low. Nobody predicted that Self would prefer a four-guard lineup to starting Bragg, but Bragg made that an easy decision for the coach.
Following whether Preston has the humility to consider Whitman a threat to his playing time ranks as one of the more intriguing subplots to the 2017-18 season.
Sure, Whitman will play against far tougher competition than he did the first three years of his college career, but he also will play alongside a center who has the potential to command more attention from opposing defenses and mask defensive flaws of teammates better than anyone with whom Whitman played at William & Mary.
Loyola-Marymount transfer Kevin Young beat out McDonald's All-American Perry Ellis in Ellis' freshman season after averaging 10.7 points and 5.3 rebounds in 30 minutes for LMU in his second and final season there. It's far from a given that Preston will beat out Whitman, who averaged 10.1 and 5.4 rebounds in 21.1 minutes in his third and final season for William & Mary.