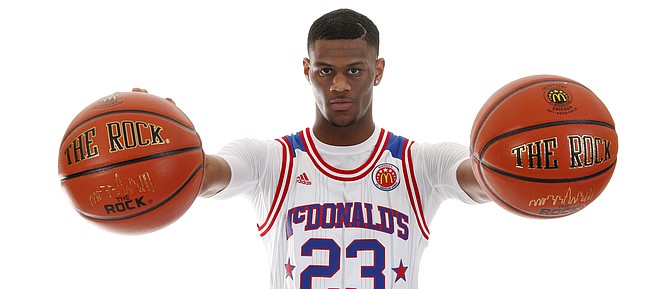 Chicago — Billy Preston sat on his mother's couch in Dallas, shaking his head in disbelief. Kansas had just been eliminated by Oregon in the Elite Eight, and Preston – the top recruit in the Jayhawks' 2017 class – was in shock. All season long, he'd watched his future teammates drain big shots and rally back from deficits. But on Saturday in Kansas City, Mo., Kansas went cold at the worst possible time and was taken out of the NCAA Tournament.
As soon as the game ended, Preston began firing off texts. He messaged Josh Jackson and other players on the 2016-17 team, telling them they had a great season, despite the final outcome. He hit up other prospects in the Jayhawks' recruiting class. And he reached out to Bill Self and assistant Kurtis Townsend, who had been recruiting Preston since the prospect was in eighth grade, to let them know he respected the effort the team showed until the clock hit zeros.
A few days later, Preston stood in the concourse of the United Center, where he is set to play Wednesday in the 40th annual McDonald's All-American Game. KU's defeat still feels like a fresh wound, but the 6-foot-10, 230-pound Preston was looking forward. He's confident that the loss to Oregon can be the building block for an even brighter future in Lawrence.
"It was a great season, we fought hard, that showed we had a lot of fight and heart inside of us," said Preston. "With that being said, I want to bring that same competitiveness next year."
If the Jayhawks are going to have another deep NCAA Tournament run in 2018, Preston may be playing a big role. A California native, Preston has moved around a lot, attending five high schools in three different states over the past four years. As a senior this past year at Oak Hill Academy in Mouth of Wilson, Va., the same school that produced players such as Carmelo Anthony and former KU star Ben McLemore, Preston averaged 15.3 points and 9.2 rebounds per game. Despite having the size of a traditional power forward, Preston plays a modern game, and is equally comfortable on the perimeter as he is banging bodies in the lane.
He may be asked to take the spot in the lineup likely to be vacated by Jackson, who is projected as a top pick in this June's NBA Draft. When asked to compare their games, Preston said they have similar versatility and are both able to play all over the floor.
"I'm very versatile. I can do a little bit of everything, just like (Jackson)," Preston said. "Bringing the ball up, rebounding, low post scoring, being on the wing. Shooting shots on the perimeter, shooting inside shots, just all-around game. Plus I know Kansas is going to make me more explosive."
In the two practices leading up to Wednesday's all-star game, Preston has had to show his versatility on both ends of the floor. The West team that Preston plays for has five prospects that stand 6-foot-10 or taller, so every drill has been a battle. Preston has shown his ability to score over lengthy defenders with a smooth jump shot and an array of post moves. Meanwhile, on defense, he battles hard, using his long wingspan to protect the rim against big men.
As the only Kansas commit here, Preston also serves as a recruiter for the Jayhawks. His main target is the top-rated point guard in the country, Trevon Duval, a Delaware native who played at IMG Academy in Bradenton, Fla. Duval is down to five finalists – Kansas, Duke, Seton Hall, Arizona and Baylor – and Preston is doing everything he can to bring Duval with him to Lawrence in the fall.
"I've been in his ear since I hopped off the plane, so I'm definitely trying to convince him," Preston said of his work on Duval. "He's a great player, a dude I want to play with, so that's probably the number one guy. But at the end of the day it's his decision. I can only have an input."
With or without the top point guard by his side, Preston is ready to get going with the Jayhawks, thinking of the possibilities of a great year ahead.
"I'm ready to have an exciting season, win some games," Preston said. "Definitely want to make the tournament and definitely want to do similar things Kansas did this year, just go a little bit further. Advance to the Final Four, go to the next round and win the championship."
More like this story on KUsports.com