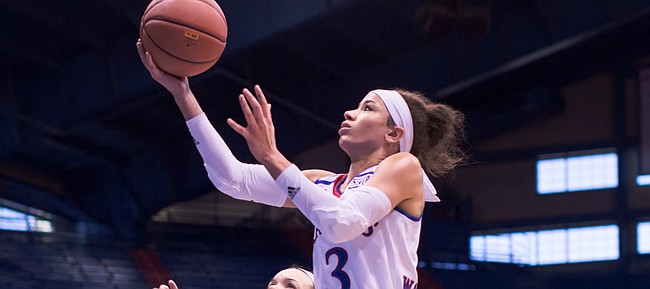 The Kansas women's basketball team's 2-16 record in conference play didn't dissuade the Big 12's coaches from choosing the Jayhawks' top player, junior guard Jessica Washington, as the conference's Newcomer of the Year.
In her first season with the Jayhawks, after transferring from North Carolina, Washington became the first KU player to earn the Big 12's newcomer award. The 5-foot-8 guard from Tulsa, Okla., who also picked up second-team All-Big 12 honors, finished as the game's leading scorer in 11 of 18 league contests over the past couple of months.
For the season as a whole, Washington averaged 17.0 points a game, good enough for third in the Big 12. But she played at an even higher level in league games, putting up 19.3 points and averaging 2.7 made 3-pointers a game. Washington topped 30 points twice during her debut season with Kansas (8-21) and scored in double figures in 22 of her 28 appearances.
"Obviously, I am really proud of her," said KU coach Brandon Schneider, who recruited Washington after she left UNC, where she averaged 7.3 points as a sophomore during the 2014-15 season. "Any time that you have an individual accomplish something there's also a team component. Jess is one of those rare players who can score the ball in so many ways and it's impressive to see her numbers go up throughout Big 12 play, which rarely happens."
Washington became the first player in the program to win one of the Big 12's top postseason awards since 1997, when KU's Tamecka Dixon was named Big 12 Player of the Year.
The KU junior scored a career-high 36 points against Iowa State in February, topping her 31-point showing at Kansas State, in January.
"I think that it's her mentality that really makes her who she is, in terms of always being in attack mode," Schneider said of Washington. "She doesn't take plays off and she's very aggressive in how she plays the game. She never let our lack of team success deter her from competing every possession."
2016-17 All-Big 12 Awards
Coach of the Year: Karen Aston, Texas
Player of the Year: Brooke McCarty, Texas
Defensive Player of the Year: Brianna Taylor, Texas
Newcomer of the Year: Jessica Washington, Kansas
Freshman of the Year: Joyner Holmes, Texas
Sixth Man Award: Lauren Cox, Baylor
All-Big 12 First Team
Kalani Brown, Baylor
Alexis Jones, Baylor
Bridget Carleton, Iowa State
Breanna Lewis, K-State
Kindred Wessemann, K-State
Kaylee Jensen, Oklahoma State
Ariel Atkins, Texas
Joyner Holmes, Texas
Brooke McCarty, Texas
Tynice Martin, West Virginia
All-Big 12 Second Team
Nina Davis, Baylor
Alexis Prince, Baylor
Jessica Washington, Kansas
Peyton Little, Oklahoma
Vionise Pierre-Louis, Oklahoma