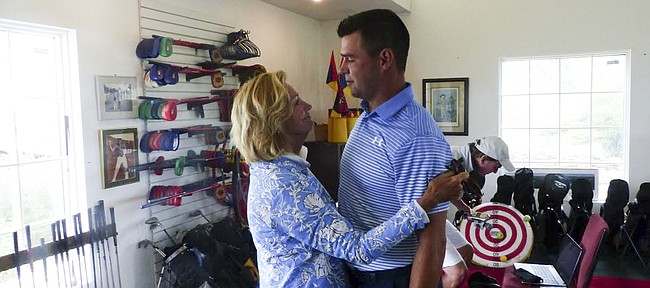 Eudora — Some of the best golfers in the Kansas City/Lawrence area descended Monday on Twin Oaks, a golf learning center that features a driving range, a nine-hole pitch-and-putt course and lessons from teaching pro Jeff Burey, located off K-10 on the western edge of Eudora.
For one day, the country course was the place to be, so much so that even touring pro Gary Woodland was on the scene, although not competing.
The course was the site of the first Ross Randall Par 3 Shootout, a nine-hole, three-club-limit, single elimination tournament that started with 32 competitors, the field made up of local club professionals.
Woodland, whose wife Gabby gave birth to the couple's first child Friday night, was on hand to say hello to the guest of honor, Linda Randall, the late KU golf coach's wife of 44 years.
Before Woodland turned his considerable talent into winning tournaments, Randall predicted he had what it took to become the best golfer to come out of KU and Woodland has proved him right. He ranks 48th in the Official World Golf Rankings.
"Ross always believed in me," Woodland said, "sometimes even more than I believed in myself."
It's fitting that the PGA Midwest Section event named after Randall was a test of players' short games.
"It was a blast," Firekeeper head pro Randy Towner said. "I couldn't help but think if Ross was playing in this in his hey day he would have won. He was so good at this stuff."
On Monday, Larry Hadden of Shawnee Golf and Country Club was the best at it and won five consecutive matches to take home the Kirk Cup, a pewter trophy on which his name will be engraved and which he gets to keep for a year.
Hadden defeated Matt Foland of Blue Hills Country Club 2&1 to take home the hardware and a $700 check. Hadden made birdie on holes 1, 3, 4, 5 and 6.
Afterward, he insisted he is not known as a wizard with wedges.
"There are guys with a lot better short games in our section," Hadden said. "I putted really well and I was hitting wedges on line, which is not normally the case, but it happened today."
Burey mowed the greens as tight as he could but they still weren't as fast as the club pros are accustomed to rolling putts on.
"I'm pretty used to greens that are maybe a little slower than normal," Hadden said, explaining that the Shawnee greens have so much tilt to them that too much speed would result in putts rolling off the greens.
Hadden said he never had been to Twin Oaks and added he thinks it's, "a great place to learn the short game."
Three former Alvamar pros were on hand: Towner, Brad Demo, executive director of the PGA Midwest Section and Randy Hunt, who retired two years ago from Milburn Country Club. Hunt was one of four golfers to post the lowest score in the seeding round with a 5-under 22. Hunt also had the day's lone hole-in-one.
Towner suggested expanding the tournament, which is intended to become an annual event. Burey liked Towner's suggestion that it become a four-day event at Twin Oaks with the first day, a Friday, featuring a junior tournament, the second a women's amateur tourney, the third a men's amateur and the fourth the club professionals' tournament.
"That way it can be like a reunion for KU golfers and they can get together for dinner, maybe play a round at the Jayhawk Club and then compete on Sunday," Towner said.