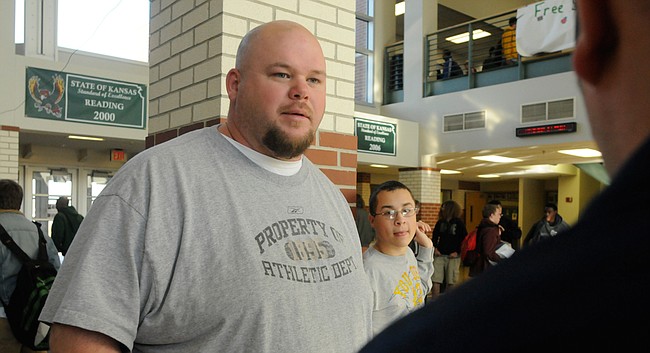 Former Kansas and NFL offensive lineman Keith Loneker Sr. died Thursday morning after a battle with cancer.
Loneker, whose son Keith Loneker Jr., is a current linebacker for the KU football team, has been actively involved both with his alma mater and Lawrence's youth athletics scene throughout most of his adult life and was beloved by athletes and coaches at both Lawrence High and Free State.
In addition to his broad and successful football career, Loneker starred in a handful of Hollywood films, including Superbad, which developed a wild cult following, Lakeview Terrace, with Samuel L. Jackson, and Leatherheads, a football movie starring George Clooney.
He also was actively involved in the independent film scene and dabbled with music.
Loneker, who turned 46 on Wednesday and was a substitute teacher in the Lawrence School District, fought his battle with cancer since at least last December and did so with the kind of positive attitude and spirit he was known to have throughout his life.
After starring at KU from 1989-92 — a stint that include all-Big 8 honors during his final season in crimson and blue and a trip to the 1992 Aloha Bowl, Loneker joined the Los Angeles/St. Louis Rams and played in 19 games, including five starts, with the franchise from 1993-95.