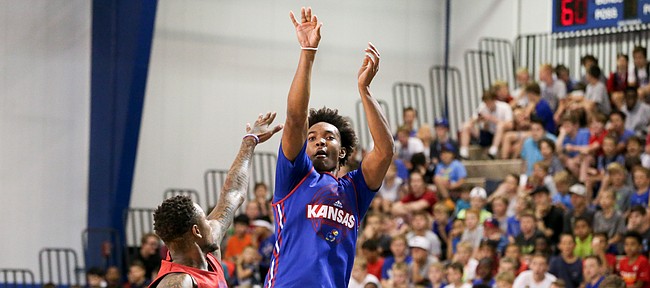 The objective was made clear before the game even began. And everybody knew it. Kansas coach Bill Self made sure of that.
Shortly after introducing his current team and a star-studded cast of alums to the hundreds of young campers at Wednesday's session of Self's summer camps, the KU coach explained the rules for the alumni scrimmage — first team to 80 wins, old guys against the current guys, fouls will be called only when absolutely necessary — and then issued a challenge.
"Our present team better win," Self said. "That's all I got to say. Our present team better win."
With that, per NCAA rules, Self left the gym and left the hard work to his 2017-18 team.
Facing a red team filled with a mixture of current NBA players and European pros, KU's current backcourt duo of Devonte' Graham and Malik Newman combined for 46 points to lead the blue squad to an 82-75 victory.
Photo Gallery
KU Basketball Scrimmage
Current players and past players scrimmaged for the campers at Bill Self's basketball camp on Wednesday.
The young Jayhawks led almost the entire way, jumping ahead 12-9 on a 3-pointer from Graham, who led all scorers with 28 points, including eight 3-point makes, and never trailing again.
The current crew led by as many as 10 points (42-32) at one point but saw that lead disappear completely when Tyshawn Taylor (10 points) drove by Lagerald Vick (8) to tie the game at 70. From there, in the race to 10, the young guns flashed their poise and resolve by drilling three straight 3-pointers — one each by Graham, Newman and Vick — to reach 79 before Graham ended the game with an open 3 from the wing that went down as Taylor ran by him.
At one point, Graham and Chalmers went back and forth for four consecutive 3-pointers, each one coming a step or two deeper than the last. Later, with the Blue team leading 76-73, Graham drilled the deepest long-distance shot of the day over the outstretched hand of Perry Ellis (nine points). Ellis said after the scrimmage that competing for the alumni squad against a handful of former teammates was something for which he was not quite ready.
"It was different, man," Ellis said. "It seemed like I'm still supposed to be playing. I was just playing and now I'm in all alumni stuff. But it was fun seeing those guys and there were a lot of people back."
Asked how much it meant for his current team to come out on top, Newman did not hide his feelings.
"(We wanted to win) real bad," the Mississippi State transfer said. "They're already in the pros, they've been through what we're going through and they were successful doing it. They made it to the next level, so that was kind of almost like a measuring stick for us."
Such tests are common in the summers at Kansas, where alums from all generations routinely flock to reconnect with teammates, former coaches or the city and campus itself during their down time. But rarely have we seen such an impressive collection of recent stars return for the camp scrimmage.
In all, the red squad featured five members of the 2008 national title team and two current NBA players: Mario Chalmers, who has a couple of NBA rings to his credit (12 points); and Ben McLemore, who reminded everybody in attendance Wednesday just how incredibly athletic he still is via five highlight-reel dunks. McLemore also finished with an alumni-best 15 points and filtered in a 360 dunk, a reverse alley-oop and one more flashy flush in traffic.
"My first time here, I had to go against Kirk Hinrich, Greg Ostertag, Scot Pollard," a finally-healthy-again Chalmers recalled after the scrimmage. "You have guys like that who come back and you look up to them because they went to the school and they're in the NBA and the level that you want to get to. I'm sure these guys look up to us, so it's good for us to come back and hang out with them and let them pick our brains."
There was plenty of that taking place on Wednesday, mixed with a healthy dose of trash talk, too.
"Of course," Newman said when asked if there was much jawing back and forth. "I think that (happens when) any old heads are playing against the new guys. They're going to talk and bark at them. But it was fun. ... I've heard of all of them and I thought all of them played good, especially towards the end when they really picked it up against us."
Added Chalmers: "Just being able to go against guys that (have) come before you and are now in the league and come back and play against you, it's fun. It just shows the camaraderie we have, the family atmosphere, the family bond with every single Jayhawk member that's been here. And that's what this is all about."
As for the pre-game comments from Self, who, no doubt, was happy to hear that youth prevailed during Wednesday's scrimmage, former national champion Darnell Jackson said he was not surprised that the current squad rose to the challenge.
"Yeah, I heard him," Jackson laughed. "Those young guys, they gave it to us. But whatever coach Self says goes. If you want to win, I feel like he has the blueprint. He's been doing it for a long time and his blueprint helped us out ... so if these guys just stick to the blue print, they'll be OK."

Scrimmage scoring:
BLUE (82) — Devonte' Graham 28, Malik Newman 18, Udoka Azubuike 12, Mitch Lightfoot 12, Lagerald Vick 8, Sam Cunliffe 2, Billy Preston 2, Marcus Garrett 0, Charlie Moore 0, Dedric Lawson 0, K.J. Lawson 0, Jack Whitman 0.
RED (75) — Ben McLemore 15, Keith Langford 13, Mario Chalmers 12, Tyshawn Taylor 10, Perry Ellis 9, Sherron Collins 6, Elijah Johnson 6, Darnell Jackson 4, Russell Robinson 0, Mario Little 0, Conner Teahan 0.