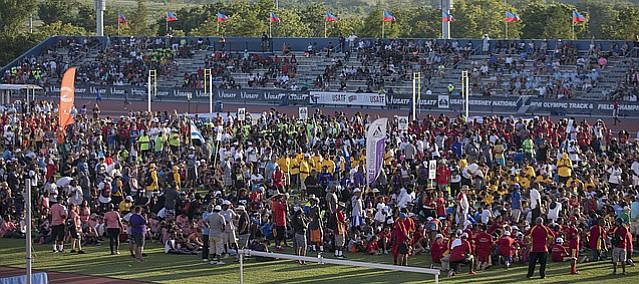 After hosting events such as the NCAA West Preliminaries in 2016 and the Big 12 Championships in May, Kansas track and field coach Stanley Redwine was looking forward to see how Rock Chalk Park would be able to accommodate the USATF National Junior Olympics.
Redwine enjoyed watching some of the top prep track and field athletes in the nation compete from Monday through Sunday, and was glad to see that the meet ran smoothly at the Jayhawks' home venue.
"When you have a facility that can hold over 8,000 participants with ease, it's phenomenal," Redwine said. "It's really nice. I've heard nothing bad about the facility and everything. It's fun for us."
Robin Brown-Beamon, the USATF director of outreach and grass roots program, was able to witness the development of Rock Chalk Park over the past decade, and was blown away by how well the facility was able to serve as the Junior Olympics host.
"This is one of the top five Junior Olympics that I've seen, and I've been to every one in the last 29 years," said Brown-Beamon, who is the ex-wife of long jump Olympic record holder Bob Beamon.
Redwine and Brown-Beamon both said that the Junior Olympics would not have been a success without the efforts of KU athletic director Sheahon Zenger, Lawrence Sports Commission executive director Bob Sanner, Rock Chalk Park director Frank Masterson and many other volunteers.
While the Junior Olympics served as one of the last summer meets for club track and field teams, Redwine said that the recruiting advantage for hosting an event of that magnitude is great for his program.
"For recruiting, you can contact a recruit and say you're at the University of Kansas until they say, 'Well, I've been there,'" Redwine said. "That's really big for us. Also some of our athletes that we've already signed are competing here, and it's fun for them as well."
When asked about the possibility of hosting any other nationally-renowned meets, Redwine did not go into any specifics other than saying that Rock Chalk Park had no limits.
"Lawrence needs to keep us on their radar, come back again and bid and bring all of the stuff that happened here to the bidding process so we can come again," Brown-Beamon said. "They've done a great job and they should stay involved."
Along with the thousands of athletes, family members and coaches who traveled to Lawrence for the Junior Olympics, there were a few world-class athletes who came to be a part of it as well. Olympic gold medalists Carl Lewis, Ashton Eaton and Dan O'Brien were all in attendance, as well as ex-NFL star wide receiver Chad Johnson — formerly known as Chad Ochocinco. The six-time Pro Bowler ventured to Lawrence to watch his daughter, Cha'iel Johnson compete in the 11-12 year-old girls division of 400 and 800 meters, and he did not leave disappointed.
Cha'iel won the 800-meter final on Saturday with a time of 2:15.98, and followed it up with a third-place finish in the 400 on Sunday after clocking in at 57.60.
"I wasn't much of a track runner, so I've been learning about the nuances in the game of track along the way with her," Chad said.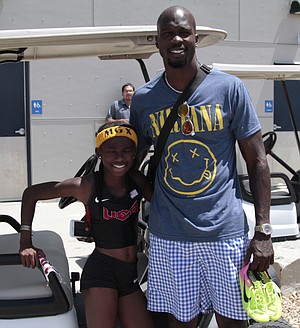 Cha'iel, 12, was hoping to take down Raevyn Rogers' Junior Olympics and national record time of 2:13.12 in the 800 meters. Her time of 2:14.8 at the AAU Club Championships earlier this month in Orlando was the fastest in the nation this year for her age group.
"I feel famous more than my dad, and that's great," Cha'iel said.
As Chad continues to bond with Cha'iel through track and field, he's also made it a point to help out other youth athletes in the process. Chad donated $2,200 to the Baltimore-based Turbo Track Club to help cover travel, hotel and equipment expenses.
"It's extremely important, especially for the kids who have the opportunity to come here and compete," Chad said. "I saw the opportunity to be a blessing and whatnot."
Overall, the former Cincinnati Bengals wideout said that he enjoyed their time in Lawrence.
"I really have," Chad said. "They've got McDonald's, they've got Starbucks and cigars. That's all I need."