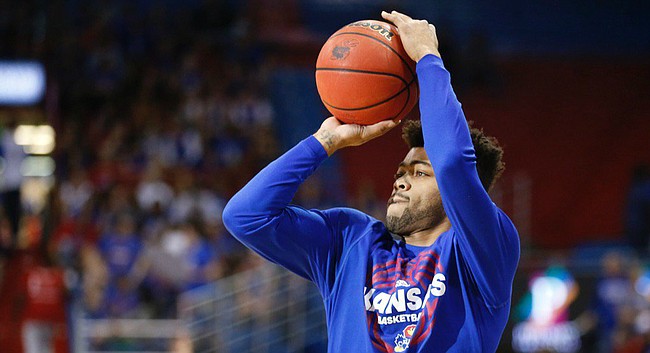 Former Kansas point guard Frank Mason III will be back in Lawrence for a one-day camp today, inspiring and teaching young players of all ages who one day hope to follow in his footsteps.
He'll also be carrying a new title with him to go along with the dozens of trophies and honors he racked up following his stellar 2016-17 season. Mason on Thursday was named the Big 12 Conference's co-male athlete of the year, joining Texas swimmer Will Licon in winning the top honor given out to an individual male athlete by the conference.
West Virginia soccer player Kadeisha Buchanan was the female recipient.
Nominees were submitted by Big 12 institutions and selected based on athletic performance, academic achievement and citizenship by a media panel as well as fan voting conducted through Big 12Sports.com.
Mason is the third Jayhawk to be named Big 12 Male Athlete of the Year, with all three being from men's basketball. He joins Jacque Vaughn, who won the honor after the first full year of the conference in 1997, and Nick Collison, who took home the honor following the 2002-03 season.
Mason, who competed for the Sacramento Kings' summer league team in Las Vegas earlier this month, is currently in the middle of a mini-camp tour, which opened Thursday in Olathe, will continue Saturday in Wichita and wrap up on Aug. 5 in Sacramento.
According to basketball-reference.com, the details of Mason's recently signed rookie contract include a salary of $1.2 million during his rookie year, $1.4 million during his second year and a club option for Year 3 worth $1.6 million. The first two years of Mason's deal are guaranteed.

The reigning college basketball national player of the year, who was drafted No. 34 overall by the Kings in the NBA Draft in June, will host a two-session camp at Lawrence for young athletes in kindergarten through 12th grade.
The first session will run from 9 a.m. to Noon and be for boys ages K-3 and girls K-12. The afternoon session will run from 1-4 p.m. and be for boys in grades 4-12.
Cost of the camp is $60 and check-in is scheduled for 45 minutes before the start of the camp.
For more information, check out frankmasonbasketball.com.
Visits being lined up
With KU coach Bill Self and his assistant coaches scattered around the continent for the final live evaluation period of the summer for future recruiting classes — major events are under way in Las Vegas, Toronto and even Kansas City, Mo. — a handful of the top players in the 2018 class have started to reveal at least some of their future plans.
Here's a quick look:
• 2018 guard Immanuel Quickley, ranked No. 10 overall by Rivals.com, plans to visit KU the weekend of Sept. 1. Quickley recently told USA Today that he would like to commit and sign before the start of his senior season in high school.
• AAU teammates Naz Reid (power forward ranked No. 13 by Rivals) and Jahvon Quinerly (point guard ranked No. 15 by Rivals) have indicated that they would like to play together in college and would like to visit some of their finalists at the same time, as well. The four common schools on their lists are Arizona, Kansas, Seton Hall and UCLA.
• Marvin Bagley, meanwhile, the No. 1 ranked prospect in the 2018 class, who is talking about trying to reclassify in time to play college ball during the 2017-18 season, recently finished a visit to Duke, is visiting USC this week and will visit Arizona the first week of August. The 6-foot-10 forward does not have yet have visits set up with fellow-finalists Kansas, Kentucky or UCLA.
Italy on the radio
KU officials on Thursday revealed the identity of the radio stations around the state that would carry KU's four exhibition games in Italy in early August.
All four games (Aug. 2-3 in Rome and 5-6 in Milan) will be broadcast by the Jayhawk IMG Radio Network via the following seven affiliates: KZDY-FM 96.3 in Glen Elder; KSKU-FM 99.3 in Hutchinson; KCTE-AM 1510 in Kansas City; KLWN-AM 1320 in Lawrence; KDJM-FM 101.7 (tape delayed) in Salina; KMAJ-AM 1440 in Topeka; and KFH-AM 1240/KFH-FM 97.5 in Wichita. KGNO-AM 1370 in Dodge City also will carry the Aug. 5-6 games.
For those radio heads not in Kansas, the broadcasts also can be picked up worldwide via the Tune In app. KU announcers Brian Hanni and Greg Gurley will have the call.

Additionally, video of all four games will be streamed live by FloHoops.com for a fee of $29.99.