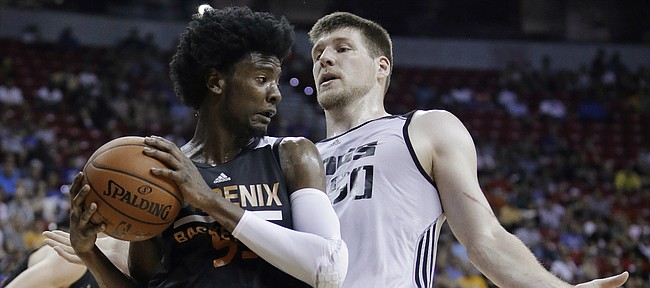 They did not spend much time matched up against each other, had plenty of good moments and bad and watched their new teams do battle in a down-to-the-wire, NBA summer league game in Las Vegas.
In the end, it was Josh Jackson's Phoenix Suns who topped Frank Mason's Sacramento Kings, 89-85 in Vegas, during the first official NBA action for the two former Kansas teammates.
In a game that began 48 minutes later than originally scheduled because of overtime in the game before it, Jackson, the No. 4 overall pick in last month's NBA draft, finished with 18 points on 6-of-17 shooting in 34 minutes — he was 6-of-7 from the free throw line — and Mason, pick No. 34, added 4 points on 2-of-9 shooting in 17 minutes.
Jackson started the game for the Suns and Mason entered for the first time at the 2:50 mark of the first quarter as a substitution for starting point guard and No. 5 overall pick De'Aaron Fox, of Kentucky. Later in the game, in both the third and fourth quarter, Mason and Fox spent time playing together, giving Kings fans a glimpse of the franchise's future.
Jackson's game looked a little like the start to his Kansas career, with the one-and-done guard pressing at times but making up for it with intensity and athleticism. He was solid on the glass all night (8 rebounds) and looked particularly strong attacking the rim.
"If there's a hole in his game, it's the outside jump shot," ESPN analyst and former NBA coach P.J. Carlesimo said during the broadcast. "But his upside is impressive. It's the versatility. He does a lot of things, but it starts with the athleticism.... I like people who can come in and contribute on the defensive end right away and Josh can."
Mason, who was less aggressive than Jackson and looked more to run the team when he was on the floor, scored his first bucket on a driving floater at the 7:55 mark of the second quarter.
He finished with four rebounds, two assists and two turnovers.
"He knows how to play, and he's a winner," Carlesimo said of Mason. "Obviously extremely well coached by Bill Self at Kansas."
On one Kings' possession, with just under a minute to play in the first quarter, Jackson switched onto Mason defensively and the two former KU teammates briefly stared each other down as foes, with Mason dribbling and dancing a little in front of Jackson before getting rid of the ball.
Later, a hard Mason drive to the rim that drew help from Jackson ended with both players on their backs and no bucket.
All in all, Friday went down as a solid but not spectacular debut for both former Jayhawks, who only figure to get better and more comfortable from here.
In other Summer League action Friday night:
• Former KU forward Cheick Diallo started and scored 27 points in 34 minutes during New Orleans' three-point loss to Toronto on Friday night. Diallo shot 11-of-18 from the floor, made all five free throws he attempted and added 10 rebounds in the losing effort.
• Former Kansas, Nebraska and Syracuse sharp-shooter Andrew White III scored 11 points in 12 minutes for the Cleveland Cavaliers. White sank two of the four 3-pointers he attempted in the Cavs' 82-53 win.
• White, Wayne Selden Jr. (Memphis) and Landen Lucas (Boston) will be in action during Saturday's summer league session in Vegas.