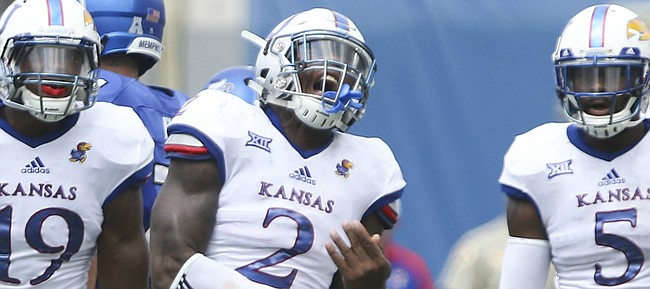 It's not the job of an athlete to care about what others deem possible or impossible in his or her sport. Nor is an athlete required to base personal or team goals solely off of recent history.
All of which is helpful to keep in mind while considering this: football players at the University of Kansas have bowl game aspirations. As in this year.
Not only has KU missed out on such a postseason invite for eight consecutive seasons, the program has failed to win more than three games seven years in a row.
Regardless, Jayhawks this summer already are floating the notion that they want to wipe that streak clean in 2017.
Kansas last was able to feel good about a possible bowl berth in 2009, when the team opened the season 5-0, but went on to lose its final seven games in then-head coach Mark Mangino's final season.
College football's defending national champion, Clemson, won as many games last year (14) as the Jayhawks have in the post-Mangino era. Yet, as David Beaty embarks on his third year of a monumental rebuild, his players have bought in on the program's progress enough to dream big and forget about the 0-12 and 2-10 seasons that preceded the one to come.
Asked on a recent episode of KLWN's Rock Chalk Sports Talk about expectations for the months ahead, redshirt junior linebacker Joe Dineen didn't mind using the B-word.
"I think anything less than a bowl game this year would be a disappointing year," Dineen said. "I really think we've got a good team coming back. Defensively we've got a ton of guys and offensively we've got a ton of young talent that no one has seen before. I really think we've got a shot this year."
Two of KU's marquee players, junior defensive linemen Dorance Armstrong and Daniel Wise, too, were open to discussing a lofty objective.
Said Armstrong: "We're gonna make it to a bowl game. That's the biggest expectation."
In 2016, only 75 teams finished with a record of .500 or better, even though 80 bowl invites were in play. So there's an outside chance a 5-7 team could sneak into a bowl game. Still, getting to five victories for KU would involve winning at least two Big 12 games — a feat the program hasn't accomplished since 2008, when the Jayhawks went 8-5 overall, 4-4 in conference and defeated Minnesota in the Insight Bowl.
Senior tight end Ben Johnson, in the midst of his fourth year in the program, was asked on Rock Chalk Sports Talk what evidence he would use to support the idea the Jayhawks were ready to make a leap into bowl contention.
"I would just talk all about our mindset. You know, and how Coach (Zac) Woodfin has changed that around here," Johnson said of the team's new director of strength and conditioning, who has led the Jayhawks through strenuous summer workouts this offseason.
Obviously it takes much more than that to take a program associated with losing to a bowl game. But that target — however improbable — is one Dineen said the players will openly discuss.
"That's the motivation," Dineen said of leading the Jayhawks back to a bowl. "… I mean, we came here to win games. That's what everyone came here to do and that's the plan. It's definitely motivating, because we haven't had that success. And it's really time to get going and start winning games for the fans."
EIGHT CONSECUTIVE LOSING SEASONS FOR KU
(Year: records — head coach)
2009: 5-7 overall, 1-7 Big 12 — Mark Mangino
2010: 3-9, 1-7 — Turner Gill
2011: 2-10, 0-9 — Gill
2012: 1-11, 0-9 — Charlie Weis
2013: 3-9, 1-8 — Weis
2014: 3-9, 1-8 — Weis (Clint Bowen interim final eight games)
2015: 0-12, 0-9 — David Beaty
2016: 2-10, 1-8 — Beaty