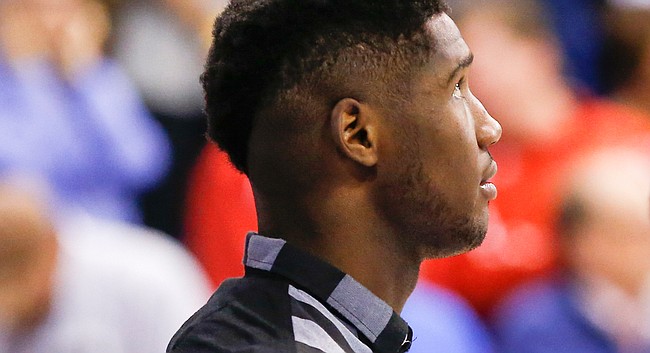 University of Kansas men's basketball player Carlton Bragg Jr. has secured an attorney, and his initial court appearance in a drug paraphernalia case has been bumped to early March.
Bragg is now scheduled to appear in court at 10:30 a.m. March 3, according to Lawrence Municipal Court case documents, requested by the Journal-World and obtained Tuesday morning.
Bragg is charged with one count of possession of drug paraphernalia, a misdemeanor. The charge was entered Monday in Lawrence Municipal Court.
The offense is punishable by a fine of up to $2,500 and a jail sentence up to one year, according to Lawrence city ordinance.
Bragg is being represented by Lawrence attorney Hatem Chahine, who did not immediately return messages from the Journal-World Tuesday morning.
According to the court clerk's office, changing an appearance date is routine when someone secures an attorney. Bragg's initial citation, also obtained by the Journal-World, said he was to appear Feb. 14.
Bragg, 21, is a sophomore from Cleveland.
KU men's basketball coach Bill Self announced Thursday night that Bragg was suspended indefinitely for a violation of team rules.
On Friday, KU police said one person was facing a drug paraphernalia charge in a case that stemmed from a rape investigation at McCarthy Hall, 1741 Naismith Drive, the on-campus apartment building where KU men's basketball players and other male upperclass or transfer students live. That suspect's name, Bragg, became public Monday.
During the KU police department's investigation of the alleged sexual assault at McCarthy Hall and a subsequent search, drug paraphernalia was found, KU Police Chief Chris Keary said. He reiterated this week that there was no indication the drug paraphernalia is related to the sexual assault allegation.
The police report in the rape case indicated four crimes had occurred at McCarthy Hall between 10 p.m. Dec. 17 and 5 a.m. Dec. 18: a rape of a 16-year-old girl, contributing to a child's misconduct, furnishing alcohol to a minor and possession of drug paraphernalia. The rape was reported Dec. 18.
Keary said the drug offense in that report was removed and made into its own report, the one that led to the charge against Bragg.
The rape investigation remains open, and police have released no information about a possible suspect, including whether the multiple alleged crimes are linked to a single offender, Keary said. Police have said the victim, who was not a KU student and not from this area, was visiting residents in the building. 
A runaway juvenile also was reported at McCarthy Hall the morning of Dec. 18, but police would not confirm whether the runaway and the reported rape victim are the same person.
All five witnesses named in the police report for the rape are basketball players. The single witness named in the runaway report is Bragg.
Police have not shared why those individuals were interviewed, but have said being a witness in an investigation does not necessarily mean an eyewitness to a crime, but rather someone who may have been in the area or who may have other pertinent information to the investigation.
Bragg's attorney, Chahine, also represented him in December, when Bragg was charged in Douglas County District Court with one count of battery following a dispute with his then-girlfriend. The charge was dismissed a couple days later and the woman was charged with battery instead. The district attorney's office said in a news release at the time that surveillance video of the dispute showed her shoving him and placing her hand on his neck before he shoved her, causing her to fall backwards on some ascending stairs.
Have a tip or story idea?
---
More stories