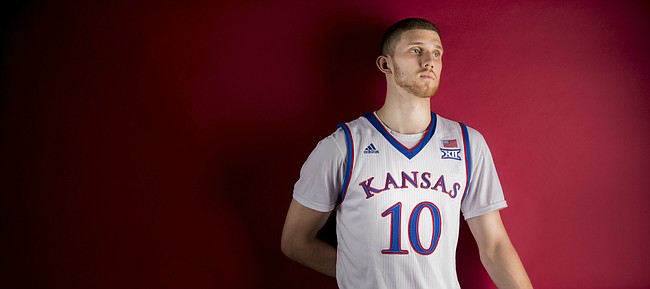 Kansas junior Sviatoslav Mykhailiuk remembers clearly the first time he stepped into the KU locker room as a wide-eyed 17-year-old back in the fall of 2014, more than 5,500 miles away from the comfort of his hometown of Cherkasy, Ukraine.
"When I got in there I didn't know what guys were talking about," Mykhailiuk recently recalled to the Journal-World. "I had no idea what my teammates were saying. I was just sitting in my locker trying to understand it, trying to hear really close."
As it turned out, Mykhailiuk was not alone in that struggle.
Kansas volleyball All-American Ainise Havili, a junior from Fort Worth, Texas, vividly remembers the first time she met Mykhailiuk at a student-athlete initiation before the start of their freshman year.
"I just remember looking at his mouth and thinking, 'Where are you from and what are you saying,'" joked Havili.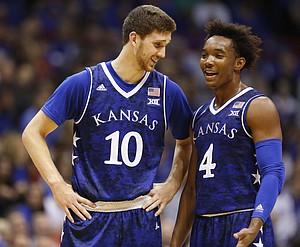 In the two-plus years since those first days in America, Mykhailiuk has come a long way in all aspects of life.
With a name like Sviatoslav Mykhailiuk, with all of those vowels, consonants, sounds and syllables, it's unlikely that the KU junior who was among the Jayhawks' best players during the non-conference portion of the 2016-17 schedule will be mistaken for an American any time soon.
But that does not mean the player who Jayhawks everywhere call "Svi" has not become Americanized.
His English is markedly cleaner and clearer, he has fallen in love with certain aspects of American culture — within basketball and away from the game — and his comfort, both with Bill Self's basketball program and the country he now calls home, has inspired Mykhailiuk to play his best basketball in a Kansas uniform to date.
"I think a lot of it's age, maturity," Self said of Mykhailiuk's strong start. "Last year, Perry (Ellis) obviously (was) a big and he was always going to be your second big so you've only got three (guard) spots and it (got) to be kind of a crowded house. I don't think he was quite ready to have a little bit bigger role. But now, obviously, he is."
Neither Self nor Mykhailiuk believe there is any direct correlation between the junior wing's adjustment to life in the United States and his strong play on the court, where, through 13 games — the last three of them starts — he has averaged 11.2 points in 27 minutes per game while leading with 30 3-point makes on .448 shooting from behind the arc.
"I don't know if it's that he's comfortable in America," Self said. "But it could be. I haven't thought about that. Maybe once we got through the elections he feels relieved about everything."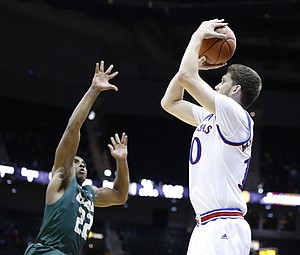 All joking aside, Self said Mykhailiuk getting an extended opportunity to impress and play his game has made the biggest difference and the young Ukrainian has done the rest.
"I just got adjusted," Mykhailiuk said. "I learned the language a lot so I can speak with everybody and understand everybody. And, with basketball, too, I became more comfortable with the program and the chemistry of the team."
That adjustment has not come without a genuine effort to immerse himself in American culture.
Fast food, movies, music and the joys of a society obsessed with sports all have become a routine part of life for Mykhailiuk, who initially was blown away by all of the options available in the super-sized United States.
"It was way different," he said. "It's not like back home. I mean, it's a new country and everything's new and a new chapter in my life. I was a little bit nervous because I didn't know anyone. I was excited, too, though, because everybody talks about how America's so great and how college is the best time of your life."
Five Guys, Applebees and Kobe Steakhouse rank among Mykhailiuk's favorite eateries. He also loves action movies and Kevin Hart comedies — and enjoys even more his ability to pull them up quickly and easily online via Netflix and Hulu — and follows mainstream music by J. Cole, Drake and Future, all of whom, Havili said, have helped Mykhailiuk fine-tune his English.
When his friends back home Face Time with him or send him messages asking what life is like in the U.S., Mykhailiuk offers an easy answer.

"I just say it's like in the movies," he said. "You can watch American movies and it's almost the same."
There is one element of life in Lawrence that Mykhailiuk would more prefer to show his friends and family back home than tell them. And Havili says it very well could be his favorite aspect of living in America.
"He always says he wants to start a Chipotle back in Ukraine," she said, laughing. "I think he eats there like five times a week."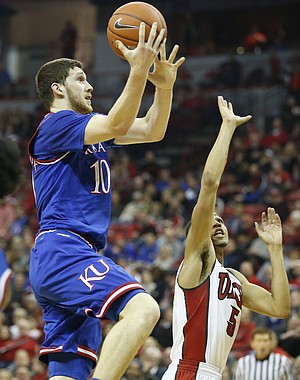 There have been a few tastes of home during Mykhailiuk's stay in Lawrence.
His parents, who speak next to no English — "Pretty much just hello," Havili said. — twice have been to Allen Fieldhouse to watch him play. In addition, his father, Iurri, and one of his former Ukrainian coaches were in Fort Worth last Friday to watch KU beat TCU and will be in attendance Tuesday for KU's clash with K-State at Allen Fieldhouse.
And a couple of weeks ago, while his teammates all made short, sweet trips home to see family and friends for the holidays, Mykhailiuk was treated to a few days with childhood friend, Anton Bilous, whose Western Texas College team happened to be in Kansas City over winter break.
"He came here almost every day and we were just shooting in the gym, playing pool, showing him around the city," Mykhailiuk said. "He told me, 'I can't believe we're in Kansas right now just walking together.'"
In addition to those links to home, Mykhailiuk has made friends with a few members of KU's track team who also hail from Ukraine, including assistant coach Andy Kokhanovsky.
Even though the conversations are brief and often come in the hallways in and out of the weight room, Mykhailiuk, who is fluent in Ukrainian, Russian and English, said any reminder of home, however small, always brings a smile to his face.
The way Mykhailiuk sees it, his Americanization process, which remains ongoing, has come naturally, the product of spending time around teammates and teachers with American backgrounds in American cities. It's not that he has changed, even if the added facial hair and bulked-up physical frame make the 2014 version of Mykhailiuk nearly unrecognizable. More that he has evolved.
"I think he got a lot of it from his team," Havili said. "You can totally see the rest of his team in him and him trying to sort of emulate what they're doing."
While that imitation might include favorite phrases, funky dance moves or a becoming a regular at a fast food restaurant, it also references the biggest reason Mykhailiuk and his teammates all are here.
"I care not about me, but just my team to win," Mykhailiuk said. "That's all I care about. It doesn't matter how many minutes I play, I just want my team to win."
As for whether he has come far enough to be considered an American yet, Mykhailiuk raised his eyebrows, shrugged his shoulders, quickly laughed and offered: "Uh, I don't know. Ask other people that. Not me."
More like this story on KUsports.com