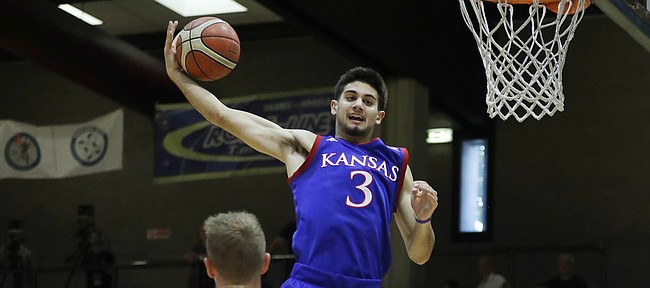 Take us inside what your mind, Sam Cunliffe, will be like at the moment coach Bill Self calls on you to resume your career Saturday in Lincoln, Nebraska, after a full year as a practice player for Kansas.
"The first thing I'll be thinking is, 'I'm off the ball, my man's not going to catch it. I'm going to make sure this whole side of the floor is completely shut down,'" Cunliffe started. "So if my man tries to catch the ball, he's going to have to do something to catch it. I'm going to make it really hard for him."
He was just getting warmed up.
"Rebounding," he continued. "Rebounding. I feel like I'm a really good rebounder, could be a great rebounder. And just using my speed. Let's just say a guy goes baseline and I'm on the help side. I've got to run over there, stop him, get back to my man."
He moved onto the physical traits he possesses and practice habits he has developed that he thinks will make him a defensive asset.
"Having speed and athleticism really helps you because you can make some more mistakes than maybe somebody else could because if you mess up you've still got the speed to get back," he said. "I've also been playing defense for a whole year too because half of practice is the guys who are eligible running offense against whoever's on the red team. Basically, from the middle of last year until now, until about a week-and-a-half ago, I've just been playing defense the whole entire time."
The nagging voice of assistant coach Kurtis Townsend has accompanied Cunliffe constantly.
"It didn't really click until two weeks ago — I was just getting so annoyed by him always chirping, chirping, chirping — now some of the things that even some of the guys who can play now don't realize, because I've been told so many times that this is what you need to do, that I feel like I can come in and and actually maybe even help them with that," Cunliffe said.
What do the coaches harp on?
"Everything," he said. "Every little thing. You feel like you're being nitpicked, but I feel like this is the best I've ever been defensively in my life."
Had he been eligible to play right away, a trip inside Cunliffe's mind likely would have involved exploring the other end of the floor, where his acrobatic athleticism and soft long-range touch give his game a wow factor.
He's happy to talk about that, too, but didn't volunteer to do so the way he did with his defensive and rebounding potential.
"I think Lagerald (Vick) and I definitely are the best athletes out there," Cunliffe said. "I feel like some of the dunks Lagerald gets, those lobs, I can get those too."
Now that the wait is over, he called it, "the best thing as far as just getting better as a player. I've had to learn so much."
Cunliffe started all 10 games at Arizona State as a freshman, then transferred to Kansas at the semester.
"Obviously, when you get to a place like Kansas you have a whole bunch of guys who are older than you and have been here and know what (coach Bill Self) wants more and are just as talented as you, so I kind of got here and I was like, 'Wait, hold on, I don't need the ball every single time,'" Cunliffe said.
Throughout the past year, Townsend has harped on what Cunliffe needs to show the head coach to make Self trust him enough to put him in games in big spots.
Such as?
"Playing without the basketball, doing things for other people, defensively, offensively," Cunliffe said. "And to earn his trust it's just about showing him you'll compete, you'll never quit, and making plays and doing things and putting the team ahead of you."
Townsend has guided Cunliffe, a Seattle native, to an understanding of Self's expectations. Now it's up to the player to show he can give the coach what he wants.
"To earn his trust I really think it's just playing hard," Cunliffe said. "It's kind of easy and hard to play for him at the same time."
Cunliffe explained what he meant by that.
"He doesn't look for you to make crazy plays, just looks for you to play hard and compete every possession," Cunliffe said.
He explained why he wasn't being redundant.
"Competing is not always just playing hard," he said. "It's thinking the game, doing something for somebody else especially. That's what (Self) talks to me about a lot because I've always been known as just a scorer. I have to be able to use my athleticism to drive, get somebody else open or drive and make a play for myself. Whole mindset change, really."
It's obvious Cunliffe has been paying attention for the past year to what floats Self's boat. That's to Cunliffe's benefit because the player who put up some nice stats for Arizona State (9.5 points, 4.8 rebounds, .405 3-point percentage in 25.7 minutes per game) but lacked the defensive intensity and ability to score through contact won't cut it.
"If he sees you going 100 mph, trying to do it the right way, you just mess up going as hard as you can, then he can live with it," Cunliffe said of Self. "Basically, if you go hard every day, you're fine. But if you slack, you're going to have a problem."
Cunliffe said his understanding of what it takes to make Self trust you came "slowly. It's been a long time coming."
His time to play finally has arrived, although his Allen Fieldhouse debut won't come until Monday vs. Omaha.
"I feel like when I first got here I was waiting, 'I really want to play, I really want to play, I really want to play.' Then I realized all the things I have to learn," he said. "Then when you realize that you kind of slow down and think, 'OK, wait, I might need some time.'"
The way he sees it, his return comes at the perfect time.
"The past three practices have probably been my best three practices since I've been here," he said. "Things just kind of clicked a little bit. I've really been taking seriously the offense, just get it, swing it, move it. If you're open, shoot it. I feel like my shot's gotten a lot better too. Again, coach T helped me every day with just getting the right mechanics and shooting the right way."
He summed up the progress he has made the past year with one sentence. He didn't like the way it sounded, so he edited himself.
"I think I should be ready for Saturday," he said. "I know I am."