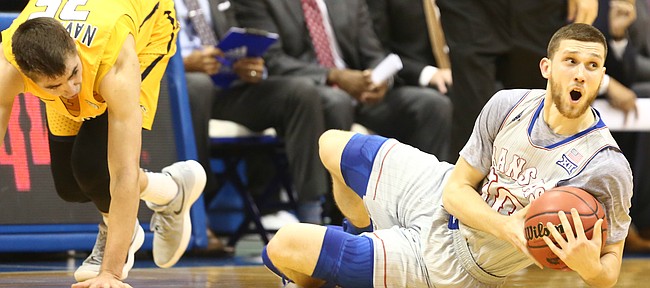 Knowing precisely what's highlighted with a yellow marker in a scouting report doesn't always require reading it. Sometimes all you have to do is watch what happens after a player checks into the game.
Very often during Svi Mykhailiuk's first three seasons in the Kansas basketball program, opposing players drove past him with ease. At times, he would check back into the game and his man automatically would be treated by teammates as if he had a hot hand. He was a victim of targeting, but not the sort that draws the aggressor an ejection or anything but praise and points.
Given the premium KU coach Bill Self places on that end of the floor, defensive liabilities tend to stand out with Kansas and Svi did for all the wrong reasons.
Seven games into his senior season, Mykhailiuk, 20 and a native of Cherkasy, Ukraine, has generated a great deal of attention for his improved 3-point shooting percentage (.543, compared to the .381 career mark he brought into the season) and more aggressive drives.
Yet the most improved aspect of his game just might be his defense. He's doing a noticeably better job of staying in front of his man and many opponents have found it easier to score on Malik Newman than on Mykhailiuk.
"I feel like he's always been able to do it just because of how athletic he is and his size," said Devonte' Graham, Svi's best friend on the team. "I think it's just a mindset thing. I think he's just locked in and he really tries hard on both ends."
If Self didn't think Svi had the potential to develop into a solid defender, he wouldn't have wasted his breath trying to make it happen. The coach harped on it and the player grew so tired of hearing it he did something about it.
Graham said Svi is "locking in in practice. You can see it when we're doing defensive drills he's one of the best at sliding his feet and keeping his guy in front of him. I think it's because coach kind of called him out about it when the other team, last year and years before that, tried to pick on Svi and drive him and I think he took offense to it."
Senior forward Clay Young had a similar take on his teammate's senior-year defensive leap.
"The last couple of years, coach would always get on him for defense and say, 'They're just going to drive you every time they get the ball. You can't be that guy who lets us down on the defensive end.' The last couple of years he wasn't our best defender, but this year he's actually been a pretty good defender, staying down on guys, moving his feet, cutting people off," Young said. "I think his defense has improved a whole lot."
If teams still target Svi, they could be in for a surprise.
"I don't think they're going to say get it to 10's man and play take him, like maybe they have in the last couple of years, because he's really improved," Self said.
Marcus Garrett is unusually advanced defensively for a freshman, and Lagerald Vick's quickness and length give him tremendous defensive potential. Mykhailiuk doesn't have to develop into a stopper, but if he can avoid being a liability as the difficulty of the schedule increases, that would help KU's chances of staying near the top of the national rankings.
"He's become one of our better defenders," Self said. "I think you could make a case that he and Devonte' are our two best perimeter defenders with Lagerald having a chance to become that. And Malik the last two games, he's been pretty good defending."
Kenpom.com ranks KU third in the nation in adjusted defensive efficiency, behind Virginia and Michigan State. KU is sixth nationally in offensive efficiency, five notches below Duke, which checks in at No. 53 in defensive efficiency.