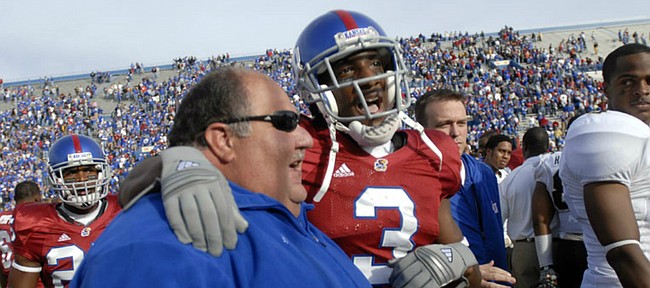 Now that he is retired from coaching, Mark Mangino can reveal the secret sauce that led to his football success at a basketball school.
So, how did you do it? How did you build a 50-48 record in eight seasons, four that ended with bowl games, a fifth with a record that made Kansas bowl eligible? (The Jayhawks are 14-70 in the eight seasons since Mangino accepted a $3 million parachute to resign under pressure after Lew Perkins launched an investigation into Mangino's allegedly harsh coaching methods).
"I'm not proud of it, but for the eight years we spent at Kansas, the job was the singular vision of my whole life, 24 hours a day, seven days a week," Mangino told me in a recent telephone conversation. "If I was not at work, I was at home thinking about ways to make players better with cutting-edge training, offensive and defensive schemes. And I was lucky to have really good assistant coaches."
Mangino challenged assistant coaches and players alike, and more than anything, he challenged himself to make every detail of the job an obsession.
"I told myself if you really want to do this, then it has to be the most important thing in your life," Mangino said. "And for eight years it was. My family took a back seat. I'm not proud of that."
He is proud of how everyone in his family is doing, so the formula worked. And it certainly worked to the benefit of the Kansas football program.
"We tried our absolute best to be first-class," Mangino said. "We wanted our players to think that they were in a special program. We put them first. We coached them hard, got after them hard and made them feel as if they could beat anybody, anywhere, any time, and our kids did what we asked them to do."
Mangino has been out of coaching since being fired as Iowa State offensive coordinator in midseason of 2015 by head coach Paul Rhoads. He sounds very much like a man enjoying retirement and not looking to be coaxed out of it to coach football again.
Mangino and wife Mary Jane spend part of the year in his hometown New Castle, Pa., a half-hour southeast of Youngstown, Ohio, home of the famous Stoops coaching family, and the winter months in Naples, Fla., with side trips here and there to watch Kentucky football, where son Tommy is on Mark Stoops' offensive staff.
In late June, Mangino spent a day hanging out with another retired football coach, Bob Stoops, and his brothers Mike (Oklahoma defensive coordinator), Mark and Ron Jr. (Youngstown State special teams coach), as well as Youngstown State head coach Bo Pelini and retired boxer Ray "Boom Boom" Mancini. They gathered at a bocce-ball tournament, a fundraiser for Cardinal Mooney High in Youngstown, where the Stoops brothers' father, the late Ron Stoops Sr., coached football for nearly 30 years.
"Boom Boom's got more energy than a 10-year-old," Mangino said. "Jabs and punches to everybody. Fun guy to be around."
Of Bob Stoops, Mangino said, "He's happy. He's doing what he likes to do, which is having fun. He's pretty at ease with his decision."
Mangino's looking forward to a weekend reunion with the players from the 2007 season who won the Orange Bowl on Jan. 3, 2008.
"It'll be fun to see all the players at the same time and they'll have fun with each other," Mangino said.
The forecast calls for pleasant evening to watch Kansas play Southeast Missouri State in the season-opener and to watch the Orange Bowl victors accept an ovation on the night the names Aqib Talib and Anthony Collins go up on the Ring of Honor. With the exception of Kerry Meier, who had a previous commitment, the biggest names on the Orange Bowl squad, from Talib and Collins, to Todd Reesing and James McClinton, to Brandon McAnderson and Jake Sharp are expected to be on hand. A quick check of KUtickets.com reveals that seats ranging from $10 to $50 remain on sale.
The bigger the crowd, the louder the ovation. They deserve to hear the sounds they heard back when they made Memorial Stadium rock, don't you think?