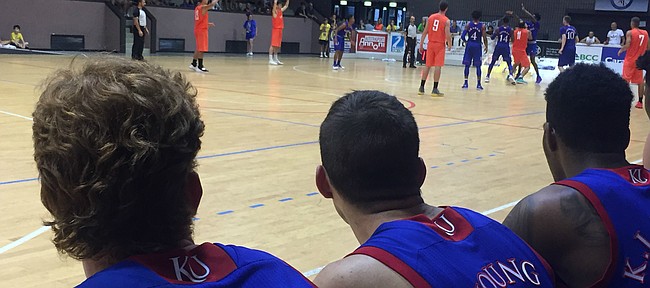 There were moments in Italy, when the Kansas men's basketball team experienced a total reversal of roles and seemingly enjoyed every minute of it.
Four times in five days, mainstream stars like Devonte' Graham, Svi Mykhailiuk, Malik Newman and Lagerald Vick sat dutifully on the bench in the first half of a game while watching walk-on Clay Young get his minutes closer to tip-off than the final horn.
That reality was made possible by the Jayhawks' lopsided victories against three separate Italian clubs and was the plan heading into KU's recent eight-day exhibition tour of Italy.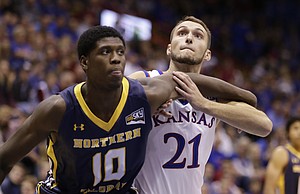 Rather than sitting there unsure of what to do, Graham and company did their best to imitate what Young and the other KU walk-ons have done for years — bring energy and yell and scream for everything that happens on the floor in front of them.
"It was definitely fun," Graham admitted at the conclusion of Game 4 last Sunday. "Coach told 'em that they were gonna play. They didn't come over here not to play. And then we didn't have any bigs so at practice Clay and (Chris) Teahan guarded the big fellas. We needed some big bodies down there so we just used them."
The shift away from the normal routine did not do much to change the results on the stat sheet. But the opportunity to get into a game — any game — during the first half instead of in the final seconds was not something that Young soon will forget.
"It's a great opportunity," Young said in an interview with the Journal-World after Game 3. "It's something that's obviously not every day for me and something I don't expect and am not used to. But being able to check in in the first half was so cool."
That was merely the half of it.
"It's awesome," Young said. "It's pretty cool to have teammates like that. They know their roles and they know what I do for the team and it's pretty cool to be able to go out there and have those guys cheering for me over there. I can hear 'em."
Even if he couldn't, Young would not change a thing about the way he conducts himself as a member of the Kansas basketball team. From a bona fide star at nearby Lansing High to a contributor at Kansas City Kansas Community College and now a walk-on at KU, the path Young has taken to snag one of the best seats in Allen Fieldhouse has been one nobody saw coming — including him.
"Playing for KU was always a dream," he said. "But it's not something that I thought would ever happen. Even playing in juco, my goal was to play at a Div. II school after juco. I never thought I'd end up here and get to be a part of all of this. It's something I never expected and something I'll always be grateful for.
"To be able to be a part of the program, it's a blessing. And for it to take me where it's taken me, from playing in gyms in Bonner Springs and Basehor to playing at places like Madison Square Garden and coming to Italy and Hawaii, I never expected it for myself."
The trip to Italy delivered something else Young never expected — a comparison to one of the most talented and versatile players in the NBA.
That came after Game 3, when Young chased down a rebound on a missed free throw, scored two points on a tip-in and added a steal and a couple of deflections while playing defense.
"For a couple games I've been getting my hands on balls, deflections, rebounds, little hustle plays and Devonte' and Svi came up to me and called me Draymond Young and stuff like that," Young laughed explaining the reference to Golden State forward Draymond Green. "Saying that I was playing that small 4 man role. We always have fun and we're not afraid to tease each other and mess around and I love that about this team."
He also, of course, loves winning and Young has experienced a lot of that during his first two seasons at KU. Now a senior, set for his final run with the perennial powerhouse program, Young said starting it off with a few meaningful and enjoyable minutes in a place as cool as Italy was the perfect way to begin.
"I live for the games, even just sitting on the bench just watching," Young said. "But playing has been awesome. Just getting to go in, even for just a couple of minutes in the first half, was an incredible feeling."