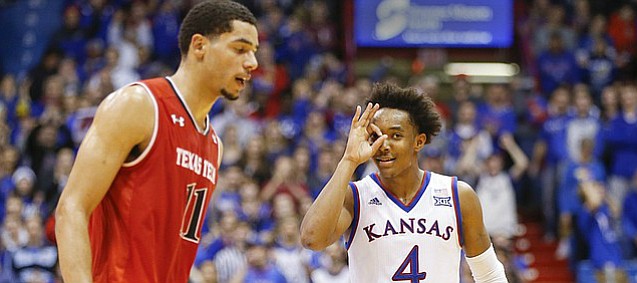 After enjoying the luxury of having one of the best backcourts in college basketball during the 2016-17 season, the Kansas Jayhawks no longer have to worry about a drop-off in 2017-18.
Junior guard Devonte' Graham's decision to return to Kansas for his senior season — announced Sunday via Twitter — not only solidified Graham as the face and unquestioned leader of the program next season, but also delivered clarity to the make-up of KU's backcourt.
"Obviously experience," said KU coach Bill Self in an interview with the Journal-World when asked what area Graham's decision impacted the most. "But not having a primary ball-handler would've been the biggest thing we would've had to tighten up. And we're still gonna try to sign another guard. But to have two players who we feel are legitimate, all-conference type guards in there already, in Devonte' and Malik (Newman), is pretty comforting."
Even if the Jayhawks don't sign another player — which seems unlikely — they now will enter the offseason with proven talent, experience and depth at the guard position.
With Graham running the point and Mississippi State transfer Newman eligible to join the lineup, the Jayhawks have what Self believes is a solid one-two punch. Add to that the presence of junior-to-be Lagerald Vick, who enjoyed a breakout season in 2016-17 and has room to grow, and you're looking at a talented trio of tough, athletic, explosive guards.
Svi Mykhailiuk, who started next to Graham for most of the 2016-17 season, also may return, though, according to Self, the Ukrainian guard has not yet made a decision about his future.
If Mykhailiuk returns, he likely again would challenge for a starting spot, leaving either him or Vick to come off the bench.
And that's to say nothing of KU's pursuit of five-star point guard Trevon Duval, who is expected to decide between Arizona, Baylor, Duke, Kansas and Seton Hall sometime this month.
Duval, the No. 3-ranked player in the 2017 class according to Rivals.com, certainly would push to start in KU's backcourt next season, and his addition would add even more depth to the guard position, which also will include Arizona State transfer Sam Cunliffe (eligible at the end of first semester) and incoming freshman Marcus Garrett, a 6-foot-5, combo guard from Skyline High in Dallas.
Even if the Jayhawks don't land Duval, Self said he still would like to sign another ball-handling guard in the 2017 class, something he would have done regardless of whether Graham decided to stay or leave.
The fact that Graham is staying brings an added level of excitement and keeps expectations high and Self said he thought Graham's front-row seat for national player of the year Frank Mason III's monster senior season had an impact on Graham's decision.
"I think it did," Self said. "Devonte's gonna graduate and he's got his priorities right. It's a very guard-heavy draft and putting the ball in his hands more next year and letting him show what he can do can only help his stock.... "As well as he's done, I think he knows there's another level he can take his game to and he's excited to do that."