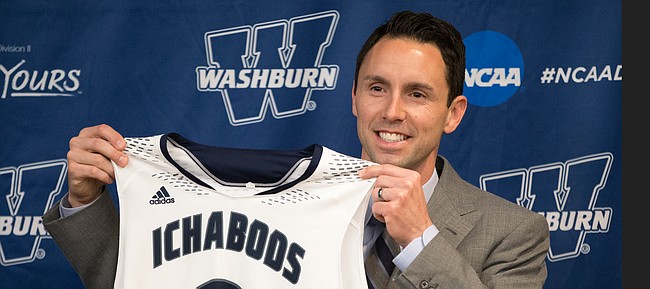 TOPEKA — Former Kansas walk-on Brett Ballard was introduced as the new head basketball coach at Washburn University on Monday morning and during his introductory news conference the Hutchinson native made one thing clear — he wants Washburn basketball to be a family.
For Ballard, 37, who played at Kansas under Roy Williams and later worked on the staff of current KU coach Bill Self for seven seasons, that close-knit bond between teammates and coaches is all he's ever known on the basketball court. From his early days in youth basketball to college stints at Hutch Community College and Kansas and later as a key member of Danny Manning's coaching staffs at Tulsa and Wake Forest, Ballard has had a front-row seat to some of the best basketball families in the college game.
"When I got this job, I got messages from Adonis Jordan, Jacque Vaughn, Wayne Simien, Tyrel Reed," said Ballard on Monday, noting that Simien was in the building. "Some of those guys I never played with and hardly even know. But I think the special thing, when you've played at a place like Kansas, is, it's a brotherhood. And regardless if they know you or don't know you or played with you or if you coached 'em or not, everybody's happy when one of theirs is successful."
During the recent coaching search that led to Ballard's door, the Ichabods' new head coach said he felt a similar vibe from Washburn and it went a long way toward convincing him to leave his job in the ACC for a Division II school in Topeka.
Coaching closer to home was a big part of the equation, too, but Ballard said he would not have left for just any job. He loves the passion and potential that Washburn possesses, appreciates the job former WU coach Bob Chipman did for 38 seasons and the job the current Ichabods players did and continue to do during the transition from a man who started coaching at Washburn before Ballard was born to the new guy in town. He thanked all of those people, along with his family and mentors, during Monday's introduction, all while hammering home his main message.
"This press conference is about me," said Ballard Monday, with several members of his new team standing in the back of the McPherson Room at Lee Arena. "But after today, it's not about me. It's about you guys. It's about making sure we do what we gotta do to help you guys be successful."
Washburn forward Brady Skeens, who played high school ball at Shawnee Mission Northwest, said that message came through loud and clear during the team's first meeting with Ballard on Sunday night.
"He seemed really intelligent, he seemed to know what he was talking about and he seemed like he actually cared about his players and really focuses on his players and their development and making them successful after basketball," Skeens said. "Washburn recruits a lot locally and I think it'll give us an advantage to have a guy who's kind of been through all the programs in Kansas."
From the 1979-80 season through 2016-17, Chipman racked up 808 career victories, a feat for which he recently was honored alongside Williams at the National Association of Basketball Coaches' postseason banquet, where KU's Frank Mason III brought home one of his 10 national player of the year honors. Ballard, who owns a 33-30 record as a head coach from his two seasons at Baker — which he called "the two best years of my life" — joked about the gap between the old regime and the new.
"I know the court's getting named after him," Ballard said of Chipman. "I'm gonna see if they can put that in like 12-point font in the very corner. Not because I don't have respect for Coach Chipman, but because I don't want to look down there and go, 'OK, I'm only 770 victories away from passing him,' every time I walk on the court."
There was, of course, another area of potential intimidation that Ballard admitted to being mindful of when he accepted the job.
Every two years, during the exhibition portion of its schedule, Washburn plays Kansas in Allen Fieldhouse. The Jayhawks topped the Ichabods, 92-74, during the recently completed season and, therefore, will not play Washburn again until the 2018-19 season. Waiting is just fine with Ballard.
"I've got a year to prepare myself," Ballard joked. "It's gonna be weird being on the other sideline, but I've thought about that, how cool that's gonna be. That's down the line and we've got a lot of work to do before then, but, for me, a Kansas kid, I've been on all levels of that. I was at the Kentucky game in 1989, as a fan, when they won 150-95, then I got to play at Kansas and I got to coach at Kansas and now I get to coach against Kansas. I don't know if that was really on my bucket list of things to do, but it's sort of surreal to think about."